The Jesus Mission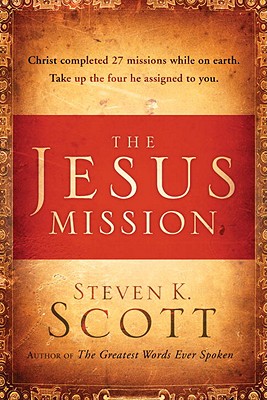 The Jesus Mission
Christ Completed 27 Missions While on Earth. Take Up the Four He Assigned to You.
Waterbrook Press, Hardcover, 9780307730497, 282pp.
Publication Date: October 4, 2011
* Individual store prices may vary.
Buy at Local Store
Enter your zip code below to purchase from an indie close to you.
or
Buy Here
Description
"How Do I know What God Wants from Me?"
 
Jesus came to earth to accomplish twenty-seven impossible missions, and He completed every one. He calls us to follow Him by pursuing four lifetime missions that enable us to bear spiritual fruit and "lay up treasures in Heaven." He also gives us more than one hundred promises—promises that provide the foundation and building blocks for a supernatural, miracle-working faith.
 
The Jesus Mission reveals the core discovery of the author's life, which propelled his greatest spiritual breakthrough. This same discovery can radically transform your walk with God. Find out, by reading Jesus' words, how He made it possible for you to live out the four lifetime missions He has given you, starting today.
 
"…whoever believes in me will do the works I have been doing, and they will do even greater things than these, because I am going to the Father." —John 14:12, niv
About the Author
Steven K. Scott is a cofounder of the American Telecast Corporation and its group of consumer-goods companies. In addition to creating ATC's marketing programs, he has written and directed more than eight hundred television commercials and twenty-four infomercials selling ATC's product lines. Cher, Jane Fonda, Kathie Lee Gifford, Charlton Heston, Tom Selleck, and Michael Landon are a few of the more than seventy celebrities who have appeared in Steve's commercials and infomercials.
To date, his campaigns have sold more than one billion dollars' worth of products to more than twenty million consumers. In addition to cofounding and building more than a dozen multimillion-dollar companies from the ground up, Steve has also coauthored two bestselling books with Gary Smalley and coproduced nine bestselling videos.
Praise For The Jesus Mission…
Praise for The Jesus Mission

"Read about Jesus accomplishing the twenty-seven impossible missions that the Father gave Him, and your heart will be filled with awe and wonder. Discover the missions that Jesus gives you, and you'll experience His love and purpose beyond anything you have ever imagined!"
—Dr. Pat Robertson, chairman of the Christian Broadcasting Network

"Only Jesus can meet the deepest longing of a woman's soul. If you have ever wondered how, as a woman, you can have a more intimate and miraculous relationship with Him, The Jesus Mission will take you there."
—Julie Clinton, president of Extraordinary Women

"Steven K. Scott reminds us of Christ's commands in a way that makes them understandable. The practical action items in The Jesus Mission will get you on the right path to a more intimate relationship with God."
—Josh McDowell, speaker and best-selling author

"Using the statements of Jesus, Steven Scott shows us how to love God the way He wants to be loved—the way that literally opens the heart of God to you and brings you into a whole new level of intimacy with Him. And as you discover the incredible missions Jesus accomplished, you will see His glory as never before."
—Dr. Gary Smalley, author of The DNA of Relationships

"The more you get to know God, the more He will amaze you! In The Jesus Mission, Steven K. Scott shares the simple path that will get you on the right track."
—Mark Batterson, lead pastor of National Community Church, Washington DC, and author of Primal and In a Pit with a Lion on a Snowy Day

"If you want to leave a positive legacy, The Jesus Mission gives you the road map you need. I highly recommend it."
—Gary Chapman, PhD, best-selling author of The Five Love Languages and Love as a Way of Life

"The Jesus Mission gets straight to the point of Christ's mission to set the captives free. It will change your life and empower you to make an impact in the lives of others that will last for eternity."
—Nick Vujicic, evangelist and author of Life Without Limits

"Be prepared for something incredible to happen as you experience Christ's words penetrating your heart. Steven K. Scott does a masterful job of helping us grasp the close relationship with God that we deeply desire."
—Dr. Chuck Lynch, author of I Should Forgive, But…

"In The Jesus Mission, you will see the Savior as you have never seen Him before. Any misconceptions about who He was, why He came, and what He wants His followers to do and to be will be replaced with His truth, according to the words He spoke. It's time to make His priorities our priorities!"
—Dr. Timothy Clinton, president of the American Association of Christian Counselors

"Steven K. Scott provides a practical and doable path to living each day supernaturally. His chapter describing how to experience intimacy with God is profound, yet so clear. It all is based on Jesus' words. If you have ever wanted a comprehensive handbook on what it means to be a follower of Jesus Christ, you are holding it in your hands."
—Dr. David Stoop, author of You Are What You Think and founder of the Center for Family Therapy