Unstoppable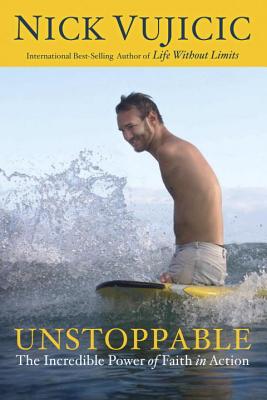 Unstoppable
The Incredible Power of Faith in Action
Waterbrook Press, Hardcover, 9780307730886, 240pp.
Publication Date: October 2, 2012
* Individual store prices may vary.
Buy at Local Store
Enter your zip code below to purchase from an indie close to you.
or
Buy Here
Description
Being unstoppable is about believing and achieving. It's about having faith in yourself, your talents and your purpose and, most of all, in God's great love and His divine plan for your life.
Millions around the world recognize the smiling face and inspirational message of Nick Vujicic. Despite being born without arms or legs, Nick's challenges have not kept him from enjoying great adventures, a fulfilling and meaningful career, and loving relationships. Nick has overcome trials and hardships by focusing on the promises that he was created for a unique and specific purpose, that his life has value and is a gift to others, and that no matter the despair and hard times in life, God is always present. Nick credits his success in life to the power that is unleashed when "faith takes action."
But how does that happen? In "Unstoppable" Nick addresses adversity and difficult circumstances that many people face today, including:
. Personal crises
. Relationship issues
. Career and job challenges
. Health and disability concerns
. Self-destructive thoughts, emotions, and addictions
. Bullying, persecution, cruelty, and intolerance
. Balance in body, mind, heart, and spirit
. Service to others
Through stories from his own life and the experiences of many others, Nick explains how anyone wanting a ridiculously good life can respond to these issues and more to become unstoppable. What's standing in your way? Are you ready to become "unstoppable"?
About the Author
Born in 1982 in Brisbane, Australia, without any
medical explanation or warning, Nicholas Vujicic
came into the world with neither arms nor legs.
Imagine the shock his parents felt when they
saw their first-born brand new baby boy for the
first time, only to find he was what the world
would consider imperfect and abnormal. A
limbless son was not what nurse Dushka Vujicic,
and her husband Pastor Boris Vujicic had been
expecting. How would their son live a normal
happy life? What could he ever do or become
when living with such a massive disability? Little
did they or anyone else know that this beautiful
limbless baby would one day be someone
who would inspire and motivate people from all
walks of life. God uses Nick to touch lives and
bring the hope of Jesus Christ to people across
the globe.
Now at 27 years old, this limbless young man
has accomplished more than most people accomplish
in a lifetime. Nick recently moved to
California, USA, where he is the president of an
international non-profit organization, Life Without
Limbs, and also has his own motivational
speaking company, Attitude Is Altitude.