Snowdrops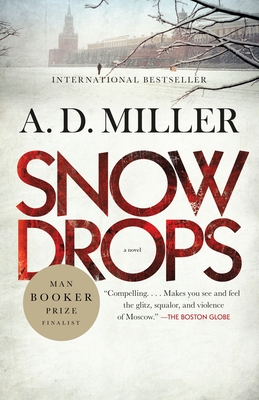 Snowdrops
Anchor Books, Paperback, 9780307739476, 262pp.
Publication Date: February 7, 2012
* Individual store prices may vary.
Buy at Local Store
Enter your zip code below to purchase from an indie close to you.
or
Buy Here
Description
SHORTLISTED for the 2011 Man Booker Prize for Fiction

A riveting story of erotic obsession, self-deception and moral free-fall, set in post-communist Moscow.
Nick Platt is a lawyer working in Moscow in the early 2000s--a city of hedonism and desperation, magical hideaways and debauched nightclubs, kindness and corruption. Nick doesn't ask too many questions about the shady deals he works on: he's too busy enjoying the exotic, sinful nightlife. On a sultry day in September, Nick rescues two willowy sisters, Masha and Katya, from a would-be purse snatcher, and soon the three of them are cruising Moscow's seamy glamour spots. As winter descends on the decadent city, Nick falls for the seductive Masha, but soon finds he is falling away from himself--and at the centre of a tale of deception and betrayal, in a place where dark secrets, and long hidden corpses, come to light when the deep snows finally thaw.
About the Author
Born in London in 1974, A.D. MILLER studied literature at Cambridge and Princeton. He writes for The Economist; from 2004 to 2007 he was the magazine s Moscow correspondent, travelling widely across Russia and the former Soviet Union. He is the author of the acclaimed family history The Earl of Petticoat Lane. Snowdrops is his first novel.
Praise For Snowdrops…

SHORTLISTED for the 2011 Man Booker Prize for Fiction

"Compelling. . . . Makes you see and feel the glitz, squalor, and violence of Moscow."—The Boston Globe

"[An] assured fiction debut.... [Miller] memorably captures Moscow's atmosphere during the glitzy, anything-goes era that succeeded Soviet Communism." --The Seattle Times

"Elegant and compact ... A superlative portrait of a country in which everything has its price." —The Financial Times

"[A]n electrifying tour . . . assaults all your senses with its power and poetry, and leaves you stunned and addicted." —The Independent

"Like Graham Greene on steroids. . . . Tightly written . . . Miller's complex, gripping debut novel is undoubtedly the real thing." —The Daily Mail

"A deeply atmospheric, slow-burning examination of the effects of modern Russia on the soul of foreign visitors ... beautifully drawn and mirrored in several ingenious subplots...Miller is absolutely wonderful at evoking the seediness and cynicism of Moscow." —The Independent on Sunday

"A mesmerizing tale . . . Miller's novel is both a nuanced character study and a fascinating look at the complexities of Russian society."--Booklist, starred review

"Strips away the layers of life in the Russian capital with subtle, pitiless grace....Paced almost ideally, with an atmosphere that scintillates with beguiling menace."--Literary Review

"Engrossing ... Miller brilliantly showcases the city as his novel's strutting, charismatic star...rendered with intoxicating vitality. It is a bravura setting for a study in morality...disturbing and dazzling." --Sunday Telegraph

"An intriguing debut, suffused with an atmosphere of dread." —The Millions

"A.D. Miller's sophisticated and many-layered debut novel skewers the relationship between victim and abuser, self-delusion and corruption, love and moral free-fall." —The Spectator

"Tight, compelling....A totally gripping first novel." —The Times

"[A] dark first novel about cupidity, corruption and self-delusion...Taut, exciting, atmospheric - what a debut." —The Guardian"
Genuinely surprising, moving, and ultimately devastating, Snowdrops is a must-read." —Edmonton Journal

"Superbly atmospheric....elegantly written, and spot on in detail" —London Observer