Gryphon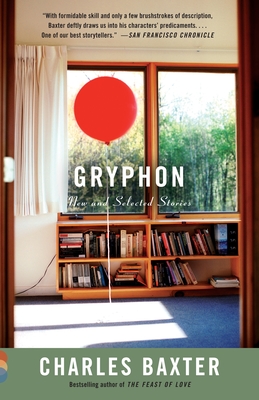 Gryphon
New and Selected Stories
Vintage Books, Paperback, 9780307739520, 400pp.
Publication Date: February 14, 2012
* Individual store prices may vary.
Buy at Local Store
Enter your zip code below to purchase from an indie close to you.
or
Buy Here
Description
Ever since the publication of his first story collection in 1984, Charles Baxter has slowly gained a reputation as one of America's finest short story writers. Gryphon brings together sixteen classics with seven new stories, giving us the most complete portrait of his achievement. 
About the Author
Charles Baxter lives in Minneapolis and teaches at the University of Minnesota.
Praise For Gryphon…
"With formidable skill and only a few brushstrokes of description, Baxter deftly draws us into his characters' predicaments. . . . One of our best storytellers." —San Francisco Chronicle

"[A] career-encompassing collection.... Baxter's legacy to fiction is clear: For more than twenty-five years he's insisted that we're kidding ourselves a little whenever we call ourselves 'normal.'" —Minneapolis Star-Tribune 

"Remarkable. The early stories are terrific, and the new stories are terrific. Often, in this type of retrospective, it is obvious how much a writer has matured and developed. Rarely, but as demonstrated in this collection, we're struck by the realization that the writer has always been this good." —St. Louis Post-Dispatch
 
"This is Baxter at his best: a subtle and astute observer of the human." —The New York Review of Books
 
"Baxter lovingly teases anguish, humor, and heart-rending beauty out of clear, unaffected sentences." —The Washington Post
 
"A warmly disposed yet unsentimental chronicler of American lives…. Some [stories are] poignant and disturbing, and all of them highly readable." —The New York Times Book Review
 
"This is a marvelous book." —Kansas City Star

"Baxter shines [a] bright light on his characters, so bright that the landscape around them, in almost every story, shimmers like a mirage in extreme heat." —Los Angeles Times
 
"Baxter is a genius. . . . [Gryphon] keeps us mesmerized to the end. Baxter brings to his masterful stories a quirky slant born of the straight-faced humor of the Midwest." —Jane Ciabattari, Books We Like, NPR
 
"Baxter's writing is spare, but, like a flash of cat eyes in the night, well-crafted images and wit flit onto the pages." —Providence Journal
 
"Baxter is always engaged in a kind of chemistry experiment, closely monitoring what will ensue when two or more disparate elements are—often impulsively—combined. The results, always complex, can be surprising: and, like Miss Ferenczi in 'Gryphon,' they can bring us wonders we had not known we might see." —The New York Review of Books
 
"Baxter is a writer who plainly enjoys writing, who revels in it, which is rarer than you might think—not the enjoyment, necessarily, but the palpability of the pleasure. . . . Keen and playful." —The Boston Globe  
 
"What a treasure this volume is! . . . Dazzles us with the full brilliance of this writer's vision."  —Andrea Barrett, author of The Air We Breathe
 
"Elegant. . . . Baxter is a melancholy expert craftsman." —The New Yorker
 
"[Baxter] truly excels at the short form. He observes Chekhov's admonition not to bore people by telling them everything. And yet his delicately carved slices of life contain a surprising amount of detail and depth." —The Miami Herald
 
"There is both humor and truth in both the miniscule and the grand in Baxter's writing, which makes this book as memorable as his work always is." —Time Out Chicago
 
"Baxter's constructs are of the muscular, straight-no-chaser variety that you might expect from Hemingway. . . . Never strikes a false note." —Time Out New York
 
"Further cements [Baxter's] reputation as a master chronicler of the Midwest." —The Christian Science Monitor
 
"A feast of affecting encounters." —Parade Magazine
 
"Like those of other masters of the form, Baxter's short stories don't seem abbreviated at all; he manages to suggest the complexity of an entire life within a few pages. . . . Gryphon is a fine introduction for Baxter novices and an exciting addition for connoisseurs." —The Post and Courier (Charleston, SC)
 
"Baxter's pilgrim's journeys and tragicomic tales plumb the depths of psychology and faith. . . . Baxter exemplifies how entertainment and enlightenment come together in good fiction." —Asheville Citizen-Times
 
"Baxter is a subtle and sophisticated writer, and each of these stories merits multiple readings. . . . For those unfamiliar with this great writer, I can't think of a better introduction than this book." —Devon Shepherd, MostlyFiction.com
 
"Baxter is our modern short story master because he knows how to dig at a particularly Midwestern brand of human frailty. . . . His stories quietly enter the reader's subconscious and reverberate." —Austin American-Statesman