Thinking in Pictures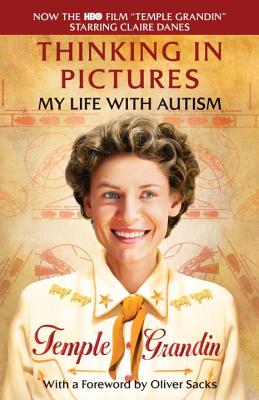 Thinking in Pictures
And Other Reports from My Life with Autism
Vintage Books USA, Paperback, 9780307739582, 270pp.
Publication Date: January 26, 2010
* Individual store prices may vary.
Buy at Local Store
Enter your zip code below to purchase from an indie close to you.
or
Not Currently Available for Direct Purchase
Description
Temple Grandin, Ph.D., is a gifted animal scientist who has designed one-third of all the livestock-handling facilities in the United States. She also lectures widely on autism--because Temple Grandin is autistic, a woman who thinks, feels, and experiences the world in ways that are incomprehensible to the rest of us.
In this unprecedented book, Grandin delivers a report from the country of autism. Writing from the dual perspectivies of a scientist and an autistic person, she tells us how that country is experienced by its inhabitants and how she managed to breach its boundaries to function in the outside world. What emerges in "Thinking in Pictures" is the document of an extraordinary human being, one who, in gracefully and lucidly bridging the gulf between her condition and our own, sheds light on the riddle of our common identity.
About the Author
Dr. Temple Grandin (born August 29, 1947) is an American doctor of animal science, a professor at Colorado State University, a best-selling author, an autistim activist, and a consultant to the livestock industry on animal behavior. She also created the "hug box," a device to calm those on the autism spectrum. The subject of an award-winning, 2010 biographical film, Temple Grandin, she also was listed in the Time 100 list of the one hundred most influential people in the world in the "Heroes" category.

Oliver Sacks is the author of "Awakenings, The Man Who Mistook His Wife for a Hat," and many other books, for which he has received numerous awards, including the Hawthornden Prize, a Polk Award, and a Guggenheim Fellowship. He is a member of the American Academy of Arts and Letters, and lives in New York City, where he is a practicing neurologist.
Praise For Thinking in Pictures…
"I hardly know what to say about this remarkable book. . . . It provides a way to understand the many kinds of sentience, human and animal, that adorn the earth." --Elizabeth Marshall Thomas, author of The Hidden Life of Dogs

"There are innumerable astounding facets to this remarkable book. . . . Displaying uncanny powers of observation . . . [Temple Grandin] charts the differences between her life and the lives of those who think in words." --The Philadelphia Inquirer

"A uniquely fascinating view not just of autism but of animal--and human--thinking and feeling, [providing] insights that can only be called wisdom." --Deborah Tannen, author of You Just Don't Understand

"How does a true marvel let you know it has arrived?. . . . It's hard to imagine even an intellect as towering as Sacks's coming up wtih perceptions as rare and completely out of left field as Grandin herself does in this mind-blowing book." --Newsday

"Temple Grandin's window onto the subjective experience of autism is of value to all of us who hope to gain a deeper understanding of the human mind by exploring the ways in which it responds to the world's challenges." --The Washington Times

"Temple Grandin, the anthropologist from Mars, takes us on a journey through her inner life and, with exquisite scientific detail, offers us a near photograph of the workings of her visual mind." --John Ratey, coauthor of Driven to Distinction

"Temple Grandin's legacy is the invaluable gift of compassion. This is a journey of courage, determination, and, above all, worth. Society is the better for Temple Grandin having left her mark on it." --Alex Pacheco, President, People for the Ethical Treatment of Animals

"Thinking in Pictures is a beautiful book. . . . Grandin has created a beautifully odd and fascinating picture of her life and mind, and her abiding love of animals." --Elle

"A tireless researcher with a bionic memory and a superb education, no one can write wtih Temple's authority because nobody knows as much as she does! This is an outstanding book that every parent and professional in the field of special needs will want to read, and the general reader will acquire a new appreciation of autism, its liabilities, and its formidable assets." --Annabel Stehli, author of The Sound of a Miracle

"Even Sacks's fine writing about autism does not really compare to writing from within autism, because autism is a disorder of interiority. . . . Grandin has replaced the teleology of autobiography with something much closer to her heart: a diagram, in this case a diagram of her own mind." --Voice Literary Supplement