The End of Your Life Book Club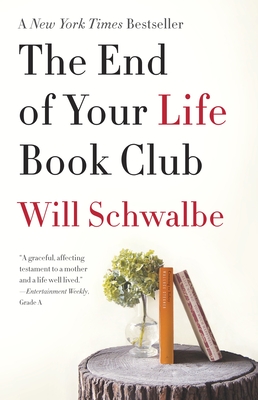 The End of Your Life Book Club
Vintage, Paperback, 9780307739780, 352pp.
Publication Date: June 4, 2013
* Individual store prices may vary.
Buy at Local Store
Enter your zip code below to purchase from an indie close to you.
or
Buy Here
Description
An Entertainment Weekly and BookPage Best Book of the Year

During her treatment for cancer, Mary Anne Schwalbe and her son Will spent many hours sitting in waiting rooms together. To pass the time, they would talk about the books they were reading. Once, by chance, they read the same book at the same time and an informal book club of two was born. Through their wide-ranging reading, Will and Mary Anne and we, their fellow readers are reminded how books can be comforting, astonishing, and illuminating, changing the way that we feel about and interact with the world around us. A profoundly moving memoir of caregiving, mourning, and love The End of Your Life Book Club is also about the joy of reading, and the ways that joy is multiplied when we share it with others.
About the Author
Will Schwalbe has worked in publishing (most recently as senior vice president and editor in chief of Hyperion Books); digital media, as the founder and CEO ofCookstr.com; and as a journalist, writing for various publications includingThe New York Timesand theSouth China Morning Post. He is on theboard ofthe Kingsborough Community College Foundation. He is the coauthor, with David Shipley, ofSend: Why People Email So Badly and How to Do It Better."
Praise For The End of Your Life Book Club…
"A graceful, affecting testament to a mother and a life well lived." —Entertainment Weekly, Grade A

 "Schwalbe . . . highlights not just how relevant but how integral literature can be to life." —The Washington Post

"[This] book is robust with love and laughter." —Chicago Tribune
 
"Not only a son's heartfelt tribute to [his mother's] courage and grace but vivid testimony to the enduring power of books to create meaning out of chaos, illuminate values, and connect us with each other." —The Boston Globe

"A loving celebration of a mother by a son." —The New York Times Book Review

"A book that is expressly about books, about the purpose and pleasures of books, and the ways they connect us even as we read them as a solitary pursuit. . . . [It's also] about, in part, the consolations we can find in art, books in particular, as we struggle to face the terrible awareness of our own mortality." —The Plain Dealer

"Moving." —O, The Oprah Magazine

"An account of growing up in a bookish, artistic family, and a touching portrait of his energetic mother. . . . The [reading] choices that emerge are not a bucket list but an engagingly eclectic mixture of current and vintage, literary and commercial." —The New Yorker

"Uplifting. . . . So much life is lived, and such powerful lessons are shared on this family's journey that the reader can't help but be moved and motivated." —Fort Worth Star-Telegram

"Schwalbe's enthusiasm turns out to be contagious. As I was reading I found myself scribbling titles on a piece of paper so that I could order the volumes he and his mother cared about. Schwalbe is not just an avid reader, he is also an advocate, a cheerleader, a disciple." —Rachel Shteir,  The New York Times

 "A warm reminder why we read and what our reading says about us and the ways we connect with others." —The Columbus Dispatch

"Completely engaging and difficult to put down. Hearing Schwalbe recount the effects that one selfless and loving person can have on the world is sad without being depressing, and deeply inspirational on a personal level to every imaginable reader." —The Independent

"Touching and rigorously honest, this memoir is wise about the role reading plays in our lives and deaths."—Slate

 "The most moving memoir of the year." —Sacramento Bee

"A tribute to a remarkable woman and an examplary reader." —Salon

"A gentle, searingly moving memoir, at once a love letter and a generous, incisive set of instructions not about how to die but about how to live." —More