The Flame Alphabet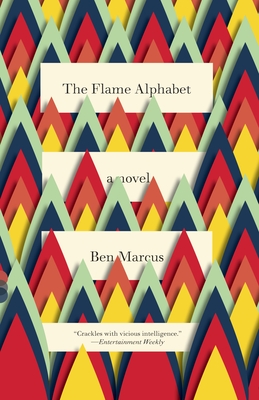 The Flame Alphabet
Vintage Books, Paperback, 9780307739971, 289pp.
Publication Date: November 13, 2012
* Individual store prices may vary.
Buy at Local Store
Enter your zip code below to purchase from an indie close to you.
or
Buy Here
Description
 
In The Flame Alphabet, the most maniacally gifted writer of our generation delivers a novel about how far we will go in order to protect our loved ones.
 
The sound of children's speech has become lethal. In the park, adults wither beneath the powerful screams of their offspring. For young parents Sam and Claire, it seems their only means of survival is to flee from their daughter, Esther. But they find it isn't so easy to leave someone you love, even as they waste away from her malevolent speech. On the eve of their departure, Claire mysteriously disappears, and Sam, determined to find a cure for this new toxic language, presses on alone into a foreign world to try to save his family.
About the Author
Ben Marcus is the author of Notable American Women and The Age of Wire and String. His work has appeared in "Grand Street, Harper's, McSweeney's, Conjunctions, "and elsewhere. The recipient of two Pushcart Prizes, a Whiting Fellowship, and a National Endowment for the Arts grant, he is an Assistant Professor of Creative Writing at Columbia University and lives in New York City.
Praise For The Flame Alphabet…
Praise for The Flame Alphabet:
 
"Crackles with vicious intelligence."—Entertainment Weekly
 
"A harrowing tale. . . . Sends chills down the spine."--The Seattle Times
 
"Fascinating. . . . A horror story that plays with the power of words."--The Plain Dealer
 
"Laden with metaphor. . . . It reads like a dream, complete with all the associative richness that comparison might suggest."--The New York Times Book Review
 
"An exciting page-turner." —The Philadelphia Inquirer
 
"A rich testament to Marcus' gifts" —Los Angeles Times
 
"A well-oiled heartbreak machine." —New York

"In the guise of a horror novel (albeit one written by a supremely intelligent literary novelist), Marcus has delivered a subtle meditation on the necessity as well as the drawbacks of human communication . . . in searing, sometimes hallucinatory prose." —Richmond Times-Dispatch
 
"Thrilling, boasting an erudition and an obsessiveness that smacks both of Jorge Luis Borges and of Darren Aronofsky."--The Boston Globe
 
"As I read The Flame Alphabet, late into the night, feverishly turning the pages, I felt myself, increasingly, in the presence of the classic." --Michael Chabon
 
"Marcus succeeds in creating a parallel universe that mirrors a side of human social life that might be more comfortably concealed." —The Columbus Dispatch
 
"An apocalyptic nightmare. Its vision is eerie, droll and heartbreaking, both lavishly written and haunting to behold. . . .[Marcus's] use of language could hardly be more vibrant."—Portland Press Herald "Some of the most thoughtful and moving writing I've ever read about family life." —Michael Jauchen, The Rumpus
 
"Disturbing and remarkable."—LA Review of Books
 
 "This novel will cause many mouths to open. Dialogue will ensue. People will have something to say."—Cleveland Plain Dealer
 
"A mystery, a compulsive page-turner" —Salon
 
"The Flame Alphabet has the force of a nightmare, a testament to Marcus's skill." —NPR
                                                             
"Ben Marcus is the rarest kind of writer: a necessary one."--Jonathan Safran Foer
 
"The Flame Alphabet is less about linguistics than the decay of relationships, the fracturing of familial loyalties, and the everyday heartbreak of human estrangement."—The Millions
 
"Ben Marcus is a genius, one of the most daring, funny, morally engaged and brilliant writers, someone whose work truly makes a difference in the world."--George Saunders
 
"A brutal, wonderful book, streaked with the sickly brown and gray hues of Philip K. Dick and David Cronenberg."—The Onion, A.V. Club
 
"A truly strange, original vision of a post-linguistic world." —Slant Magazine
 
"Freakishly sad and incredibly good."—Bookforum
 
"An authentic meditation on the sacred cruelty of communication that will leave his readers speechless."—San Francisco Chronicle
 
"You will not read too many books like this in your life. —The Financial Times
 
"For all its surreal touches, it packs an emotional wallop." —Wired