Sonia Sotomayor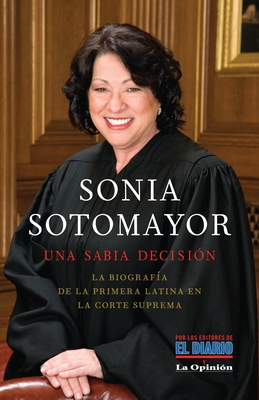 Sonia Sotomayor
Una Sabia Decision = Sonia Sotomayor
Vintage Espanol, Paperback, 9780307739995, 212pp.
Publication Date: May 4, 2010
* Individual store prices may vary.
Buy at Local Store
Enter your zip code below to purchase from an indie close to you.
or
Buy Here
Description
Los editores de "El Diario La Prensa" nos ofrecen la cobertura mAs completa de la histOrica ascensiOn de la primera latina a la Corte Suprema
En agosto de 2009, Sonia Sotomayor se convirtiO en la primera mujer latina en llegar a lo mAs alto del sistema judicial norteamericano --"Sonia Sotomayor: una sabia decisiOn" relata cOmo llegO hasta ahI. Criada por una tenaz madre viuda, desde muy joven Sonia sabIa que querIa ser abogada, pasando las tardes leyendo las novelas de Nancy Drew y ojeando la Enciclopedia BritAnica. MAs adelante conocemos a la Sonia licenciada por las universidades de Princeton y Yale, la juez de distrito (la que "salvO el bEisbol") y la que, finalmente, se defendiO del senador Jeff Sessions y de la AsociaciOn Nacional del Rifle en las audiencias de confirmaciOn en las que se convirtiO en la 111 Juez de la Corte Suprema. Pero al final, "Sonia Sotomayor: una sabia decisiOn "trata tanto sobre una "sabia latina" como de todos nosotros; de lo que significa ser latino en los Estados Unidos.