The Golden Mean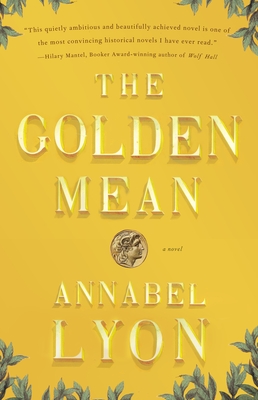 The Golden Mean
Vintage Books, Paperback, 9780307740687, 287pp.
Publication Date: September 6, 2011
* Individual store prices may vary.
Buy at Local Store
Enter your zip code below to purchase from an indie close to you.
or
Buy Here
Description
Keenly intelligent and brilliantly rendered, The Golden Mean is a bold reimagining of one of history's most intriguing relationships—that between the legendary philosopher Aristotle and his most famous pupil, Alexander the Great.
 
Aristotle is initially reluctant to set aside his own ambitions in order to tutor the rebellious son of his boyhood friend, Philip of Macedon. Still, the philosopher soon realizes that teaching this charming, surprising, and sometimes horrifying teenager is a necessity amid the ever more sinister intrigues of Philip's court. But as Alexander grows older and becomes a man who will transform the world for better or for worse, Aristotle, like any teacher, ponders his own culpability.
About the Author
Annabel Lyon, a Vancouver-based fiction writer and teacher, is the author of several books, including her acclaimed historical novel, "The Golden Mean".
Praise For The Golden Mean…
"This quietly ambitious and beautifully achieved novel is one of the most convincing historical novels I have ever read." —Hilary Mantel, Booker Award-winning author of Wolf Hall 
 
"[Lyon] has shaped history into a narrative not only gripping, but also accessible and poignant, even tender…. Here we have a novel that is brave enough to raise the universal questions about how a man should live his life." —The Boston Globe 
 
"Sensational. . . . The Golden Mean] hooked me as a first novel should, carried me along, and left me determined to read whatever the author writes next." —Taylor Antrim, The Daily Beast
 
"Here's a story that gives us the classical world with everyday liveliness and narrative force, without ever sacrificing intellectual integrity and historical accuracy. . . . Splendidly intelligent and entertaining." —NPR, "All Things Considered"
"[A] vivid imagining of the encounter between Aristotle and the young Alexander the Great . . . Lyon's evocation of the ancient world is earthy and immediate." —The New Yorker
 
"As authoritative and compelling as Mary Renault's renowned novels set in the ancient world. One hopes we may learn more about Lyon's immeasurably brilliant, unflappably human Aristotle." —Kirkus Reviews (starred)
 
"I absolutely loved The Golden Mean. Annabel Lyon brings the philosophers and warriors, artists and whores, princes and slaves of ancient Macedonia alive, with warmth, wit and poignancy. Impeccably researched and brilliantly told, this novel is utterly convincing."  —Marie Phillips, author of Gods Behaving Badly
 
"The Golden Mean is more than a brilliant and beautifully told novel: it's also a profound exploration of moral and philosophical issues that have troubled and perplexed us since Aristotle." —Russell Banks, author of Cloudsplitter
 
"Lyon draws the curtain back on the smoke-filled huts and palace chambers that shaped the lives of these two great men, whose mutual admiration and intellect transformed civilization. It's historical fiction at its finest." —Louisville Courier-Journal
 
"The 4th century BC and the youth of Alexander the Great are marvelously re-imagined in Lyon's justifiably garlanded novel . . . The daily intrigues of the court, the visceral aspects of battle, philosophical discussion, and Aristotle's household are all evoked in measured, burnished prose, which combines thrilling immediacy with a stately timelessness." —The Guardian (London)
 
"Lyon [has] established herself as this generation's answer to Alice Munro. A master of wordplay and storytelling, Lyon takes readers deep into the hearts and secret desires of her characters." —The Vancouver Sun
 
"Extraordinary. . . . It's entertaining to watch for the places in the novel where Lyon integrates the development of Aristotle's thought and the seeds of his greatest works. . . . The Golden Mean gives us a life of Aristotle, and a life of Alexander, that we can feel, rather than just hear. . . . Lyon's powerfully imagined novel deserves its critical and popular success, as it effectively dramatizes key moments in the story of Aristotle's new loves, and it's also a lot of fun to read." —Open Letters Monthly
 
"This is Lyon's first novel, and it is a remarkable one. . . . The Golden Mean does beautifully what the best historical novels do. It recreates a past time whose manners are different from ours; yet it shows what is permanent in human nature . . . This is an outstanding novel, admirably structured, economical and evocative, keenly intelligent, amusing and sad—a book in which imagination and intellect are yoked in harmony." —The Scotsman
 
"It takes chutzpah to make your main characters Aristotle and Alexander the Great, but Lyon pulls it off; she has the gift of finding the pulse of the ancient world and bringing it back to glorious life . . . Gripping, with a powerful sense of time and place." —The Times (London)
 
"While no one can ever really know how Aristotle spoke or thought, it's to Lyon's considerable credit that The Golden Mean convinces you you're in the great man's mind. Questions of philosophy, spirituality, sexuality and politics are all posed here, but in a narrative voice that's sensually charged, keenly intelligent and darkly—sometimes very darkly—funny." —The Toronto Star