Zombies! Zombies! Zombies!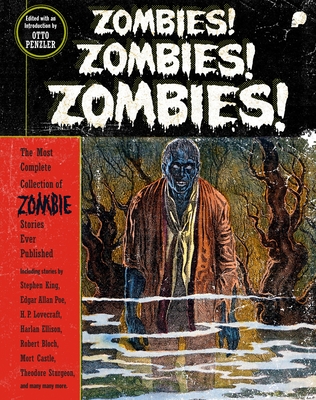 Zombies! Zombies! Zombies!
Vintage Crime/Black Lizard, Paperback, 9780307740892, 810pp.
Publication Date: September 20, 2011
* Individual store prices may vary.
Buy Now
or
Shop Local
Enter your zip code below to purchase from an indie close to you.
Description
"Zombies Zombies Zombies " is the darkest, the living-deadliest, scariest--and dare we say most tasteful--collection of zombie storiesever assembled. It's so good, it's a no-brainer.
There is never a dull moment in the world of zombies. They are superstars of horror and they are everywhere, storming the world of print and visual media. Their endless march will never be stopped. It's the Zombie Zeitgeist Now, with his wide sweep of knowledge and keen eye for great storytelling, Otto Penzler offers a remarkable catalog of zombie literature. Including unstoppable tales from world-renowned authors like Stephen King, Joe R. Lansdale, Robert McCammon, Robert E. Howard, and Richard Matheson to the writer who started it all, W.B. Seabrook, "Zombies Zombies Zombies " will delight and devour horror fans from coast to coast.
Featuring:
Deadly bites
Satanic Pigeons
A parade of corpses
Zombies, zombies, and more zombies.
About the Author
Otto Penzler is the proprietor of the Mysterious Bookshop, the founder of the Mysterious Press, the creator of Otto Penzler Books, and the editor of many books and anthologies.

Stephen King has written more than forty books and two hundred short stories. He has won the World Fantasy Award, several Bram Stoker awards, and the O. Henry Award for his story "The Man in the Black Suit."

Author, poet, and literary critic, Edgar Allan Poe is credited with pioneering the short story genre, inventing detective fiction, and contributing to the development of science fiction. However, Poe is best known for his works of the macabre, including such infamous titles as The Raven, The Pit and the Pendulum, The Murders in the Rue Morgue, Lenore, and The Fall of the House of Usher. Part of the American Romantic Movement, Poe was one of the first writers to make his living exclusively through his writing, working for literary journals and becoming known as a literary critic. His works have been widely adapted in film. Edgar Allan Poe died of a mysterious illness in 1849 at the age of 40.
Praise For Zombies! Zombies! Zombies!…
"Rollicking . . . Over-the-top . . . Hard to resist." --The Wall Street Journal

"We would do well to page through a wonderfully thorough new anthology of short fiction called, straightforwardly enough, Zombies! Zombies! Zombies! . . . Showcas[es] countless terrific writers, known and unknown. . . . If you like your zombies with a dose of literary erudition and horror fiction with character, intelligence, and atmosphere, be [sure to] pick this one up." —SF Weekly
 
"Presents a . . . nuanced portrayal of death brought to life—one to which Gen Xers, Gen Yers and others probably haven't been previously exposed. . . . high on drama, tension and a feeling of the macabre. . . . I'd say it's a no-brainer." —Mike Householder, Associated Press
 
"Splendid. . . . A full dance card of undead heavy hitters that range from the timeless (Edgar Allan Poe, H.P. Lovecraft, Richard Matheson) to the timely (Scott Edelman, Joe R. Lansdale, Dale Bailey).. . . . Zombie aficionados will eagerly embrace this controversial and comprehensive collection." —Library Journal