The Wisdom of Insecurity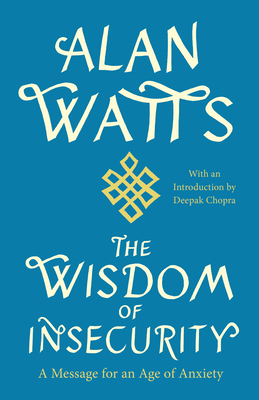 The Wisdom of Insecurity
A Message for an Age of Anxiety
Vintage Books USA, Paperback, 9780307741202, 152pp.
Publication Date: February 8, 2011
* Individual store prices may vary.
Buy at Local Store
Enter your zip code below to purchase from an indie close to you.
or
Buy Here
Description
We live in an age of unprecedented anxiety. Spending all our time trying to anticipate and plan for the future and to lamenting the past, we forget to embrace the here and now. We are so concerned with tomorrow that we forget to enjoy today. Drawing from Eastern philosophy and religion, Alan Watts shows that it is only by acknowledging what we do not--and cannot--know that we can learn anything truly worth knowing. In "The Wisdom of Insecurity, " he shows us how, in order to lead a fulfilling life, we must embrace the present--and live fully in the now. Featuring an Introduction by Deepak Chopra.
About the Author
Alan Watts, was instrumental in introducing Eastern thought to Western civilization. He held both a master's degree in theology and a doctorate of divinity, and is best known as an interpreter of Indian and Chinese philosophy and Zen Buddhism. He was the author of hundreds of articles on philosophy and religion, and 33 books that have been translated into eleven languages.
Praise For The Wisdom of Insecurity…
"Reading Alan Watts challenges us to explore new avenues of thinking, inspires us to lead more fulfilling lives. His legacy lives on in The Wisdom of Insecurity, a work that energetically displays Watts's piercing intellect, razor-sharp wit, and winning grace. For the clarity and wisdom with which it engages timeless concerns crucial to us all, it is unmatched. An important book."
—Greg Mortenson, author of Three Cups of Tea

"Perhaps the foremost interpreter of Eastern disciplines for the contemporary West, Watts had the rare gift of 'writing beautifully the unwritable.'"
—Los Angeles Times

"The wisdom of insecurity is not a way of evasion, but of carrying on wherever we happen to be stationed—carrying on, however, without imagining that the burden of the world, or even of the next moment, is ours. It is a philosophy not of nihilism but of the reality of the present—always remembering that to be of the present is to be, and candidly know ourselves to be, on the crest of a breaking wave."
—Philip Wheelwright, Arts and Letters
 
"This book proposes a complete reversal of all ordinary thinking about the present state of man. The critical condition of the world compels us to face this problem: how is man to live in a world in which he can never be secure, deprived, as many are, of the consolations of religious belief? The author shows that this problem contains its own solution—that the highest happiness, the supreme spiritual insight and certitude are found only in our awareness that impermanence and insecurity are inescapable and inseparable from life. Written in a simple and lucid style, it is a timely message."
—Book Exchange (London)