Three Strong Women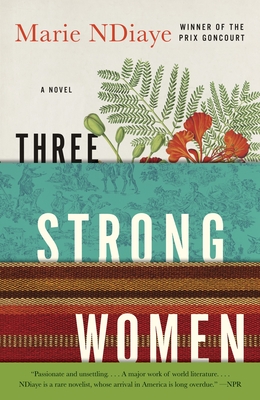 Three Strong Women
Vintage Books, Paperback, 9780307741332, 293pp.
Publication Date: May 21, 2013
* Individual store prices may vary.
Not Currently Available for Direct Purchase
or
Shop Local
Enter your zip code below to purchase from an indie close to you.
Description
A New York Times Notable Book
A San Francisco Chronicle Best Book of 2012
A Kirkus Reviews Best Book of 2012
Longlisted for The 2014 International IMPAC DUBLIN Literary Award

From Marie NDiaye, the first black woman to win the Prix Goncourt, a harrowing and beautiful novel of the travails of West African immigrants in France.
 
The story of three women who say no: Norah, a French-born lawyer who finds herself in Senegal, summoned by her estranged father to save another victim of his paternity; Fanta, who leaves a contented life as a teacher in Dakar to follow her boyfriend back to France, where his depression and dislocation poison everything; and Khady, a penniless widow put out by her husband's family with nothing but the name of a distant cousin in France. As these three lives intertwine, each woman manages an astonishing feat of self-preservation against those who have made themselves the fastest-growing and most-reviled people in Europe. In Marie NDiaye's stunning narration we see the progress by which ordinary women discover unimagined reserves of strength.
About the Author
<div>Marie NDiaye is the author of seven novels and lives in France. <i>Rosie Carpe</i> was published in France where it won the Prix Femina in 2001. Tamsin Black is a freelance translator and most recently translated Sylvie Matton&#8217;s <i>Rembrandt&#8217;s Whore</i>.</div>

John Fletcher is a veterinarian and expert on deer who runs a deer farm in Auchtermuchty, Scotland.
Praise For Three Strong Women…
Praise for Marie NDiaye's Three Strong Women:

"Passionate and unsettling. . . . A major work of world literature. . . . NDiaye is a rare novelist, whose arrival in America is long overdue."
—NPR
 
"A masterpiece of narrative ingenuity and emotional extremes . . . the poised creation of a novelist unafraid to explore the extremes of human suffering. . . . A writer of the highest caliber . . . NDiaye is a hypnotic storyteller with an unflinching understanding of the rock-bottom reality of most people's lives."
—The New York Times Book Review

"Gorgeous, fearless prose . . . NDiaye's storytelling approaches something of the power and simplicity of folklore. . . . There is good and evil here, and as in the world they are blended confusingly and only slowly revealed. In the interplay between Europe and Africa, between men and women, NDiaye finds both beauty and beast."
—Boston Globe
 
"Captivating and unsettling. . . . A multifaceted glimpse of lives too rarely seen in print. . . . With spare prose and evocative imagery . . . John Fletcher's translation conveys the richness and precision of language for which NDiaye is renowned in the French-speaking world. . . . In each of the novel's characters, strength and weakness, violence and vulnerability are as intertwined as the quotidian and the extraordinary in NDiaye's storytelling."
—Ms.

"Hypnotic . . . Powerful . . . Compelling . . . [NDiaye] is an impressive stylist with a strong voice. . . . A novel that examines bravely and from both sides the collision of Europe and Africa."
—San Francisco Chronicle

"NDiaye's quiet intelligence is made apparent by the complexity of her characters and her intuitive prose in this subtly beautiful novel."
—Publishers Weekly

"A tenuously linked tripartite novel that is more than the sum of its parts is a hard act to pull off. Marie NDiaye, one of France's most exciting prose stylists and playwrights, succeeds with elegance, grit and some painful comedy in Three Strong Women. . . . Its three heroines have an unassailable sense of their own self-worth, while their psychological battles have an almost mythic resonance. . . . The prose compels with astonishing range and precision."
—The Guardian (UK)

"Compelling . . . NDiaye dissects her characters with impressive forensic detail, the subtlest speech inflection or gesture put under the microscope. . . . The language has an hypnotic emotional intensity . . . the novel has a passion, daring and individuality."
—The Independent (UK)

"Sinewy and sardonic, combining realism and fable in a way that mixes Kafka and Cinderella . . . Three Strong Women is full of NDiaye's narrative gusto, stylistic virtuosity and command of tone. . . . The power the stories reveal is that of self-knowledge, self-belief and endurance."
—Times Literary Supplement (UK)

"A beautiful novel . . . NDiaye's writing is extraordinarily powerful, and she is very well served by John Fletcher's elegant, economical translation."
—The Times (UK)

"The beauty of her language, the strange force of her inspiration, her mastery of narrative have established her as one of the important figures in French literature . . . [she] opens up the mysterious world of the most secret thoughts."
—Le Monde

"Here is the beauty of Marie NDiaye's novel: a fire burning in the heart of a cold and frozen existence."
—Journal du Dimanche

"Between Africa and France, her enchanted heroines, cursed by history, cast their nets, and glowing with their hard-won freedom—strong women even taking off towards death."
—Le Figaro

"A sumptuous classicism . . . Proust and Faulkner conversing under African skies . . . one of our greatest writers."
—Le Point

"Mastery of form carried to extraordinary levels. . . . Velvety prose, wise and precise—a frighteningly just, real, dignified, and poignant vision of suffering humanity."
—Telerama

"A masterly work, served by an exacting, intense, and bewitching prose, implacably apt throughout, transporting us to the edge of the strange and the imaginary. Three Strong Women surely established Marie NDiaye as one of the most eminent 'writer-storytellers' of our time."
—Rentrée Littéraire 2009

"Sinuous long phrases, at times brutal, at times sweet, underline and follow the emerging consciousness of these African women in their quest for identity . . . Riveting, hypnotizing prose."
—Marie Claire

"Strength. That is the word that would suffice to summarize the genius of this work . . . NDiaye's new novel has the force of a fist."
—Evene