I Remember Nothing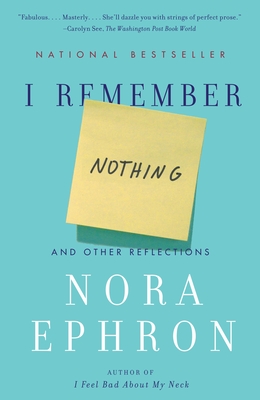 I Remember Nothing
And Other Reflections
Vintage, Paperback, 9780307742803, 160pp.
Publication Date: November 1, 2011
* Individual store prices may vary.
Buy at Local Store
Enter your zip code below to purchase from an indie close to you.
or
Buy Here
Description
Nora Ephron returns with her first book since the astounding success of I Feel Bad About My Neck, taking a hilarious look at the past, the present, and the future, bemoaning the vicissitudes of modern life, and recalling with her signature clarity and wisdom everything she hasn t (yet) forgotten.
Filled with insights and observations that instantly ring true and could have come only from Nora Ephron I Remember Nothing is pure joy.
About the Author
Nora Ephron was the author of the bestselling I Feel Bad About My Neck as well as Heartburn, Crazy Salad, Wallflower at the Orgy, and Scribble Scribble. She wrote and directed the hit movie Julie & Julia and received Academy Award nominations for Best Original Screenplay for When Harry Met Sally. . ., Silkwood, and Sleepless in Seattle, which she also directed. Her other credits include the script for the stage hit Love, Loss, and What I Wore with Delia Ephron. She died in 2012.
Praise For I Remember Nothing…
"Fabulous. . . . Masterly. . . . She'll dazzle you with strings of perfect prose." –Carolyn See, Washington Post Book World

"Breathlessly funny. . . . Chatty, witty, self-effacing and candid." —Minneapolis Star Tribune 
 
"Candid, self-deprecating, laser-smart, and hilarious. . . . A master of the jujitsu essay, Ephron leaves us breathless with rueful laughter." —Booklist
 
"She's never been more real than in this collection—a full pleasure to read." –New York Journal of Books
 
"Delicious. . . . Gleaming with youthful innocence." –More Magazine

"Tantalizingly fresh and forthright. . . . She's like Benjamin Franklin or Shakespeare: her words are now part of the fabric of the English language. . . . She's familiar but funny, boldly outspoken yet simultaneously reassuring." —Alex Kuczynski, New York Times Book Review
 
"Breezily funny prose. . . . As candid and hilarious as before." —Kansas City Star
 
"A delightfully succinct and completely hilarious and sometimes poignant collection of essays. . . . A terrific holiday gift for any smart woman, or a fun palette cleanser for your book club. . . . Sure to amuse readers with its relatable charm and wit." —Bookreporter
 
"The power of these essays often comes from a voice clearly looking back at a riveting life with a clear-eyed wisdom and, at times, twinges of regret." —Salon
 
"Classic Ephron: gloriously opinionated—and on target. . . . Ephron sure does know how to tell a story and entertain." —Heller McAlpin, "Books We Like," NPR
 
"Nora Ephron is, in essence, one of the original bloggers—and if everyone could write like her, what a lovely place the Internet would be. . . .If this is Nora Ephron's last word, it's a stylish one—but here's hoping she's got a few more up her cashmere sleeve." —Seattle Times
 
"A slim, candid, and always witty package of Ephron's  insights, written and bound before they slip her mind forever." —Elle
 
"Candid and witty. . . . Filled with intimate and sometimes shocking details. . . . Ephron shares sage reflections on everything from her love of journalism to growing up in Beverly Hills with alcoholic parents. . . . Ephron has lived life to the fullest, and is not shy about dispensing the intimate details (none of which she seems to have forgotten). . . . Ephron fans will not be disappointed," —The Jewish Journal Boston North
 
"When you start to read her work, you can't stop. You don't want to stop. Her writer's voice is remarkably engaging and fresh." —Buffalo News
 
"She's still smart as a tack and funny, funny, funny." —Press Herald
 
"Vivid. . . . [An] entertaining collection of stories about her life so far. . . . She remains the neighbor we all wish we had. Someone to share a cup of coffee with. Or better yet, a glass of wine. Maybe two." —USA Today