Twelve Steps to a Compassionate Life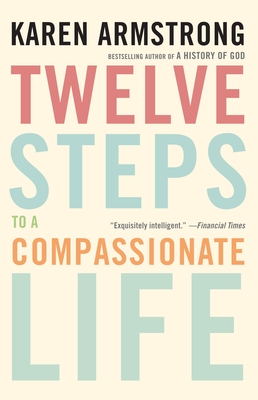 Twelve Steps to a Compassionate Life
Anchor Books, Paperback, 9780307742889, 222pp.
Publication Date: December 27, 2011
* Individual store prices may vary.
Buy at Local Store
Enter your zip code below to purchase from an indie close to you.
or
Buy Here
Description
In this important and thought-provoking work, Karen Armstrong one of the most original thinkers on the role of religion in the modern world provides an impassioned and practical guide to helping us make the world a more compassionate place.
The twelve steps she suggests begin with Learn About Compassion, and close with Love Your Enemies. In between, she takes up self-love, mindfulness, suffering, sympathetic joy, the limits of our knowledge of others, and concern for everybody. She shares concrete methods to help us cultivate and expand our capacity for compassion, and provides a reading list to encourage us to hear one another's narratives. Armstrong teaches us that becoming a compassionate human being is a lifelong project and a journey filled with rewards.
The First Step: Learn About Compassion
The Second Step: Look at Your Own World
The Third Step: Compassion for Yourself
The Fourth Step: Empathy
The Fifth Step: Mindfulness
The Sixth Step: Action
The Seventh Step: How Little We Know
The Eighth Step: How Should We Speak to One Another?
The Ninth Step: Concern for Everybody
The Tenth Step: Knowledge
The Eleventh Step: Recognition
The Twelfth Step: Love Your Enemies
About the Author
Karen Armstrong is the author of numerous books on religious affairs, including The Case for God, A History of God, Holy War, Islam, Buddha, and The Great Transformation. She lives in London. In February 2008 Armstrong was awarded the TED Prize and began working on the Charter for Compassion, created online by the general public and crafted by leading thinkers in Judaism, Christianity, Islam, Hinduism, Confucianism, and Buddhism. The charter was launched in November 2009 and Armstrong is working with TED and the Compassionate Action Network to build an international network of Compassionate Cities dedicated to implementing the Charter realistically and practically into 21st century urban life. Other partners are working vigorously and creatively to promote the compassionate ideal in Pakistan and the Middle East. The author invites you to start a Twelve Steps to a Compassionate Life Reading Group in your community, school, or workplace. An Organizer s Guide, including tips for starting the group, discussion questions, sample promotional material, and more, can be found online at www.CharterForCompassion.org/Learn/ReadingGroups."
Praise For Twelve Steps to a Compassionate Life…
"Rich with wisdom and provocative ideas that stimulate deeper thinking and encourage individuals to identify a particular contribution to the global effort." —Christian Science Monitor

"Leaning on the wisdom of disparate faiths and belief systems, Armstrong lays out a pluralistic and, ultimately, secular way to spread compassion that's easy to believe in." –Washington Post
 
"Charming. . . . Exquisitely intelligent." —Financial Times
 
"Impressive. . . . She seeks to retrain us from an ego-fuelled outlook of partiality and prejudice to an informed, expanded humanity." —The Globe and Mail

"When I hear that Karen Armstrong, the widely respected religion scholar…has a new book called Twelve Steps to a Compassionate Life, I figure it's about big stuff—and she does not disappoint." —Laurie Abraham, Elle
 
"[An] important and useful book that will help many readers take on humanity's most important task: creating a better, more compassionate world." —Tricycle
 
"Intriguing and most accessible. . . . This book is the most substantial resource in this unabashedly idealistic project, one that is hardly shy about wearing its very big heart on its sleeve. It explores what makes empathy possible and effective—within each one of us and in the wider world beyond. . . . Armstrong appeals not to some least common denominator of feel-good altruism, but consistently to the concrete efforts of sages, philosophers and religious leaders from many eras, whose lives speak eloquently of empathy and selflessness." —American Magazine
 
"One of the gentlest, as well as best-known and bestselling, religious apologists and historian of world religions. . . . Expounds a beautiful and worthy thought." —The Guardian (UK)
 
"Twelve Steps is not merely a prescription for being more tolerant and loving. . . . It is also a call to action, and a 'lifelong project.' Armstrong is pleased to help show the way—and those about to set foot on this difficult but important path may find her new book a useful first step of its own." —AARP
 
"Armstrong's is a welcome voice. She engages readers on behalf of ordinary believers driven into the closet by popular perceptions about religious faith. . . . Informative and congenial. . . . Armstrong expresses more than a common desire for a peaceful and equitable planet: she displays her aim to rehabilitate the reputation of religion around the world." —National Post
 
"As Armstrong brings out, imagination is crucial to the compassionate life, and this is one way of using imagination to develop empathy. . . .This book contains many helpful suggestions for bringing more empathy for others and more compassion into our way of living." —Theosophy NW