The Missing of the Somme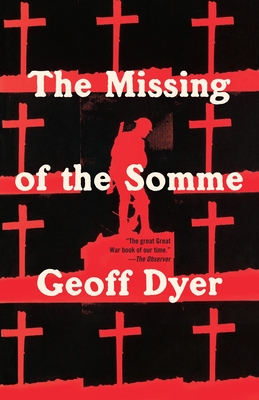 The Missing of the Somme
Vintage Books, Paperback, 9780307742971, 157pp.
Publication Date: August 9, 2011
* Individual store prices may vary.
Buy at Local Store
Enter your zip code below to purchase from an indie close to you.
or
Buy Here
Description
The Missing of the Somme is part travelogue, part meditation on remembrance and completely, unabashedly, unlike any other book about the First World War. Through visits to battlefields and memorials, Geoff Dyer examines the way that photographs and film, poetry and prose determined sometimes in advance of the events described the way we would think about and remember the war. With his characteristic originality and insight, Dyer untangles and reconstructs the network of myth and memory that illuminates our understanding of, and relationship to, the Great War.
About the Author
Geoff Dyer s books includeBut Beautiful(winner of the Somerset Maugham Award);The Missing of the Somme; Out of Sheer Rage; The Ongoing Moment(winner of the ICP Infinity Award for writing on photography);Jeff in Venice, Death in Varanasi;Zona, andAnother Great Day at Sea.His many awards include the E. M. Forster Award from the American Academy of Arts and Letters, a Lannan Literary Fellowship, and, most recently, a National Book Critics Circle Award for the essay collectionOtherwise Known as the Human Condition.He is a Fellow of the Royal Society of Literature, and his books have been translated into twenty-four languages. Dyer currently lives in Venice, California."
Praise For The Missing of the Somme…
"A lyrical meditation on memory and the meaning of World War I. . . . [A] thoughtful and thought-provoking pilgrimage through the war's bibliography and battlefields. . . . Illuminate[s] how thoroughly memory and history are interwoven with literature."
—The Wall Street Journal
 
"[A] strange and wonderful meditation on the cultural legacy of World War I. . . . The Missing of the Somme shows us that stark simplicity isn't the only way to talk about war. . . . [It is] a lovely, alive work."
—San Francisco Chronicle
 
"The Missing of the Somme . . . looks back at the unfathomable destruction of [World War I] through the fogged, distorted lens of collective memory, which can only deteriorate further with the passing of time. . . . How do we bring ourselves to acknowledge such awful events? And what purpose do memorials really serve? They are, Dyer implies, inherently insufficient."
—The Boston Globe
 
"Fresh and often unsettling. . . . Sophisticated and nuanced. . . . Quirky but often brilliant. . . . The timing could not be more appropriate. . . . For Americans, as for Britons, memory of World War I is now entirely a matter of secondhand information. Only the films, books and monuments remain. Dyer poignantly and at times playfully examines the way these objects shape his countrymen's mental picture of what happened between 1914 and 1918. . . . As [his] meditation on remembrance demonstrates, reminders of the past do have a life of their own, shaping and reshaping the vision of history we carry in our minds. . . . The Missing of the Somme will not disappoint [Dyer's] fans."
—The Kansas City Star
 
"[An] instant classic. . . . Dyer supports his point with an impressive survey of poems, letters, memoirs, and novels, combined with a perceptive analysis of British war memorials, and utilizing extensive citations."
—Publishers Weekly

"Brilliant. . . . The great Great War book of our time."
—The Observer

"Dyer delights in producing books that are unique, like keys."
—James Wood, The New Yorker

"[A] penetrating meditation upon war and remembrance."
—The Daily Telegraph
 
"No contemporary writer blends genres like Geoff Dyer."
—Time
 
"A loving book . . . about mourning and memory, about how the Great War has been represented—and our sense of it shaped and defined—by different artistic media. . . . Its textures are the very rhythms of memory and consciousness."
—The Guardian