Jamrach's Menagerie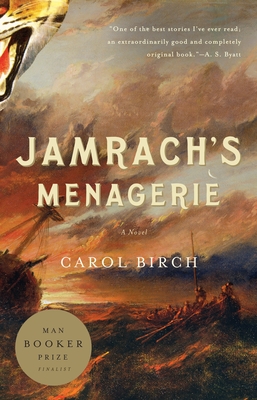 Jamrach's Menagerie
Vintage, Paperback, 9780307743176, 304pp.
Publication Date: June 12, 2012
* Individual store prices may vary.
Buy at Local Store
Enter your zip code below to purchase from an indie close to you.
or
Not Currently Available for Direct Purchase
Description
Nineteenth-century London comes vividly alive in this story a street urchin named Jaffy Brown. After a close call with an escaped tiger, Jaffy goes to work for Mr. Charles Jamrach, the famed importer of exotic animals. As the years pass, Mr. Jamrach recruits Jaffy and another boy named Tim to capture a fabled dragon during the course of an epic three-year whaling expedition in the East Indies. But when a violent storm sinks the ship, Jaffy and Tim are forced to confront their relationship to the natural world and the wildness it contains. "Jamrach's Menagerie" is a truly gripping novel about friendship, sacrifice, and survival.
About the Author
CAROL BIRCH is the author of ten novels. Jamrach s Menagerie was shortlisted for the Man Booker Prize, longlisted for the Orange Prize and shortlisted for the Galaxy National Book Awards. Birch won the David Higham Prize for Fiction for Life in the Palace and the Geoffrey Faber Memorial Prize for The Fog Line. She was longlisted for the Man Booker Prize in 2003 for Turn Again Home. She has written for The Independent, The Times Literary Supplement, The Guardian, The Observer, the New Statesman, Talk of the Town and The Independent on Sunday, among other periodicals. She lives in Lancashire, England, with her husband and sons.
Praise For Jamrach's Menagerie…
SHORTLISTED FOR THE MAN BOOKER PRIZE

"Breathtaking. . . . Magical. . . . Melville meets Dickens. . . . A moving, fantastically exciting sea tale."
—The Washington Post

"Beautifully written. . . . Colorful. . . . [An] adventure story, survival drama and coming-of-age tale."
—The New York Times Book Review

"An exuberant tale. . . . Irresistible. . . . [Birch's] words sing on the page."
—The Financial Times
 
"Vivid, gorgeous writing and the most curious literary voyage since Pi Patel found himself on a lifeboat with a tiger in Life of Pi."
—The Seattle Times
 
"A masterpiece."
—Times Literary Supplement

"For a new salty adventure across the watery part of the world, you won't find a better passage than Jamrach's Menagerie. . . . [It] will keep you up late and make you feel distracted whenever you have to set it down and leave Jaffy's world behind."
—The Washington Post
 
"Carol Birch is a literary original."
—The Christian Science Monitor
 
"An imaginative tour-de-force, encompassing the sights and smells of 19th-century London and the wild sea. . . . It's gripping, superbly written and a delight."
—The Times (London)
 
"Visceral and primal. . . . Effortlessly readable."
—The National
 
"One of the best stories I've ever read; an extraordinarily good and completely original book."
—A. S. Byatt, author of The Children's Book
 
"In Jaffy, Birch has captured a boyish wonder at nature, a fascination with animals that any kid who's ever caught a snake in the woods will be familiar with. As phantasmagoric as the mood of this novel gets, there is nothing in it that steps outside the bounds of reality, for it knows the real world is fantastic enough."
—The New York Times Book Review
 
"Powerful. . . .Harrowing is a mild word to describe the sea voyage that follows."
—The Star-Ledger
 
"A beautifully written and engaging novel!"
—Jay Parini, author of The Passages of H. M.
 
"Riveting. . . . Birch is masterful at evoking period and place. . . . Jamrach's Menagerie is itself a teeming exhibition of the beautiful and the bizarre, and its serious ideas about the relationship between mankind and the natural world are communicated with such delicacy of touch that they never slow down the propulsive telling of the story or dim the brilliance of the prose."
—The Sunday Times (London)