The Heartbreak of Aaron Burr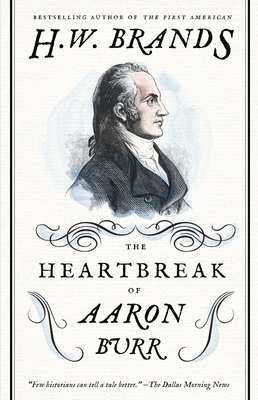 The Heartbreak of Aaron Burr
Anchor Books, Paperback, 9780307743268, 192pp.
Publication Date: May 1, 2012
* Individual store prices may vary.
Buy at Local Store
Enter your zip code below to purchase from an indie close to you.
or
Not Currently Available for Direct Purchase
Description
Though he was a hero of the Revolutionary War, a prominent New York politician, and vice president of the United States, Aaron Burr is today best remembered as the villain who killed Alexander Hamilton in a duel.
But as H. W. Brands demonstrates in this fascinating portrait of one of the most compelling politicians in American history, Burr was also a man before his time a proponent of equality between the sexes well over a century before women were able to vote in the US. Through Burr's extensive, witty correspondence with his daughter Theodosia, Brands traces the arc of a scandalous political career and the early years of American politics. "The Heartbreak of Aaron Burr" not only dramatizes through their words his eventful life, it also tells a touching story of a father's love for his exceptional daughter, which endured through public shame, bankruptcy, and exile, and outlasted even Theodosia's tragic disappearance at sea.
A Paperback Original.
About the Author
H. W. Brands is a distinguished professor of history and holder of the Melbern G. Glassock Chair at Texas A&M University. His books include the Pulitzer Prize finalist "The First American: The Life and Times of Benjamin Franklin", "The Age of Gold", and "TR", a biography of Theodore Roosevelt. He lives in Austin, Texas.


Praise For The Heartbreak of Aaron Burr…
"H. W. Brands brings to life Burr's forgotten contributions as a Revolutionary War hero and politician, as well as the shame that shadowed him for the rest of his life after Hamilton's death."
—The New York Times 
 
"Intense. . . . Short, accessible . . . tightly focused work. . . . In The Heartbreak of Aaron Burr, Mr. Brands goes beyond what is commonly known about Burr to show his more admirable side, which lay in his developing the mind and character of the treasure of his life, his daughter Theodosia."
—The Washington Times
 
"Tightly crafted. . . . Aaron Burr is our Founding Father in the shadows. So often the gifted American who gut-shot Alexander Hamilton on a sheltered rocky ledge in Weehawken, N.J., is remembered as a nasty piece of work. . . . The flawed, fascinating pol has been the subject of many biographies. But in H.W. Brands' beguiling 192-pager, The Heartbreak of Aaron Burr, the grandson of Calvinist preacher Jonathan Edwards steps off the page with customary aplomb—not as a cartoonish villain but as a cultured, considerate and caring father who was a Princeton graduate at 16, a hero of the Revolution at 20, New York state attorney general at 30 and U.S. senator at 35. . . . Like Herman Melville, who swept us back to 19th-century New Bedford's Spouter-Inn in Moby-Dick, Brands transports us to a room on Stone Street in New York 'on this eighth day of June, anno domini 1812.' . . . And it's [Burr and Theo's] highly literate, lively correspondence that leavens this revealing book and makes its subjects spring to life."
—Austin American-Statesman
 
"Although Burr is the subject of numerous biographies, Brands' use of the letters between Burr and Theo, named after her mother, allows a somewhat different perspective. As the title may suggest, this sketch seems to look more at Burr the man than the other categories in which he could be placed—politician, duelist, accused traitor. While Brand concisely covers the breadth of Burr's life, it is clear that the father-daughter relationship was an extraordinary one."
—Seattle Post-Intelligencer
 
"Compelling. . . . A softer perspective of one of American history's most controversial figures. It's true Burr gets a bad rap. . . . The letters give us an authentic glimpse of his personality while nicely mirroring the dramatic political landscape (duels, deals and treason) of the time."
—Austinist
 
"Brands reveals another side of Burr in this examination of his extensive correspondence with his beloved daughter, Theodosia. . . . The letters deal with more than personal relations, as Burr discourses upon subjects as varied as sexual equality and political rivalry. . . . This useful, often emotionally stirring work offers a surprising view of an enigmatic personality."
—Booklist
 
"The second in the author's series entitled American Portraits, this is one of the increasingly popular "small stories" that give so much insight into the men, women and events of history. A short but thrilling page-turner. Brands burrows into Burr's psyche and exposes his failings as he details the outstanding talents that were so sadly wasted."
—Kirkus Reviews


Praise for H. W. Brands:

"Few historians can tell a tale better."
—The Dallas Morning News

"A wonderfully skilled narrative historian."
—Los Angeles Times

"Brands is masterly."
—The Economist

"Brands will change the way you see history."
—The Austin American-Statesman