We Others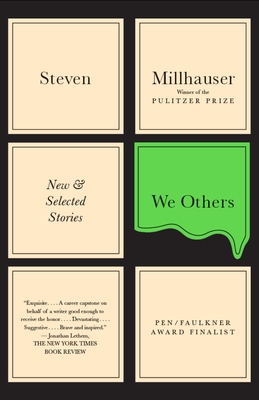 We Others
New and Selected Stories
Vintage Books, Paperback, 9780307743428, 387pp.
Publication Date: September 4, 2012
* Individual store prices may vary.
Buy at Local Store
Enter your zip code below to purchase from an indie close to you.
or
Buy Here
Description
Every reader knows of writers who are like secrets one wants to keep, and whose books one wants to tell the world about. Millhauser is mine.
David Rollow, "Boston Sunday Globe
"
From the Pulitzer Prize winning author: the essential stories across three decades that showcase his indomitable imagination.
Steven Millhauser's fiction has consistently, and to dazzling effect, dissolved the boundaries between reality and fantasy, waking life and dreams, the past and the future, darkness and light, love and lust. The stories gathered here unfurl in settings as disparate as nineteenth-century Vienna, a contemporary Connecticut town, the corridors of a monstrous museum, and Thomas Edison's laboratory, and they are inhabited by a wide-ranging cast of characters, including a knife thrower and teenage boys, ghosts and a cartoon cat and mouse. But all of the stories are united in their unfailing power to surprise and enchant. From the earliest to the stunning, previously unpublished novella-length title story in which a man who is dead, but not quite gone, reaches out to two lonely women Millhauser in this magnificent collection carves out ever more deeply his wondrous place in the American literary canon.
About the Author
Steven Millhauser was born in 1943 in New York City, and grew up in Connecticut. He received a B.A. from Columbia University in 1965, and went on to pursue a doctorate in English at Brown University. He never completed his dissertation, but did complete a novel that was eventually published in a pared-down form under the title "From the Realm of Morpheus-as well as Edwin Mullhouse." However, it was for his stories that Millhauser became best known; immaculately written, curiously vivid, they trod on fantastic boards in a manner reminiscent of Poe or Borges, but with a distinctively American voice. After "In the Penny Arcade," Millhauser's collections continued with "The Barnum Museum" (1990), "Little Kingdoms" (1993), and "The Knife Thrower and Other Stories" (1998). Steven Millhauser lives in Saratoga Springs, New York, and teaches at Skidmore College.
Praise For We Others…
"Powerful . . . A book of astonishingly beautiful and moving stories by one of America's finest and most original writers. . . .  Faulkner said that short stories were harder to write than novels . . . Stories tend to see life on a smaller scale [than novels] and confine themselves to a short span to time and a small number of characters. Their most admirable quality is associated with what Steven Millhauser calls 'artful exclusions.' Like poems, good stories never overexplain. They only hint that a second, slower, and more careful reading will deepen our understanding. Millhauser's stories have that effect on me. They are never far from my mind and they return for a visit from time to time. . . . What they have in common is that most of them may be said to take place in what Hawthorne called 'neutral territory' between the real world and fairy land, where the actual and imaginary meet and each imbues itself with the nature of the other. Millhauser has a fascination with moments in our lives when something inexplicable happens, when our reality collides with some other reality, while the world we had taken for granted up to that moment turns strange, and even familiar things cease to be themselves, stripping us in the process of our identities, and leaving in their place something that has no name. . . . The shock of the real, along with the shock of something that transcends it, is what he wants us to experience. Millhauser is one of the most imaginative writers we have, capable of pure invention. . . . Sublime." —Charles Simic, The New York Review of Books
 
"Millhauser's capstone collection of strange fables, written over the past 30 years, don't evoke life; they provoke thought." —San Francisco Chronicle, Best of 2011
 
"Millhauser is a writer whose work partakes both of the dream logic strangeness of the post-Borgesian fictional tradition and the calm virtuosity of mass magazine American story writing. . . . Illusionism is an apt metaphor for the fiction writer's art, which depends on making something revelatory happen while maintain the audience's belief that what they are seeing is, at least in some way, real. Many of the characters and themes in Millhauser's earlier stories allegorize this aspect of writing. . . . The new stories in the volume move away from Millhauser's previous obsessions: the magic tricks and postmodern metatextuality for the most part recede in favour of an eerie realism. Steven Millhauser is at his best when he is mysterious but explicable—which is the case more now than ever." —Michael Sayeu, Times Literary Supplement

"Mesmerizing . . .  magical. We Others comprehends three decades of work, and it's remarkable not only for the consistent delight it provides but also for the unwavering intensity of the vision that animates it. For all the wonder and fluency of these stories, they're constructed on formal lines. . . . Millhauser's fiction has always seemed larger than the space it fills; these stories cover as much ground, paragraph to paragraph, as any fiction I know. They are concerned with a cultural, political, moral or physical boundary that they approach and then overstep. They move inevitably toward the extreme expression of an idea or possibility. . . . Millhauser, like all the great fabulists, is first of all a great writer and a great stylist. His prose, which might seem restrained and often appears stripped of adornment, is doing considerable stylistic work. It's often said that one feature of great writing is economy; but this is true only if we understand economy to mean the judicious use of language in every sense, not just the telegraphic prose one associates with the young Hemingway. There's another kind of economy—the deliberate or apparent lack of economy—that's harder to identify and harder still to do well, and this is the kind of writing for which Millhauser has an almost unrivaled genius. . . . The selected older stories are a joy to return to or to encounter for the first time. . . . Clear and precise and carefully ordered . . . Great stories are larger than the ideas that animate them. The best of these retreat to the edge of comprehension, they stand apart, they remain irreducible."
—Aaron Thier, The Nation 
 
"Outstanding . . . [In We Others], readers will find an extensive cast of characters, including a knife-thrower, adolescent boys on flying carpets, ghosts and a cartoon cat and mouse in addition to a previously unpublished novella-length title story in which a deceased man returns and reaches out to two lonely women. Each selection invites the reader to enter into the strangeness of a mysterious and fascinating place. Don't miss these new and selected stories."
—Jeanne Nicholson, The Providence Journal 
 
"A Steven Millhauser story is meticulously worded, often off-kilter at heart, and deserving of comparisons to Borges and Kafka. He has built a reputation on producing a consistently mystifying and provocative product. In this volume of new and selected works written over 30 years, he offers us numerous tales from four volumes whose storylines have been creative loci for him for decades. These yarns, with their idyllic American backdrops, their driven geniuses entrenched in fin-de-siècle Europe, their wondrous, inexplicable occurrences, from flying carpets to frog wives, make demands on our imaginations, but definitely give back in return. And what's more, the new stories in the volume display an unfamiliar restlessness, possibly a sign of stylistic changes afoot. . . . Millhauser's recurring storylines are much like forms—we care less about the stories than about the emotions they produce. Some of his stories are intensely imagined biographies, or parts thereof, that ultimately turn inwards. . . . One of Millhauser's most arresting stylistic quirks is to tell a story in the first person plural. Millhauser's 'we' both invites and distances; it asks us to be part of a group, witnessing the bizarre events occurring before 'our' eyes, but it also gives a passive tone to the work, perpetually separating the teller of the story from the story itself. Naming the book We Others, then, raises the question: Are we part of 'us' or 'them'? Are we witnesses, participants, outcasts? It is that kind of quiet unsettlement that makes We Others essential reading for anyone who might have ever doubted their assumptions."
—Max Winter, The Boston Globe

"[We Others] is all the things a person wants a Steven Millhauser book to be: lapidary, disturbing, mandarin, brilliant, perverse, and funny. As befits a book whose very title is given in the collective first person, it contains a teeming multitude of strange voices. There's not a dog in the bunch. A new-and-selected-stories collection is an invitation to look at a writer's career, and Millhauser's has been a long, strange trip. It's not his biography that's been weird, but his work—and weird in the old-fashioned sense. Millhauser has refused pure realism from the start, but he's not a formal gamesman like Donald Barthelme. His narrative structures are usually old-fashioned. It's what he does with them that's surprising. He uses comfortable story, novella, and novel forms to take us into the realms of the fantastic and the absurd. For many writers this would be—has been—enough. But Millhauser goes a further step. As strange as his characters' experiences may be—watching a friend fall in love with a giant frog; telling us what it's like to live as a ghost; flying around the backyard on a carpet—he always delivers us eventually to felt human experience. He uses these odd situations to try to get at subtle, hard to pin down, and very real human feelings. . . . Millhauser also specializes in stories that try to get below the surface of ordinary life. He probes hard at tiny moments—such as a character's anticipatory approach to the first summer dip in the lake in the story "Getting Closer." At the opposite end of the spectrum, Millhauser is a master of the purely fantastical—stories that feel witty and contemporary but also make gemlike little fairy tales. His astounding novella collection, The King in the Tree, falls into this category. Millhauser shows in this work that he can write with a hard, glittering beauty. But he is probably most famous for his rarified and unusual historical fiction. He repeatedly explores the technologies and art forms that were new in the 19th century, wondering and worrying over the birth of the modern. This obsession—a word I think it is fair to use—informed his Pulitzer Prize-winning novel Martin Dressler (1996). . . . A longtime master of the short form, Millhauser shows in [the seven] new pieces that he has somehow managed to improve what was already very good, writing with increased clarity, power, and emotional heft. The opening story, 'The Slap,' is told from the collective point of view of the townspeople of a smug commuter town where an unknown assailant has taken to slapping random victims. The story manages to indict elite complacency without slipping into sophomoric American Beauty-type clichés. The slaps force the townspeople to reassess their comfortable lives . . . Millhauser makes us sympathize with the outsider, the slapper, through the words of his victims. This displacement of sympathy is typical of his stories; you as a reader often find yourself on the wrong end of the stick, or, if not the wrong end exactly, then at least the poky, awkward one. . . . The book is full of gorgeous writing about seriously entertaining characters. . . . There's something moving about the idea of this man, now growing older, returning over and over to these ideas, reworking his most fruitful ground. It takes a kind of stamina to explore the meaning of things so relentlessly, and a kind of humility to admit you haven't pinned it down entirely. We Others begins to show us how these obsessions have spanned Millhauser's lifetime, much the way his characters' obsessions span their own lifetimes. It's like watching a man live out his fate, a favorite Millhauser word."
—Claire Dederer, Slate

"Millhauser still wears the distinction of 'short-story master' around his neck like an albatross keeping him out of the spotlight. With the arrival of his newest collection, the career-spanner We Others, it's clear that while he might prefer novels, short stories remain his most accessible and influential work. Of the seven new works, the lead story, 'The Slap,' most deserves a place among Millhauser's best. . . . Millhauser draws out the growing fear as both rational and irrational . . . The structure alternates between close third-person narration in the heads of the slap victims and first-person plural that encapsulates the fears and thoughts of the entire community. It's simple but deft, and executed with pinpoint accuracy to hypocritical suburban fear. . . . [Millhauser's] fierce imagination comes with a dark temperament instead of positive humor."
—Kevin McFarland, The A.V. Club

"Fantastic and enchanting. . . Millhauser is a master. His novels and stories are often preoccupied with oddities: circuses and carnivals, sideshows, nickelodeons, weird museums, twisted suburban landscapes and their denizens, eccentrics, illusionists, magicians, and builders of automata, zoetropes and other animating and esoteric technologies. His stories take the reader down paths that become increasingly, subtly, bizarre. Yet even as things turn stranger and stranger still, the reader finds herself propelled compulsively on the grace of Millhauser's prose. We Others is a collection of 21 of Millhauser's short stories spanning more than 30 years. The first seven are new; the remaining 14 are selected from past collections that helped establish Millhauser's reputation as a first-rate fabulist. . . . Millhauser explores an astonishing range of themes, spanning the limits of desire and the imagination, the role of the spectator and the responsibility of the artist, the individual in society and the centrality of stories in our lives. Some of his stories are about the art of artifice, about how far an artist can or should go to keep an audience's attention: How far is too far? At what point does the artist transgress? . . . These collected stories are by turns haunting, hilarious, absurd (in the best way), enigmatic and wondrous. Gems dominate. . . . These stories will seize your attention—and your imagination—with the force of a vise grip."
—Patrick Lohier, The Globe and Mail

"Many of the [twenty-one] stories collected [in We Others] walk the line between absurdism and realism to dizzying effect. . . . .Millhauser's chops are indisputable, having won a Pulitzer for his novel Martin Dressler: The Tale of an American Dreamer. And both the new stories and the old prove that he's one of the most inventive writers working today, constantly pulling apart and reassembling his stories until they don't resemble anyone else's."
—Jonathan Messinger, Time Out Chicago
 
"The bizarre and the disturbing—magicians, inventors, mad watchmakers, ghosts, and aliens—populate Pulitzer Prize–winning author Steven Millhauser's new collection. These tales teem with wild and original ideas, some incidental, some central to the plot, but all hinting that any apparent narrative simplicity should not be taken at face value. The titular story, 'We Others,' plunges into a world of darkness and despair . . . The story is a nightmare of absent endings set in a twilit limbo. . . . Vivid."
—Eve Ottenberg, Washington City Paper
 
"For almost 40 years, Steven Millhauser has been creating fables of identity, exploring how an irruption of the magical or inexplicable can unexpectedly transform a life or an entire society. In a loose sense, he is a writer of literary fantasies, belonging to that fabulist line that runs from the "Arabian Nights" stories through the unsettling tales of E.T.A. Hoffmann on to the magic-realist masterpieces of Kafka, Nabokov, Borges and Calvino. His work illustrates the very definition of the uncanny—that moment when the homey or familiar suddenly swerves into something rich, strange and menacing. . . . Like his illustrious antecedents (and such near contemporaries as Russell Hoban, Angela Carter, John Crowley and Michael Chabon), Millhauser calmly mixes fairy tale and literary experiment, surreal nightmare and ecstatic vision, gorgeous prose and sly humor. But he also adds a profound Americanness. . . . Millhauser owns the smell of fresh tar on streets, the creak of gliders on wooden porches, the rivalries of the playground and all those rainy Saturday afternoons playing Clue and reading comic books. Most impressively, though, he skirts the real danger of sentimentality through an iron control of tone: Millhauser's voice on the page is cool, reserved, profoundly courteous. Unusually, he often employs the first-person plural, drawing his readers into a shared dream or nightmare. . . . Illusion and reality, the power of the imagination, the nature of storytelling, childhood wonders, romantic yearning, a taste for the erotic and slightly perverse—these themes recur throughout . . . Some of us could no more stop breathing than stop reading him. . . . Steven Millhauser possesses the wand of an enchanter. In his books the wonders never cease."
—Michael Dirda, The Washington Post

"Two centuries ago, a German physician named Franz Anton Mesmer became so adept at hypnotizing his patients that his name formed the root of a verb: mesmerize. We should likewise consider making a new word to describe the unnerving effect Steven Millhauser's short fiction has on readers. His stories lure us into dark places with promises of magic and wonder, and we're unable to look away—much less flee—as the stories take a subtle turn and we see strange, even terrifying things moving toward us. This must be how a small animal feels as it waits, hypnotized, for the predator's pounce: In a word, we have been millhauserized. Millhauser's new collection, We Others: New and Selected Stories, offers 21 stories drawn from the past three decades. Among them is some of the best contemporary gothic fiction you're likely to come across."
—Doug Childers, Richmond Times-Dispatch
 
"Millhauser has been publishing unsettling and unforgettable fiction for the past 30 years, releasing new collections at intervals of four to 10 years. We Others is his first volume of "new and selected" stories, and it's a model of how a type of book that is sometimes used to eke out a few new stories into a full volume really ought to be done. It starts with seven new stories, which work satisfying changes on the themes that Millhauser has been exploring for decades—and which, at 145 pages, could have been enough to make a book. . . . Each story is complete in itself, but key themes recur in dreamlike variations. . . . The works both as an introduction to Millhauser's work for new readers and as a reminder to those familiar with him of the worlds he's capable of creating."
—Margaret Quamme, The Columbus Dispatch 
 
"Exquisite . . . I'm a Steven Millhauser fan. This kind of a book is a story-writer's crown . . . a career capstone on behalf of writer good enough to receive the honor. That Millhauser is a quiet, enigmatic master of the medium-long-to-long story; that his characteristic method mingles dreamlike and often morbid or perverse fantasies with meticulous realist observation; that his prose temperature is coolly feverish, drawing equally on Nabokovian rapture, Borgesian enigma and the plain-spoken white-picket-fence wistfulness of Sherwood Anderson; that he writes about magicians and inventors in stories that are themselves presto-chango contraptions; that he peppers his largely well-mannered dream worlds with little salacious uprisings, luscious peeps into the sexy-mermaid part of his imagination's carnival: these things I've said going in. But Millhauser's also protean. Although his stories have much in common only with themselves, he seems to demand fresh terms of himself for each project he begins. . . . Three of the new stories [in We Others] have an amplitude that makes them real advances in Millhauser's art, but they're also terrific lenses for gazing at the selection that follows. . . . The title novella is a painstakingly gradual grown-up ghost story that makes explicit Millhauser's allegiance to the tradition of Henry James. [He] is the master of what might be called the Homeopathic School of Fantastic Writing: just the barest tincture of strangeness, eyedropped into the body of an otherwise mimetic story. The payoff for this can be a reader's intensified complicity: a sensation of slippage into the unreal, just as we know it ourselves from our dreams and fantasies. The effect is often also deeply mournful . . . The opening story is my favorite among the new offerings . . . it is a mirror of unprecedented ungenerosity: it shows us only ourselves. . . . Devastating . . .Suggestive . . . Brave and inspired."
—Jonathan Lethem, The New York Times Book Review
 
 "Focusing on offbeat subjects like magicians, knife throwers and Borgesian museums, working in an elegant, plainspoken style, Millhauser conjures ordinary worlds that are stalked by strangeness. Blending the eerie and the true is his hallmark; at every turn he reminds us of how eager we are for a sense of magic in our lives."
—Mark Athitakis, Minneapolis Star Tribune
 
"Intense . . . richly detailed . . . a dark modern master of the short story mixes new work and old favorites. The Pulitzer Prize winner specializes in building dark, dramatic tension, at his best evoking protogothic horror. . . . Millhauser weaves highly engaging and relatable stories about the uneasiness of our lives and our culture, combining the mysterious and dreadful to the deep claustrophobia of our own guilty consciences. . . Gorgeous."
—Josh Davis, Time Out New York
 
"The inventiveness and intelligence of Millhauser's writing has been well noted and the new works don't disappoint. In stately, almost formal prose that belies playfulness, often writing as 'we,' . . . Millhauser juxtaposes suburban idyll and anxiety in probing examinations of the human condition. Any library that takes short fiction seriously should have this."
 —Kier Graff, Booklist 
 
"Profound and worthwhile . . .  We Others isn't only a greatest-hits introduction to Millhauser's world—it's a cordial invitation to it. The approach [in this collection] gives us the opportunity to focus on the mechanics and beauty of each individual story. Millhauser has proven himself to be one of our most consistently dazzling American voices . . . Millhauser can pinpoint the deeper truths about how spectacular and even life-changing events can appear ordinary on the surface. Along the same lines, though, he also locates moments of transcendence in the most mundane of our everyday lives. . . . Millhauser's fiction in general and the stories in We Others, new and old [are] delightfully weird and sometimes even challenging in the best possible ways. They contain big words and big ideas. They will force you to think about the world around you a bit differently. But, mama, that's where the fun is."
—Andrew Ervin, The Philadelphia Inquirer 
 
"Fiction old and new from one of the contemporary masters of the form. Settings range from the contemporary to the indefinite to the historic . . . Much of [Millhauser's fiction] touches on the surrealistic and resonates with metaphors and allegories . . . Literary language, intelligent speculation about the human condition, all woven through sophisticated storytelling."
—Kirkus Reviews