Dear Life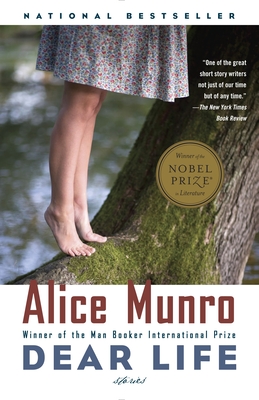 Dear Life
Stories
Vintage, Paperback, 9780307743725, 336pp.
Publication Date: July 30, 2013
* Individual store prices may vary.
Buy at Local Store
Enter your zip code below to purchase from an indie close to you.
or
Buy Here
Description
WINNER OF THE NOBEL PRIZE(R) IN LITERATURE 2013
A "New York Times" Notable Book
A "Washington Post" Notable Work of Fiction
A Best Book of the Year: "The Atlantic, "NPR, "San Francisco Chronicle," "Vogue," "AV Club
"
In story after story in this brilliant new collection, Alice Munro pinpoints the moment a person is forever altered by a chance encounter, an action not taken, or a simple twist of fate. Her characters are flawed and fully human: a soldier returning from war and avoiding his fiancEe, a wealthy woman deciding whether to confront a blackmailer, an adulterous mother and her neglected children, a guilt-ridden father, a young teacher jilted by her employer. Illumined by Munro's unflinching insight, these lives draw us in with their quiet depth and surprise us with unexpected turns. And while most are set in her signature territory around Lake Huron, some strike even closer to home: an astonishing suite of four autobiographical tales offers an unprecedented glimpse into Munro's own childhood. Exalted by her clarity of vision and her unparalleled gift for storytelling, "Dear Life "shows how strange, perilous, and extraordinary ordinary life can be.
About the Author
Alice Munro est nee en 1931 au Canada. Elle est l auteure d une douzaine de recueils de nouvelles et d un roman, traduits dans le monde entier. Laureate de nombreux prix, dont le Man Booker International Prize, elle a notamment publie, aux Editions de l Olivier, "Fugitives" (2008) et "Du cote de Castle Rock" (2009). Elle a recu le Prix Nobel de Litterature en 2013.
Praise For Dear Life…
"One of the great short story writers not just of our time but of any time." —The New York Times Book Review

"Wise and unforgettable. Dear Life is a wondrous gift; a reminder of why Munro's work endures." —The Boston Globe

"Unquestionable evidence of her unfaded abilities. . . . Reading these stories will tell you something about Alice Munro's life, but it will tell you more about Alice Munro's mind—and, not entirely surprisingly, this proves to be even more compelling." —The New Republic
 
"Alice Munro is not only revered, she is cherished. . . . Dear Life is as rich and astonishing as anything she has done before." —The New York Review of Books

"There is no writer quite as good at illustrating the foibles of love, the confusions and frustrations of life or the inner cruelty and treachery that can be revealed in the slightest gestures and changes of tone. . . . The stories of Dear Life violate a host of creative writing rules, but they establish yet again Munro's psychological acuity, clear-eyed acceptance of frailties and mastery of the short story form." —The Washington Post

"Alice Munro demonstrates once again why she deserves her reputation as a master of short fiction." —O, The Oprah Magazine

"Exquisite. . . . No other author can tell quite so much with quite so little. The modest surfaces of Munro's lapidary sentences conceal rich veins of ore." —Chicago Tribune

"Munro's wonderfully frank and compassionate stories suggest that perseverance, the determination to keep at the work of living, can invest a life with dignity through the end of one's days." —San Francisco Chronicle

"Absorbing. . . . Most haunting of all are the four autobiographical sketches that end the book, which display Munro's gift of observation and ability to trace big emotional arcs in short brushstrokes." —Entertainment Weekly

"Munro's best collection yet." —The Philadelphia Inquirer

"Remarkable. . . . Masterfully evokes the relationship between people and the places they inhabit." —Time Out New York

"Munro has an uncanny knack of convincing the reader that the characters have real lives before the stories commence and continuing existences after. . . . This is simply a good writer doing what she loves." —The Guardian (London)

"In acknowledging Alice Munro's pre-eminence in the world of contemporary short fiction it's become fashionable to describe her as the 'Canadian Chekhov,' but that title barely hints at the scope of her literary influence. Dear Life, her 13th collection, only serves to burnish her reputation for creating intelligent, sophisticated stories out of inarguably humble materials." —Minneapolis Star Tribune

"Virtuosic. . . . Encompass a wide variety of always-unpredictable characters—young, old, middle-aged—caught in circumstances that have the bright erratic flow of life itself." —The Seattle Times

"Munro is who she is, and we are fortunate to have her. No other author can contain so much life, and so many lives, in such few pages. . . . They can be read over and over, dependably revealing more with each reading." —The Miami Herald

"Alice Munro has long been acknowledged as one of Canada's literary treasures. This new volume, with its historical slant, its autobiographical material, its impressionistic descriptions of scenery, its occasional nostalgia and pleasing irony, confirms her reputation." —The Washington Times

"How does Munro manage such great effects on a relatively small canvas? It's a question that most anyone who has seriously attempted to write a short story in the last 20 years has pondered. . . . Munro has a genius, no empty word here, for selecting details that keep unfolding in the reader's mind." —Los Angeles Times

"Reading Alice Munro is like drinking water—one hardly notices the words, only the marvel at being quenched. . . . Behind each sentence is a world, conjured more distinctly than in many an entire novel." —The Plain Dealer

"Alice Munro . . . has earned every bit of her reputation as being one of the best living short story writers, in English if not in the entire world. . . . This collection represents fiction at its finest—captivating, complex, lifelike." —Richmond Times-Dispatch

"These stories are perfect. . . . Dear Life is a collection as rich and surprising as any in Alice Munro's deep career." —National Post

"Alice Munro has always been the poet of the unexpected passion that comes seemingly out nowhere and changes a character's life. . . . She is, and has been for decades, one of our most important writers, one whose work represents all the most essential and pleasurable aspects of literature, and which reminds us of what great literature is: You know it when you see it." —The Globe and Mail (Toronto)

Praise from fellow writers:

"Her work felt revolutionary when I came to it, and it still does." —Jhumpa Lahiri

"She is one of the handful of writers, some living, most dead, whom I have in mind when I say that fiction is my religion." —Jonthan Franzen

"The authority she brings to the page is just lovely." —Elizabeth Strout

"She's the most savage writer I've ever read, also the most tender, the most honest, the most perceptive." —Jeffery Eugenides

"Alice Munro can move characters through time in a way that no other writer can."—Julian Barnes

"She is a short-story writer who…reimagined what a story can do." —Loorie Moore

"There's probably no one alive who's better at the craft of the short story." —Jim Shepard

"A true master of the form." —Salman Rushdie

"A wonderful writer." —Joyce Carol Oates