The Woman Upstairs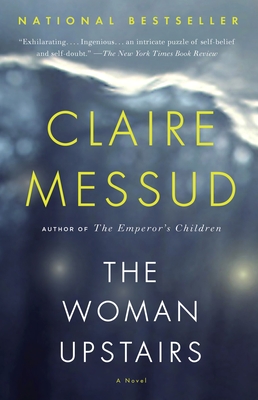 The Woman Upstairs
Vintage Books, Paperback, 9780307743763, 304pp.
Publication Date: February 4, 2014
* Individual store prices may vary.
Buy at Local Store
Enter your zip code below to purchase from an indie close to you.
or
Buy Here
Description
A "New York Times""Book Review" Notable Book A "Washington Post "Top Ten Book of the Year A" Chicago Tribune" Noteworthy Book A "Huffington Post" Best Book A "Boston Globe" Best Book of the Year A "Kirkus" Best Fiction Book A Goodreads Best Book
Nora Eldridge is a reliable, but unremarkable, friend and neighbor, always on the fringe of other people's achievements. But the arrival of the Shahid family dashing Skandar, a Lebanese scholar, glamorous Sirena, an Italian artist, and their son, Reza draws her into a complex and exciting new world. Nora's happiness pushes her beyond her boundaries, until Sirena's careless ambition leads to a shattering betrayal. Told with urgency, intimacy, and piercing emotion, this "New York Times "bestselling novel is the riveting confession of a woman awakened, transformed, and abandoned by a desire for a world beyond her own.
About the Author
Claire Messud was born in the United States in 1966. She was educated at Yale and Cambridge. Her first novel, When the World Was Steady, was a finalist for the PEN/Faulkner Award in 1996. Her second novel, The Last Life, was widely praised and has been translated into several languages.
Praise For The Woman Upstairs…
"Fantastic. . . . Burst[ing] with rage and desire. . . . Messud writes about happiness, and about infatuation—about love—more convincingly than any author I've encountered in years." —Lionel Shriver, NPR

"A liberation. Messud's prose grabs the reader by the collar. . . . In this ingenious, disquieting novel, she has assembled an intricate puzzle of self-belief and self-doubt, showing the peril of seeking your own image in someone else's distorted mirror—or even, sometimes, in your own." —The New York Times Book Review

"A trenchant exploration into the mercenary nature of artistic creation. . . . Destined to become a cultural benchmark." —The Wall Street Journal

"Fantastically smart." —The Washington Post

"Riveting. . . . Messud is adept at evoking complex psychological territory. . . . She is interested in the identities that women construct for themselves, and in the maddening chasm that often divides intensity of aspiration from reality of achievement." —The New Yorker

"The Woman Upstairs dazzles. . . . [Messud is] among our greatest contemporary writers." —The Miami Herald

"A work of such great emotional velocity." —Chicago Tribune (Editor's Choice)

"A liberation. Messud's prose grabs the reader by the collar. . . . She has assembled an intricate puzzle of self-belief and self-doubt, showing the peril of seeking your own image in someone else's distorted mirror—or even, sometimes, in your own." —The New York Times Book Review

"Exhilarating. . . . After the final powerful paragraphs, in which Nora howls in galvanized fury, throw it down and have a drink, or a dreamless nap. Don't be surprised if you then pick it back up and start all over again. A" —Entertainment Weekly

 "Startling: a psychological and intellectual thriller." —Los Angeles Times

"Mesmerizing. . . . While it was Messud's achingly beautiful characters crystallizing midlife that drew me in, it was her grotesque portrait of an inner life free to swell, untethered to the realities of children, a spouse and a mortgage that made me think." —The Huffington Post 

"Corrosively funny. . . . At a time at which there seems to be plenty for creative women to be angry about, Nora's rant feels refreshing."— Vogue

"Engrossing. . . . Think of [Nora] as the woman who leans out: the A student who puts others' needs first. . . . Through the ensuing drama, which includes one of the more shocking betrayals in recent fiction, Messud raises questions about women's still-circumscribed roles and the price of success." —People (A People's Pick)

"A supremely well-crafted page-turner with a shocker of an ending." —The Boston Globe

"[Messud has] a literary critic's knack for marshaling and reverberating themes and, most crucially, a broad and deep empathy. . . . The Woman Upstairs is first-rate: It asks unsettling, unanswerable questions." —The Denver Post

 "Brilliant. . . . Messud's cosmopolitan sensibilities infuse her fiction with a refreshing cultural fluidity. . . . The Woman Upstairs brims with energy and ideas." —NPR

"[Messud] knows how to make fiction out of the clash of civilizations. Her heroines . . . inhabit the inky space between continents, physical and generational. . . . The Woman Upstairs is not a pretty read, but that is precisely what makes it so hard to put down." —The Economist 

"[Here] are tart meditations on the creative impulse and the artistic ego, on the interplay between reality and fantasy and the often-pitiful limits of human communication. . . . Smoldering." —Bloomberg Businessweek

"Spellbinding, psychologically acute. . . . How much of Nora's fantasy is true . . . is the real subject of Messud's novel. . . . Exquisitely rendered." —Milwaukee Journal Sentinel

"Hypnotic. . . . In Nora, Messud has conjured a self-contradictory yet acutely familiar character; we've all met someone like her, if we aren't like her ourselves. . . . Nora does not become monstrous or pathological or even absurd. This, in a way, is her tragedy." —Salon

"Messud is a tremendously smart, accomplished writer. . . . What the novel does, in spades, is give a voiceless woman a chance to howl." —The Christian Science Monitor

"Bracing. . . . In this fierce, feminist novel, the reader serves as Nora's confessor, and it's a pleasurable job to listen to someone so eloquent, whose insights about how women are valued in society and art are sharp and righteous." —Dallas News 

"A trenchant exploration into the mercenary nature of artistic creation. . . . Destined to become a cultural benchmark." —The Wall Street Journal