Signs and Wonders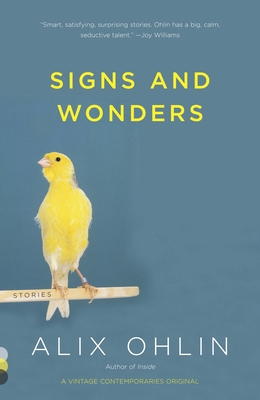 Signs and Wonders
Vintage Books, Paperback, 9780307743794, 261pp.
Publication Date: June 5, 2012
* Individual store prices may vary.
Buy at Local Store
Enter your zip code below to purchase from an indie close to you.
or
Not Currently Available for Direct Purchase
Description
These sixteen stories by the much-celebrated Alix Ohlin illuminate the connections between all of us connections we choose to break, those broken for us, and those we find and make in spite of ourselves.
About the Author
Alix Ohlin was born in Montreal in 1972, graduated from Harvard University, and studied at the Michener Center for Writers in Austin, Texas. Her fiction has appeared in the "One Story" series and "Shenandoah," among other periodicals, and in" Best New American Voices 2004." She has received awards and fellowships from "The Atlantic Monthly, "the MacDowell Colony, and "The Kenyon Review"'s" "Writers Workshop. She lives in Easton, Pennsylvania, and teaches at Lafayette College.
"From the Hardcover edition."
Praise For Signs and Wonders…
"Smart, satisfying, surprising stories. Ohlin has a big, calm, seductive talent." —Joy Williams
  
"Ohlin has a marvelous will to explore and it's clear that she's in complete command of her art.  These stories are smart, tough, deeply felt and beautifully delivered, without one wasted word.  Signs and wonders, all right.  I've seldom come upon a book so aptly titled for what's inside, page to page." —Richard Bausch
 
"Nothing short of marvelous.  Olin writes like an Old Master, with confidence and clarity, a steady hand.  She is immensely gifted, and every story here is a lucid chunk of reality—the flesh made word." – Jay Parini
 
"With an emotional intelligence that is nearly telepathic and a great storyteller's knack for riveting your attention from the opening line, Ohlin makes us understand that beneath everything that drives and distracts us there is, first and foremost, the struggle to love.  She is a ferocious talent, a writer not only to watch but also to admire." —Adam Ross
 
"I love the way Alix Ohlin's stories teach us, with wit and tenderness, about those grown-up selves we don't recognize; about the way our failures make us adults; and about how powerfully relieved we are to understand that, despite everything, our hearts can still move." —Jim Shepard
 
"Ohlin's stories are gripping from the get-go, and they don't turn you loose.  On virtually every page she surprised me and, more times than I could count, put a lump in my throat.  She is one spectacular writer, and this is a beautiful book." —Steve Yarbrough

"Unputdownable: crisp, focused, lovely, and lasting. . . . Sixteen stories about connectedness—between friends, families, and lovers—and the predicaments that come from navigating those relationships.  Ohlin's characters are so genuine you'll be reminded of people you know, love, and hate.  For better or worse, you may even see yourself in these pages." —Marie Claire

"Alix Ohlin working at the top of her powers… showing us in a remarkably mature and flat-out realistic style a new series of twists and turns in the lives of quite ordinary people – school teachers, women on the rebound, married folks and divorced folks, travelers, home bodies… There closely worked stories about life on earth – they soar." —Alan Cheuse, NPR
 
"Calling all fans of Lorrie Moore, Deborah Eisenberg, and Robin Black:  You have a new favorite writer [with a] deliciously addictive collection." – Sheila Anne Fenney, Newark Star-Ledger
 
"Alix Ohlin's wondrously engrossing Inside and Signs and Wonders display her characteristic strengths—dynamic plots, keenly observed settings, and characters so idiosyncratic, ambivalent, and contradictory they could be your family, your neighbors, people you work with…..She has a rare gift for examining the confusions of the 21st century, exploring the ways in which addictions, afflictions, attractions, and random impulses shape our lives.  Her intense and beautifully shaped new novel and stories offer tentative yet illuminating answers." – Jane Ciabattari, The Boston Globe

"Ohlin's a master at drawing a character, a skill even more evident in the short story form, [and] she's got a surgeon's hand with the fine points of relationship dissection… Signs and Wonders makes me want to say to you, dear reader, one simple thing: Read this!" —Ian McGillis, Montreal Gazette

"Impressive… With enjoyably mordant humour and a surgical hand with relationship dissection… Ohlin crafts stories with consistent excellence." —Brett Josef Grubisic, National Post

"One of the best story collections I've read in a decade… tough, original, funny and tragic, all at once." —William McKeen, Creative Loafing Tampa