Catastrophe 1914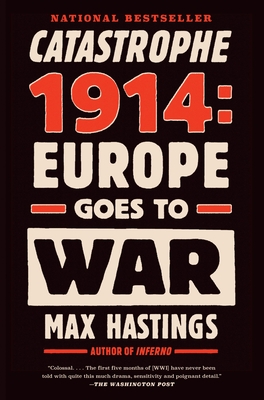 Catastrophe 1914
Europe Goes to War
Vintage, Paperback, 9780307743831, 704pp.
Publication Date: May 13, 2014
* Individual store prices may vary.
Buy at Local Store
Enter your zip code below to purchase from an indie close to you.
or
Buy Here
Description
A "New York Times" Notable Book of 2013
A "Kirkus Reviews" Best Nonfiction Book of the Year
World War I evokes images of the trenches: grinding, halting battles that sacrificed millions of lives for no territory or visible gain. Yet the first months of the war, from the German invasion of Belgium to the Marne to Ypres, were utterly different, full of advances and retreats, tactical maneuvering, and significant gains and losses.
In "Catastrophe 1914," acclaimed military historian Max Hastings re-creates this dramatic year, from the diplomatic crisis to the fighting in Belgium and France on the western front, and Serbia and Galicia to the east, and shows why it was inevitable that this first war among modern industrial nations could not produce a decisive victory. Throughout we encounter high officials and average soldiers, as well as civilians on the home front, giving us a vivid portrait of how a continent became embroiled in a war that would change everything.
About the Author
Max Hastings is the author of more than twenty books, most recently "Inferno: The World at War, 1939 1945." He spent his early career as a foreign correspondent for BBC TV and various newspapers, then as editor of Britain s "Evening Standard" and "Daily Telegraph." He has received numerous awards for both his books and his journalism. He lives in the English countryside west of London."
Praise For Catastrophe 1914…
"Colossal. . . . The first five months of [WWI] have never been told with quite this much drama, sensitivity and poignant detail. . . . A worthy addition to the literature of [WWI]. . . . At a breathtaking pace, the reader is transported to battles in Belgium, France, Serbia, Poland and Prussia. . . . Hastings's book is the perfect example of what a good journalist can add to the study of war. . . . We need authors like Hastings to remind us of how the best of human spirit can be squandered by the worst of human motive."
—The Washington Post

"Catastrophe 1914 brilliantly shows how, within its first few months, World War I came to assume the dispiriting and bloody form it would hold for the next four years."
—The New York Times Book Review
 
"Hastings is in top form. . . . A lively and opinionated account. . . . [Hastings's] vivid rendering of the first months of a cataclysm that grows more distant with each passing year makes the book a worthy addition to the canon."
—The Christian Science Monitor
 
"Absorbing and compulsively readable. . . . Superb. . . . Like an eagle soaring over this vast terrain, Hastings swoops in and out, spying broad features and telling details alike."
—The Cleveland Plain Dealer

"[Hastings is] an outstanding historian . . . a victorious foray. . . . Tuchman has been supplanted."
—The New York Times

"Hastings over the past two decades has become the contemporary premier historian of 20th-century war. . . . The real strength of this story is how Mr. Hastings portrays the principal characters, not as stereotyped tyrants, greedy empire builders or mindless militarists, but rather as very real human beings with as many flaws as virtues."
—Washington Times

"Highly readable. . . . What makes this book really stand out is Mr. Hastings' deliberate efforts to puncture what he labels the many myths and legends of the events of 1914. . . . His deep research, insightful analysis, and wonderful prose make this an excellent addition to his long library of titles."
—New York Journal of Books

"Hastings argues persuasively that the war's opening phase had a unique character that merits closer study. . . . Hastings ends his deft narrative and analysis by observing that the price of German victory would have been European democracy itself. Those who died to prevent that victory—despite the catastrophic decisions of 1914—did not die in vain."
—The Wall Street Journal

"Significant. . . . Hastings doesn't mince words, and one of the chief pleasures of his very readable and engaging account is his mordant humor, and the precision with which he skewers his history's many fools and mountebanks. . . . He is able to persuasively assess blame and responsibility."
—The Dallas Morning News

"Does the world need another book on that dismal year? Absolutely, if it's by Hastings. . . . Splendid . . . Readers accustomed to Hastings' vivid battle descriptions, incisive anecdotes from all participants, and shrewd, often unsettling opinions will not be disappointed. Among the plethora of brilliant accounts of this period, this is one of the best."
—Kirkus Reviews, starred review

"Hastings makes a very complicated story understandable in a way that few serious history books manage. An ideal entry into World War I history."
—Library Journal

"Invites consideration as the best in his distinguished career, combining a perceptive analysis of the Great War's beginnings with a vivid account of the period from August to September of the titular year."
—Publishers Weekly

"Magnificent. . . . Hastings writes with an enviable grasp of pace and balance, as well as an acute eye for human detail. . . . Moving, provocative and utterly engrossing."
—The Sunday Times (UK)

"[Hastings's] position as Britain's leading military historian is now unassailable . . . enormously impressive. . . . Magisterial. . . . This is a magnificent and deeply moving book, and with Max Hastings as our guide we are in the hands of a master."
—The Telegraph (UK)

"A seamless, vivid and compelling narrative. . . . Hastings is a master of the pen portrait and the quirky fact . . . His greatness as a historian—never shown to better effect than in this excellent book—lies in his willingness to challenge entrenched opinion and say what needs to be said.
—London Evening Standard (UK)

"Compelling. . . . Told with an equal richness of detail and sure narrative sweep. . . . [A] formidably impressive book."
—The Spectator (UK)

"Forcefully reasserts the thesis of German guilt in Catastrophe. . . . Magnificent. . . . A splendid read."
—The Guardian (UK)