Seating Arrangements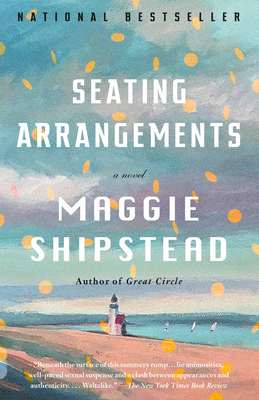 Seating Arrangements
Vintage Books, Paperback, 9780307743954, 301pp.
Publication Date: May 7, 2013
* Individual store prices may vary.
Buy at Local Store
Enter your zip code below to purchase from an indie close to you.
or
Buy Here
Description
A San Francisco Chronicle and Daily Candy Best Book of the Year
Winner of the Los Angeles Times Book Prize for First Fiction
Winner of the Dylan Thomas Prize

The Van Meters have gathered at their family retreat on the island of Waskeke to celebrate the marriage of daughter Daphne to the impeccably appropriate Greyson Duff. The weekend is full of champagne, salt air and practiced bonhomie, but long-buried discontent and simmering lust stir beneath the surface.
Winn Van Meter, father of the bride, is not having a good time. Barred from the exclusive social club he's been eyeing since birth, he's also tormented by an inappropriate crush on Daphne's beguiling bridesmaid, Agatha, and the fear that his daughter, Livia recently heartbroken by the son of his greatest rival is a too-ready target for the wiles of Greyson's best man. When old resentments, a beached whale and an escaped lobster are added to the mix, the wedding that should have gone off with military precision threatens to become a spectacle of misbehavior.
About the Author
Maggie Shipstead was born in 1983 and grew up in Orange County, California. Her short fiction has appeared in Tin House, VQR, Glimmer Train, The Best American Short Stories, and other publications. She is a graduate of the Iowa Writers Workshop and a recipient of the Stegner Fellowship from Stanford University."
Praise For Seating Arrangements…
"Beneath the surface of this summery romp lie animosities, well-paced sexual suspense and a clash between appearances and authenticity. . . . Waltzlike." —The New York Times Book Review

"The novel I've been recommending this summer to anyone, female or male, who's looking for the trifecta—a good story that's beautifully written and both hilarious and humane." —Maureen Corrigan, NPR
 
"This gorgeous, wise, funny, sprawling novel about family, fidelity, and social class, is the best book I've read in ages." —J. Courtney Sullivan, author of Maine
 
 "Shipstead's weave of wit and observation continually delights. I wouldn't be surprised if someday she trades her Lilly Pulitzer for something from Joseph Pulitzer." —Ron Charles, The Washington Post
 
"Seating Arrangements delightfully and poignantly upends the WASP idyll….Sparkles while it slays." —USA Today

"Maggie Shipstead is an outrageously gifted writer, and her assured first novel, Seating Arrangements, is by turns hilarious and deeply moving." —Richard Russo, author of That Old Cape Magic 

 "Shipstead doesn't just follow in [John Updike and Jane Smiley's] footsteps; she beats a distinctive and dazzling path of her own. The world has found a remarkable, humane new voice to explain us to ourselves" —Allison Pearson, author of I Don't Know How She Does It

"Whipsmart and engaging." —O, The Oprah Magazine

"A wickedly clever tragicomedy of manners that unfolds with the plotting of a juicy mystery and the sharp eye of someone only too aware of the subtle, seemingly pointless class distinctions within the one percent." —Slate

"Shipstead seems at home in the Waspy milieu of private schools and their preening, privileged attendees. . . . A keen-eyed rendering of America's self-invented caste." —The New Yorker

"This is one of those rare debut novels that neither forsakes plot for language nor language for plot. It is gratifying on every scale." —The Boston Globe

"Precise, skilled, quick-witted, and warm-hearted."  —The Millions

"Dead-on delightful. . . . A champagne-fueled, saltwater-scented comedy of upper-crust New England manners and mores." —National Geographic Traveler

"A wise, sophisticated and funny novel about family, fidelity, class and crisis."—Marie Claire  

 "A pitch-perfect debut from a master storyteller, Seating Arrangements is a rich and deep work: a smart, consuming novel that manages also to be delightfully funny. A romp of a book, with whales and weddings and wealth, it is, at its heart, a warning against the empty seductions of status and exclusivity." —Justin Torres, author of We the Animals

"Elegant, delightful. . . . Shipstead's sentences simmer and crackle on the page." —San Francisco Chronicle

"[A] mordant, ferociously clever comedy of manners." —The Guardian (London)

"Delightful. . . . Seating Arrangements brims with sharp observations about love, lust, family, and the real meaning of marital bliss." —Entertainment Weekly

"[A] spicy debut." —Real Simple

"Funny and dark and poignant—sometimes all at once. Shisptead is a gifted storyteller whose richly realized characters and sweetly flowing prose coalesce into a tale that is by parts sweet and sharp, humorous and heartbreaking. It's an auspicious debut by an undeniably talented writer."—The Maine Edge

 "Wonderfully juicy, frothy and delightful." —Cape Cod Times

"A delicious comedy of manners . . . that has fun with all things rich, all things wedding and all things inappropriate." —Asbury Park Press

 "Zestful yet acerbic. . . . For all its madcap quirkiness, Shipstead's adroit escapade artfully delivers a poignant reflection on the enduring if frustrating nature of love, hope, and family."—Booklist

"[Shipstead's] book places a magnifying glass over classic New England upper-crust culture. . . .  Whether reading Seating Arrangements is like looking into a mirror or peeking through the window, the gin-soaked escapades are difficult to turn away from." —The Phoenix (Portland, ME)