Wish You Were Here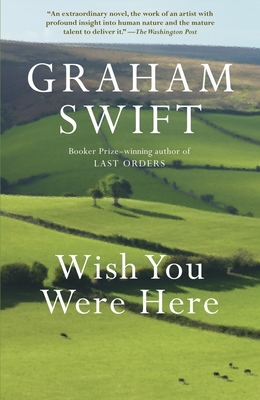 Wish You Were Here
Vintage Books, Paperback, 9780307744395, 319pp.
Publication Date: January 22, 2013
* Individual store prices may vary.
Shop Local
Enter your zip code below to find indies closest to you.
Description
A Washington Post Notable Work of Fiction

On an autumn day in 2006, on the Isle of Wight, Jack Luxton—once a Devon farmer, now the proprietor of a seaside caravan park—receives the news that his brother, Tom, not seen for years, has been killed in combat in Iraq. For Jack and his wife, Ellie, this will have unexpected, far-reaching effects. For Jack in particular it means a crucial journey: to receive his brother's remains and to confront his most secret, troubling memories.
 
A hauntingly intimate, deeply compassionate story about things that touch and test our human core, Wish You Were Here also looks, inevitably, to a wider, afflicted world. Moving toward a fiercely suspenseful climax, it brilliantly transforms the stuff of headlines into a heart-wrenching personal truth.
About the Author
Award-winning author GRAHAM SWIFT was born in 1949 in London where he still lives and works. He is the author of six previously published novels including "Last Orders", which was awarded the Booker Prize and was made into a critically-acclaimed film released February, 2002, starring Michael Caine, Bob Hoskins, David Hemmings, Tom Courtenay, and Helen Mirren. His work has been translated into more than twenty languages.
Praise For Wish You Were Here…
"An extraordinary novel, the work of an artist with profound insight into human nature and the mature talent to deliver it." —The Washington Post

"Exquisite. . . . Beautifully made…[an] abundance of subtlety, tenderness and fluid prose." —The New York Times Book Review

"Vivid, emotionally raw . . . Swift is a writer who clearly revels in dialogue and nuance. . . . Thoughtful and sensitive." —The Boston Globe
 
"Mr. Swift's writing is as strong as ever, recalling the descriptive beauty of his highly acclaimed Waterland and Booker Award-winning Last Orders." —Pittsburgh Post-Gazette

"As every truly great novelist does, in this new book, [Swift] demonstrates that perfect coordination between style and story. . . . [A] honed and driven story. Honestly, I can't remember when I cared so passionately about how a novel might end." —Ron Charles, The Washington Post
 
"Jamesian in sensibility and to some degree in style, [Swift] finds tragedy in the most ordinary conversation. . . . . You forget how piercing this sort of thing can be until you see Swift doing it so well, and with such patience. The depth of field in a Swift novel, thematically and emotionally, is vast. At his best, he suggests that looking intently at the smallest, most mundane thing can yield a glimpse into the meaning of life." —The New York Times Book Review
 
"A rich, stereoscopic portrait of the book's hero, Jack Luxton. . . . Swift knows that in reality we occupy a wealth of experiences, past and present, mundane and memorable. His strength in this fine novel is showing how all those experiences inescapably collide within us. As he puts it, "the place known as 'away from it all' simply doesn't exist." —Minneapolis Star-Tribune
 
"Heart-wrenching and gripping, Swift's novel takes one man's grief and uses it as a prism for the suffering of an entire nation." —Mail on Sunday
 
"Part ghost story, part whodunit, part tour d'horizon of a nation that seems to have lost faith in tradition and history, it is also a deeply human tale about a man driven to the edge. Praise be for a serious novel that dares to look current affairs in the face." —The Times (London)
 "One of Swift's most accomplished works yet. . . . A writerly novel that pushes us deep into the writer's craft. . . . That Swift should be considered among the ranks of the literary greats is surely no longer in doubt." —Culture Mob

"Magnificent . . . This is a substantial work, but not a sentence too long . . . Unafraid of emotion, though without a moment of sentimentality, Swift brilliantly conveys the confusion of a man and wife trapped by their unspoken fears." —Sunday Herald (Scotland)
 
"With unmistakable echoes of Thomas Hardy and E.M. Forster. . . . He exercises a compelling mastery of tone and trajectory. . . . Emotionally gripping." —The Times Literary Supplement