The Buddha in the Attic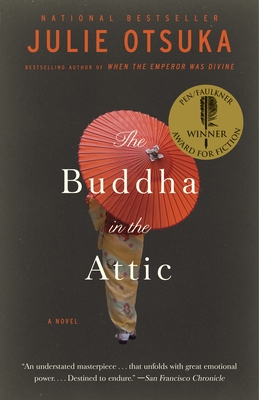 The Buddha in the Attic
Anchor Books, Paperback, 9780307744425, 144pp.
Publication Date: March 20, 2012
* Individual store prices may vary.
Buy at Local Store
Enter your zip code below to purchase from an indie close to you.
or
Buy Here
Description
Winner of the PEN/Faulkner Award For Fiction
National Book Award and "Los Angeles Times" Book Prize Finalist
A "New York Times" Notable Book
A gorgeous novel by the celebrated author of "When the Emperor Was Divine" that tells the story of a group of young women brought from Japan to San Francisco as picture brides nearly a century ago. In eight unforgettable sections, "The Buddha in the Attic" traces the extraordinary lives of these women, from their arduous journeys by boat, to their arrival in San Francisco and their tremulous first nights as new wives; from their experiences raising children who would later reject their culture and language, to the deracinating arrival of war. Once again, Julie Otsuka has written a spellbinding novel about identity and loyalty, and what it means to be an American in uncertain times.
About the Author
Julie Otsuka est nee en 1962 en Californie. En 2002, elle publie son premier roman "Quand l empereur etait un dieu" (Phebus, 2004 10/18, 2008), qui remporte immediatement un grand succes critique, laissant presager de l uvre a venir.
Praise For The Buddha in the Attic…
"Exquisitely written. . . . An understated masterpiece…that unfolds with great emotional power. . . . Destined to endure." —The San Francisco Chronicle

"Arresting and alluring. . . . A novel that feels expansive yet is a magical act of compression." —Chicago Tribune

"A stunning feat of empathetic imagination and emotional compression, capturing the experience of thousands of women." —Vogue
 
"Otsuka's incantatory style pulls her prose close to poetry. . . . Filled with evocative descriptive sketches…and hesitantly revelatory confessions." —The New York Times Book Review

"A fascinating paradox: brief in span yet symphonic in scope, all-encompassing yet vivid in its specifics. Like a pointillist painting, it's composed of bright spots of color: vignettes that bring whole lives to light in a line or two, adding up to a vibrant group portrait." —The Seattle Times
 
"Mesmerizing. . . . Told in a first-person plural voice that feels haunting and intimate, the novel traces the fates of these nameless women in America. . . . Otsuka extracts the grace and strength at the core of immigrant (and female) survival and, with exquisite care, makes us rethink the heartbreak of eternal hope. Though the women vanish, their words linger." —More
 
"Spare and stunning. . . . By using the collective 'we' to convey a constantly shifting, strongly held group identity within which distinct individuals occasionally emerge and recede, Otsuka has created a tableau as intricate as the pen strokes her humble immigrant girls learned to use in letters to loved ones they'd never see again." —O, The Oprah Magazine
 
"With great daring and spectacular success, she has woven countless stories gleaned from her research into a chorus of the women's voices, speaking their collective experience in a plural 'we,' while incorporating the wide range of their individual lives. . . . The Buddha in the Attic moves forward in waves of experiences, like movements in a musical composition. . . . By its end, Otsuka's book has become emblematic of the brides themselves: slender and serene on the outside, tough, weathered and full of secrets on the inside." —Milwaukee Journal-Sentinel
 
"A gorgeous mosaic of the hopes and dreams that propelled so many immigrants across an ocean to an unknown country. . . . Otsuka illuminates the challenges, suffering and occasional joy that they found in their new homeland. . . . Wrought in exquisite poetry, each sentence spare in words, precise in meaning and eloquently evocative, like a tanka poem, this book is a rare, unique treat. . . . Rapturous detail. . . . A history lesson in heartbreak." —Washington Independent Review of Books
 
"[Otsuka] brazenly writes in hundreds of voices that rise up into one collective cry of sorrow, loneliness and confusion. . . . The sentences are lean, and the material reflects a shameful time in our nation's past. . . . Otsuka winds a thread of despair throughout the book, haunting the reader at every chapter. . . . Otsuka masterfully creates a chorus of the unforgettable voices that echo throughout the chambers of this slim but commanding novel, speaking of a time that no American should ever forget." —Minneapolis Star-Tribune
 
"Daring. . . . Frequently mesmerizing. . . . Otsuka has the moves of cinematographer, zooming in for close-ups, then pulling back for wide lens group shots. . . . [Otsuka is] a master of understatement and apt detail. . . . Her stories seem rooted in curiosity and a desire to understand." —Bookpage
 
"Precise, focused. . . . Penetrating. . . . See it and you'll want to pick it up. Start reading it and you won't want to put it down. . . . A boldly imagined work that takes a stylistic risk more daring and exciting than many brawnier books five times its size. Even the subject matter is daring. . . . Specific, clear, multitudinous in its grasp and subtly emotional." —The Huffington Post