The Ecstasy of Influence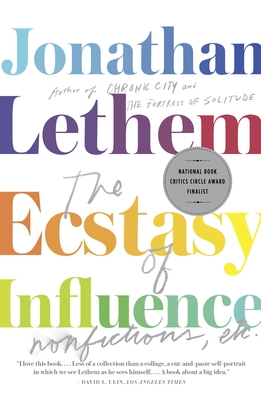 The Ecstasy of Influence
Nonfictions, Etc.
Vintage Books, Paperback, 9780307744500, 441pp.
Publication Date: October 2, 2012
* Individual store prices may vary.
Buy at Local Store
Enter your zip code below to purchase from an indie close to you.
or
Buy Here
Description
National Book Critics Circle Award Finalist
A New York Times Notable Book
A Best Book of the Year —Austin American-Statesman

Includes a new, previously uncollected piece: "My Internet"
 
In The Ecstasy of Influence, the incomparable Jonathan Lethem has compiled a career-spanning collection of occasional pieces—essays, memoir, liner notes, fiction, and criticism—which also doubles as a novelist's manifesto, self-portrait, and confession. The result is an insightful, charming, and entertaining grab bag that covers everything from great novels to old films to graffiti to cyberculture.
About the Author
JONATHAN LETHEM is the "New York Times" bestselling author of eight novels, including "Chronic City, The Fortress of Solitude, "and "Motherless Brooklyn.." A recipient of the MacArthur Fellowship and winner of the National Book Critics Circle Award, Lethem has also published his stories and essays in "The New Yorker," "Harper's," "Rolling Stone," "Esquire," and "The New York Times," among others.

www.jonathanlethem.com
Praise For The Ecstasy of Influence…
"I love this book. . . . Less of a collection than a collage, a cut-and-paste self-portrait in which we see Lethem as he sees himself. . . . A book about a big idea." —David L. Ulin, Los Angeles Times
 
"Begins with this idea of writer-as-magpie and takes it on a communitarian-artistic romp. . . . It's a grand performance. . . . And delivered with a wink." —San Francisco Chronicle
 
"Like almost everything Lethem has written, The Ecstasy of Influence is a reflection of, and a pixilated homage to, those whose work he fetishizes. If this book has a thesis, it's this: For an artist, influence is everything." —The New York Times
 
"[An] exuberant whiz-bang of an essay collection." —The Daily Beast
 
"Hefty and remarkable. . . . Dominating all is Lethem's prime concern always: the novel. . . . More exciting than any of his interesting-to-terrific fiction." —Robert Christgau, The New York Times Book Review

"[Lethem is] as sharp a critic as he is a novelist. This collection shows you why." —Austin American-Statesman
 
"Lethem takes a boldly different tack on the matter of mentors, gurus, fathers, shapers and sources. . . . He not only acknowledges his literary and psychological progenitors; he insists upon them, celebrates them, and invites the reader to join in an exhilarating if sometimes baffling deconstruction of the very idea of influence." —The Dallas Morning News
 
"Lethem's inspired miscellany is ardent and charming. . . . His essays are zippy and freewheeling."—Chicago Tribune
 
"Sharp and funny." —The Plain Dealer
 
"Frank and boisterous. . . . The Ecstasy of Influence is, more than anything, a record of Mr. Lethem's life as a public novelist, a role for which he is obviously well suited. . . . Mr. Lethem has such a gift, and The Ecstasy of Influence is evidence of it." —The New York Observer
 
"This impassioned, voluble book is illuminating about much more than its author."—The Independent (London)
 
"The Ecstasy of Influence is in part an attempt to discuss the things artists and writers rarely talk about—how much of their work is borrowed from other artists and how much they care about their critical reputations, among other things." —Salon
 
"Smart and rollicking. . . . Brilliantly dissect[s] the various sulks, funks, and paranoias of being a writer who moans about doing writerly things—not least among them writing itself." —The Millions
 
"A wide and wonderful series of subjects that are threaded together, mostly, as a kind of autobiography of a would-be writer becoming a struggling writer and then a successful writer while all the while remaining a voracious reader." —National Post (Canada)
 
"The author invites us into the ecstasy of intertextuality, to the intertwining of thousands of words with ourselves."—PopMatters
 
"The arguments implicit in his novels are not merely explicit here, but deliriously so, ecstatically so, as if the author is shaking you by the shoulders to show you what he loves, why he loves it and why you should love it, too." —Kirkus Reviews (starred review)