The Devil All the Time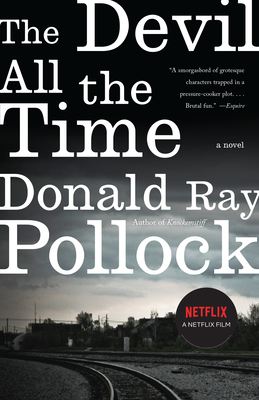 The Devil All the Time
Anchor Books, Paperback, 9780307744869, 307pp.
Publication Date: July 10, 2012
* Individual store prices may vary.
Buy at Local Store
Enter your zip code below to purchase from an indie close to you.
or
Buy Here
Description
In the backwoods of Ohio, Willard Russell's wife is succumbing to cancer, no matter how much he drinks, prays, or sacrifices animals at his "prayer log." Meanwhile, his son Arvin is growing up, from a kid bullied at school into a man who knows when to take action. Around them swirl a nefarious cast of characters--a demented team of serial killers, a spider-eating preacher, and a corrupt local sheriff--all braided into a riveting narrative of the grittiest American grain.
About the Author
DONALD RAY POLLOCK is the author of the novel The Devil All the Time and the story collection Knockemstiff, recipient of the 2009 PEN/Robert W. Bingham Fellowship. He worked as a laborer at the Mead Paper Mill in Chillicothe, Ohio, from 1973 to 2005. He holds an MFA from Ohio State University.
Praise For The Devil All the Time…
Praise for The Devil All The Time:
                   
"Brutally creative. . . . Pollock knows how to dunk readers into a scene and when to pull them out gasping."--The New York Times Book Review 
                                                 
"Fulfills the promise in [Knockemstiff]. . . . Invites comparisons to Flannery O'Connor and Raymond Carver." –USA Today
                   
"Finely woven. . . . [A] throat-stomping Appalachian crime story." –GQ
                   
"For fans of No Country for Old Men . . . sure to give you goose bumps." —Details
                   
"Should cement Pollock's reputation as a significant voice in American fiction." —Los Angeles Times
                   
"Will have you on the edge of your seat." —Christian Science Monitor
                   
"A systematic cataloguing of the horror and hypocrisy that festers in the dark shadow of the American dream." —The Portland Mercury
                   
"You may be repelled, you may be shocked, you will almost certainly be horrified, but you will read every last word." —The Washington Post
                   
"Disarmingly smooth prose startled by knife-twists of black humor. . . . Expertly employs the conventions of Southern Gothic horror."— The Wall Street Journal
                   
"Reads as if the love child of O'Connor and Faulkner was captured by Cormac McCarthy, kept in a cage out back and forced to consume nothing but onion rings, Oxycontin and Terrence Malick's Badlands."--The Oregonian 
                   
"[Pollock] doesn't get a word wrong in this super-edgy American Gothic stunner."--Elle

"Features a bleak and often nightmarish vision of the decades following World War II, a world where redemption, on the rare occasions when it does come to town, rides shotgun with soul-scarring consequences."--The Onion, A.V. Club
                   
"Mr. Pollock's new novel is, if anything, even darker than the Knockemstiff, and its violence and religious preoccupations venture into Flannery O'Connor territory."--The New York Times
                   
"Donald Ray Pollock's engaging and proudly violent first novel…suggests a new category of fiction—grindhouse literary. Subtle characterization: check. Well-crafted sentences: check. Enthusiastic amounts of murder and mayhem: check, check."—The Daily Beast

"Beneath the gothic horror is an Old Testament sense of a moral order in the universe, even if the restoration of that order itself requires violence."--The Columbus Dispatch
                   
"A smorgasbord of grotesque characters trapped in a pressure-cooker plot. . . . Brutal fun."--Esquire
                   
"For a first novel so soaked in stale sweat and bright fresh blood, Pollock's sweat is well-earned, and his blood is wise."--Philadelphia Citypaper

"A gallery of reprobates and religious fanatics... are multidimensional, flawed human beings."--Dayton Daily News
                   
"[The Devil All the Time is] a world unto its own, a world vividly and powerfully brought to life by a literary stylist who packs a punch as deadly as pulp-fiction master Jim Thompson and as evocative and morally rigorous as Russell Banks."—Philadelphia Inquirer
                 
"Stunning . . . . One wild story . . . gives us sex, murder, mayhem and some of the most bizarre characters in fiction today."—Richmond Times-Dispatch