The Naive and the Sentimental Novelist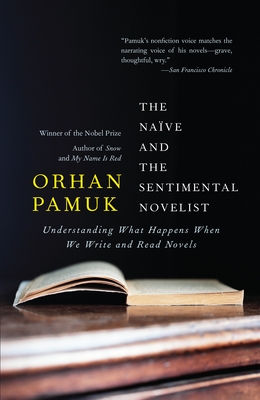 The Naive and the Sentimental Novelist
Vintage Books, Paperback, 9780307745248, 200pp.
Publication Date: November 1, 2011
* Individual store prices may vary.
Buy Now
or
Shop Local
Enter your zip code below to purchase from an indie close to you.
Description
From the Nobel Prize-winning novelist, an inspired, thoughtful, and deeply personal book about reading and writing novels.
In this fascinating set of essays, based on the talks he delivered at Harvard University as part of the distinguished Norton Lecture series, Pamuk presents a comprehensive and provocative theory of the novel and the experience of reading. Drawing on Friedrich Schiller's famous distinction between naive writers those who write spontaneously and sentimental writers those who are reflective and aware Pamuk reveals two unique ways of processing and composing the written word. He takes us through his own literary journey and the beloved novels of his youth to describe the singular experience of reading. Unique, nuanced, and passionate, this book will be beloved by readers and writers alike.
About the Author
Orhan Pamuk is the author of such novels as "The New Life", "The Black Book", "My Name Is Red" and "The White Castle". He has won numerous international awards, including the Nobel Prize in Literature in 2006. He lives with his wife and daughter in Istanbul.


Praise For The Naive and the Sentimental Novelist…
"Pamuk's nonfiction voice matches the narrating voice of his novels—grave, thoughtful, wry." –San Francisco Chronicle

"A full-fledged theory of the novel. . . . His explorations of time and plot, words and objects, and the convolutions of the reader's mind as he seeks the center of the novel are incomparable." –Huffington Post, One of the Ten Best Books of 2010


"Anyone who has read Pamuk's exquisite fiction will be interested in these essays on reading and the art of the novel." –Plain Dealer

"Fascinating. . . . Every novelist will want to read this, and will learn from a master." —Philip Hensher, The Telegraph (UK)
 
"A pleasure to read. . . . Quite an interesting theoretical map, illuminating, for instance, the difference between literary and genre fiction, or the relationship between art and reality." –The National
 
"Engaging. . . . Charming." —The Guardian (UK)
 
"Full of literary examples and written with a real love for the power of books, The Naïve and the Sentimental Novelist will take its place with other classics like E.M. Forster's Aspects of the Novel, John Gardner's The Art of Fiction and James Wood's How Fiction Works." —Business-Standard
 
"A striking interpretation of what goes on in the novelist's mind. . . . Pamuk's great insight is that novels don't necessarily have a single center—the center depends on the point of view of the character, and more importantly, the shifting point of view of the reader." —The American Statesman
 
"Pamuk's book is a reminder that, without this almost metaphysical faith, great fiction can't be truly appreciated or written." —Bookforum