Going Clear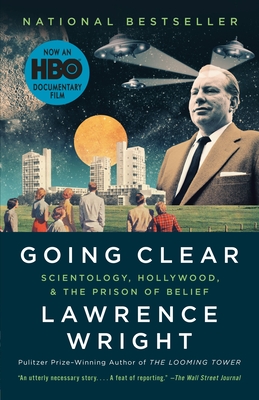 Going Clear
Scientology, Hollywood, and the Prison of Belief
Vintage Books, Paperback, 9780307745309, 538pp.
Publication Date: November 5, 2013
* Individual store prices may vary.
Buy at Local Store
Enter your zip code below to purchase from an indie close to you.
or
Buy Here
Description
The Basis For The New HBO Documentary. A National Book Award and National Book Critics Circle Award Finalist.
Scientology presents itself as a scientific approach to spiritual enlightenment, but its practices have long been shrouded in mystery. Now Lawrence Wright armed with his investigative talents, years of archival research, and more than two hundred personal interviews with current and former Scientologists uncovers the inner workings of the church. We meet founder L. Ron Hubbard, the highly imaginative but mentally troubled science-fiction writer, and his tough, driven successor, David Miscavige. We go inside their specialized cosmology and language. We learn about the church's legal attacks on the IRS, its vindictive treatment of critics, and its phenomenal wealth. We see the church court celebrities such as Tom Cruise while consigning its clergy to hard labor under billion-year contracts. Through it all, Wright asks what fundamentally comprises a religion, and if Scientology in fact merits this Constitutionally-protected label. Brilliantly researched, compellingly written, "Going Clear"pulls back the curtain on one of the most secretive organizations at work today.
A"New York Times"Notable Book
A Best Book of the Year: "The Washington Post," "The Boston Globe," "New York"magazine, "Slate," "Chicago Tribune," "Huffington Post," "Newsday," "Entertainment Weekly," "People," "The Week," "Publishers Weekly, Kirkus Reviews
"A GoodReads Reader's Choice.
About the Author
Lawrence Wright is a staff writer for "The New Yorker." He is the author of a novel, "God s Favorite," and has also authored six previous books of nonfiction "City Children, Country Summer"; "In the New World";" Saints and Sinners; Remembering Satan; Twins; "and "The Looming Tower." "The Looming Tower "received many awards, including the Pulitzer Prize, the "Los Angeles Times "Book Prize, and the New York Public Library s Helen Bernstein Book Award for Excellence in Journalism.He is also a screenwriter and a playwright.He and his wife are longtime residents of Austin, Texas.

Lawrence Wright official website: http: //www.lawrencewright.com/"
Praise For Going Clear…
"An utterly necessary story. . . . A feat of reporting." —The Wall Street Journal

"Brings a clear-eyed, investigative fearlessness to Scientology . . . a rollicking, if deeply creepy, narrative ride, evidence that truth can be stranger even than science fiction." —The Washington Post

"A hotly compelling read. It's a minutiae-packed book full of wild stories." —The New York Times

"Courageous. . . . Devastating . . . will come as news even to hardened Scientology buffs who follow the Church's every twist and turn." —The Daily Beast

"Essential reading. . . . Lawrence Wright bend[s] over backward to be fair to Scientology. . . . This makes the book's indictment that much more powerful." —The New York Times Book Review

"Not to be read home alone on a stormy night: Going Clear, Lawrence Wright's scary book about Scientology and its influence. . . . It's a true horror story, the most comprehensive among a number of books published on the subject in the past few years, many of them personal accounts by people who have managed to escape or were evicted from the clutches of a group they came to feel was destroying them. . . . Wright's book is a tribute to fact-checkers as well as to his personal courage." —The New York Review of Books

"Insightful, gripping, and ultimately tragic." —The Boston Globe

"A fearless, compelling, exhaustive work of muckraking journalism and a masterpiece of storytelling. . . . A ripping yarn about ego, money, abuse, faith, and the corrupting nature of power when wielded by the wrong people. It's as lurid, pulpy, and preposterous-seeming as anything Hubbard or Haggis ever wrote, but it's much better, because it has the benefit of being true." —The A.V. Club

"Invaluable. . . . Completely and conclusively damning." —Salon

"Who'd have thought a history of religion would offer so many guilty pleasures? Lawrence Wright's enthralling account of Scientology's rise brims with celebrity scandal. To anyone who gets a sugar rush from Hollywood gossip, the chapters on Tom Cruise and John Travolta will feel like eating a case of Ding Dongs." —Los Angeles Times

"Admirably judicious and thoroughly researched. . . . Being Clear is an inducement to darkness and disarray. You may laugh at it at first, but get ready to weep." —The Guardian (London)

"Not only a titillating exposé on the reported 'you're kidding me' aspects of the religion, but a powerful examination of belief itself." —Entertainment Weekly

"A fascinating read, and a chilling one. . . . The power in Wright's book lies as much in his meticulous investigative reporting as in his evenhanded approach." —Minneapolis Star-Tribune

"Absorbing and important. . . . Scrupulous parsing is vintage Wright; his footnotes are as vital as those of any nonfiction writer alive." —The Plain Dealer

"Mr. Wright's reportorial techniques seem impeccable. . . . Lawrence Wright shines a light on a world that prefers to keep its players off stage, and the public in the dark." —Pittsburgh Post-Gazette

"A powerful piece of reportage. . . . Detailed, intense and at times shocking." —The Miami Herald

"Wholly engrossing stuff." —The Austin Chronicle

"Wright's brave reporting offers an essential reality test. . . . Poses larger questions about the nature of belief." —Publishers Weekly

"Devastating. . . . Wholly compelling. . . . Each page delivers startling facts that need no elaboration." —Kirkus Reviews (starred)

"Jaw-dropping. . . . A fascinating look behind the curtain of an organization whose ambition and influence are often at odds with its secretive ways."—Booklist