A Short History of Nearly Everything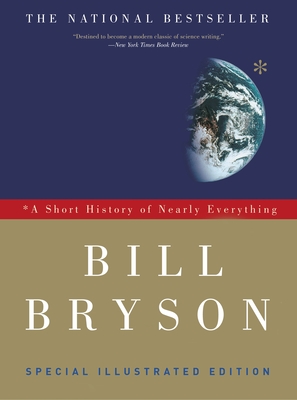 A Short History of Nearly Everything
Special Illustrated Edition
Broadway Books, Paperback, 9780307885159, 624pp.
Publication Date: October 5, 2010
* Individual store prices may vary.
Buy at Local Store
Enter your zip code below to purchase from an indie close to you.
or
Buy Here
Description
This new edition of the acclaimed bestseller is lavishly illustrated to convey, in pictures as in words, Bill Bryson's exciting, informative journey into the world of science.

In A Short History of Nearly Everything, the bestselling authorof One Summer, confronts his greatest challenge yet: to understand and, if possible, answer the oldest, biggest questions we have posed about the universe and ourselves. Taking as his territory everything from the Big Bang to the rise of civilization, Bryson seeks to understand how we got from there being nothing at all to there being us. The result is a sometimes profound, sometimes funny, and always supremely clear and entertaining adventure in the realms of human knowledge, as only Bill Bryson can render it.
Now, in this handsome new edition, Bill Bryson's words are supplemented by full-color artwork that explains in visual terms the concepts and wonder of science, at the same time giving face to the major players in the world of scientific study. Eloquently and entertainingly described, as well as richly illustrated, science has never been more involving or entertaining.
About the Author
BILL BRYSON s bestselling books include A Walk in the Woods, I m a Stranger Here Myself, In a Sunburned Country, and Bryson s Dictionary of Troublesome Words. He received the 2004 Aventis Prize for A Short History of Nearly Everything. He lives in England with his wife and children. From the Hardcover edition."
Praise For A Short History of Nearly Everything…
Praise for A Short History of Nearly Everything

"A modern classic of science writing. . . . The more I read of A Short History of Nearly Everything, the more I was convinced that Bryson had achieved exactly what he'd set out to do." —New York Times Book Review

"A highly readable mix of historical anecdotes, gee-whiz facts, adept summarization, and gleeful recounts of the eccentricities of great scientists. It moves so fast that it's science on a toboggan."—Seattle Times

"[Bill Bryson] makes science interesting and funny. . . . You can bet that many questions you have about the universe and the world will be answered here."—Boston Globe

"Here are answers to the stupid questions you were afraid to ask in school . . . [Bryson] peppers the book with wit and great details. . . . Bottom line: Science with a smile."—People

"It is one of this book's great achievements that Bryson is able to weave a satisfying universal narrative without sparing the reader one whit of scientific ignorance or doubt. . . . [A Short History of Nearly Everything] represents a wonderful education, and all schools would be better places if it were the core science reader on the curriculum."—Tim Flannery, Times Literary Supplement