A Few Seconds of Radiant Filmstrip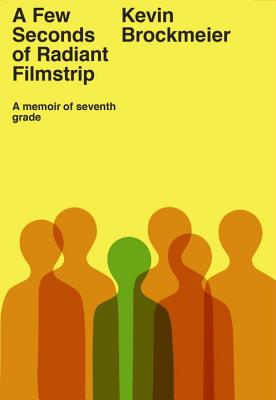 A Few Seconds of Radiant Filmstrip
A Memoir of Seventh Grade
Pantheon Books, Hardcover, 9780307908988, 190pp.
Publication Date: April 1, 2014
* Individual store prices may vary.
Buy at Local Store
Enter your zip code below to purchase from an indie close to you.
or
Not Currently Available for Direct Purchase
Description
At age twelve, Kevin Brockmeier is ready to become a different person: not the boy he has always been the one who cries too easily and laughs too easily, who lives in an otherland of sparkling daydreams and imaginary catastrophes but someone else altogether.
Over the course of one school year seventh grade hesets out in search of himself. Along the way, he happens into his first kiss at a church party, struggles to understand why his old friends tease him at the lunch table, becomes the talk of the entire school thanks to his Halloween costume, and booby-traps his lunch to deter a thief.
With the same deep feeling and oddly dreamlike precision that are the hallmarks of his fiction, the acclaimed novelist now explores the dream of his own past and recovers the person he used to be.
About the Author
Kevin Brockmeier is the author of five novels for adults and two children's novels. His stories have appeared in The New Yorker, Tin House, McSweeney's, The Oxford American, The Best American Short Stories, O. Henry Prize Stories and Granta's Best of Young American Novelists, among other publications. He has taught at the Iowa Writer's Workshop.
Praise For A Few Seconds of Radiant Filmstrip…
"Masterful. . . . This is painful stuff—and important and beautifully written stuff, in Brockmeier's hands—worthy of your time and attention. It's insightful, relayed at a propulsive clip, and captures the complicated inner life of a seventh grader with more unflinching precision than anything you'll read on the subject. This book will help you."
—Biographile
 
"A delicately rendered memoir that bathes the invariably painful past in a kind of gold-glowing tenderness. . . . There are plenty of memoirs that recount extraordinary circumstances and adventures, but I cannot think of one that so magically involves us in an exploration of the commonplace. A Few Seconds of Radiant Filmstrip is a look back—not in vengeance, anger or even gloating—but in wonder at the miraculous variety of experience, and the ways we come to be ourselves."
—Arkansas Democrat-Gazette
 
"Beautifully written. . . . The books rings awfully true . . . Brockmeier's potent, honest prose makes for a vivid, funny and achingly familiar read."
—Arkansas Times
 
"Every book by Kevin Brockmeier is unsettling, strange, and impossible to forget. . . . He challenges the way we see the world. His latest, A Few Seconds of Radiant Filmstrip, catapults us all back to middle school with time-machine perfection. . . . Heartbreakingly honest."
—Caroline Leavitt, bestselling author of Is This Tomorrow and Pictures of You

"In three acclaimed novels and two story collections, Brockmeier earned his reputation as a literary virtuoso attuned to the illusory facets of everyday life. His rollicking first memoir, centered on his formative year in the seventh grade, affirms his talents and explores their foundations. . . . In a hilariously vivid, novelistic chronicle of the mid-1980s, Brockmeier nails the awkward triumphs and life-affirming disasters of teenagedom, revealing the creative significance of what might otherwise seem banal."
—Jonathan Fullmer, Booklist

"A truly stunning hybrid—a memoir told with the imaginative vibrancy and the uncanny precision of the best fiction. This book will floor you, and flood you with a torrent of your own memories from the terrifying, electric threshold between childhood and adulthood. If you're new to his work, this is a phenomenal place to start."
—Karen Russell, bestselling author of Swamplandia! and Vampires in the Lemon Grove
 
"Brockmeier is surely one of our great writers. Here seventh grade is rendered in such lovingly vivid detail—the year is so perfectly remembered—that you feel, after reading it, that the memory in fact belongs to you. I loved it."
—Ethan Rutherford, author of The Peripatetic Coffin