The Woman Upstairs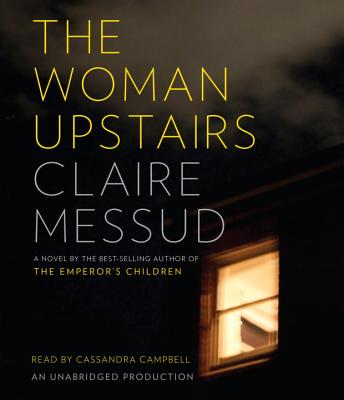 The Woman Upstairs
Random House Audio Publishing Group, Compact Disc, 9780307913609, 9pp.
Publication Date: April 30, 2013
* Individual store prices may vary.
Buy at Local Store
Enter your zip code below to purchase from an indie close to you.
or
Not Currently Available for Direct Purchase
Description
From the "New York Times "best-selling author of "The Emperor's Children, " a masterly new novel: the riveting confession of a woman awakened, transformed and betrayed by a desire for a world beyond her own.
Nora Eldridge, an elementary school teacher in Cambridge, Massachusetts, long ago compromised her dream to be a successful artist, mother and lover. She has instead become the woman upstairs, a reliable friend and neighbor always on the fringe of others achievements. Then into her life arrives the glamorous and cosmopolitan Shahids her new student Reza Shahid, a child who enchants as if from a fairy tale, and his parents: Skandar, a dashing Lebanese professor who has come to Boston for a fellowship at Harvard, and Sirena, an effortlessly alluring Italian artist.
When Reza is attacked by schoolyard bullies, Nora is drawn deep into the complex world of the Shahid family; she finds herself falling in love with them, separately and together. Nora's happiness explodes her boundaries, and she discovers in herself an unprecedented ferocity one that puts her beliefs and her sense of self at stake.
Told with urgency, intimacy and piercing emotion, this brilliant novel of passion and artistic fulfillment explores the intensity, thrill and the devastating cost of embracing an authentic life.

About the Author
Claire Messud was born in the United States in 1966. She was educated at Yale and Cambridge. Her first novel, When the World Was Steady, was a finalist for the PEN/Faulkner Award in 1996. Her second novel, The Last Life, was widely praised and has been translated into several languages.

Actress and director Cassandra Campbell has narrated nearly two hundred audiobooks and has received multiple Audie Awards and more than twenty AudioFile Earphones Awards, including for Orange Is the New Black by Piper Kerman.
Praise For The Woman Upstairs…
"Fantastic—one of those seemingly small stories that so burst with rage and desire that they barely squeeze between hard covers. The prose is impeccable. . . . Messud writes about happiness, and about infatuation—about love—more convincingly than any author I've encountered in years. She fills [her] protagonist with an inner life so rich and furious that you will never again nod hello in the hall to 'the woman upstairs' without thinking twice. . . Is Nora's entrancement erotic, or bigger and stranger than sex? I'm not telling. Read the book." —Lionel Shriver, National Public Radio, "All Things Considered"
 
"Bracing . . . not so much the story of the road not taken as that of the longed-for road that never appeared. . . . Nora's anger electrifies the narrative, and Messud masterfully controls the tension and pace. In this fierce, feminist novel, the reader serves as Nora's confessor, and it's a pleasure to listen to someone so eloquent, whose insights about how women are valued in society and art are sharp." —Jenny Shank, Dallas News
 
"An elegant winner of a novel . . . quietly, tensely unfolding . . . Remarkably, Messud lets us experience Nora's betrayal as if it were our own, and what finally happens really is a punch in the stomach. Highly recommended." —Barbara Hoffert, Library Journal
 
"Utterly compelling . . . Crisply illuminated." —Katherine Rowland, Guernica

"Messud has many gifts as a novelist: She writes well, dramatizes, has a sharp ear, a literary critic's knack for marshaling and reverberating themes and, most crucially, a broad and deep empathy that enables her to portray a wide range of characters from the inside. . . . The Woman Upstairs is first-rate: It asks unsettling, unanswerable questions: How much do those who are not our family or our partners really owe us? How close can we really be to them before we start to become needy or creepy? The characters are fully alive." —John Broening, The Denver Post

"Messud is a tremendously smart, accomplished writer, [and] Nora's fury explodes from the very first sentence of The Woman Upstairs. . . . The novel gives a voiceless woman a chance to howl." —Yvonne Zipp, The Christian Science Monitor
 
"Engrossing . . . Think of her as the woman who leans out: the A student who puts others' needs first, plays by the rules, teaches instead of doing. Through the ensuing drama, which includes one of the more shocking betrayals in recent fiction, Messud raises questions about women's still-circumscribed roles and the price of success." —Kim Hubbard, People (A People's Pick)
 
"Messud's account of [Nora's] search for recognition and release is as tight and vivid as Nora's pent-up passion. I was pulled in." —Mary Rawson, Pittsburgh Post-Gazette
"Messud's crystallization of how it feels to crash into a midlife reckoning that resonated most and haunted me in the days after finishing her mesmerizing novel. . . . It boils and 'burns,' and Messud gives us a double whammy to ensure we feel the pangs of midlife. . . . Messud is most interested in the collision between our inner lives and our reality. . . . While it was Messud's achingly beautiful characters that drew me in, it was her portrait of an inner life free to swell, untethered to the realities of children, a spouse and a mortgage that made me think. Seeing Nora live so obsessively in her self-made dioramas in search of joy made me find refuge. For those who live in leafy Cambridge surrounded by alluring visiting intellectuals from afar, students and Somerville artists, it must be said that there is a great writer of our times in our midst who is a nice girl, who never walked out on a friend. Just don't get her angry." —Heidi Legg, The Huffington Post

"Clear-eyed . . . a passionate and skillful description of female ambition and women artists at work . . . Like Messud herself, Nora knows some women need to stay on fire." —Britt Peterson, The New Republic

"Spellbinding, psychologically acute . . . Like Emily Dickenson Nora's heightened state lets her see things others miss. [Yet] how much of Nora's fantasy is true—and to what degree the Shahids must share the blame when it's not—is the real subject of Messud's novel. She may evoke [Ralph] Ellison, but as is often true with her work, the writer who comes to mind is James—with his often unreliable narrators and focus on the disconnect between American innocence and European experience. . . . By novel's end, Nora has every reason to be angry with the Shahids. But Messud also makes clear that if Nora is living her life upstairs rather than down on the main floor, she has even more reason to be angry with herself . . . Exquisitely rendered." –Mike Fischer, Milwaukee Journal Sentinel

"Nora's story could also be every woman's story. . . . [She] is angry, but her anger rekindles her spirit and makes her alive, makes her determined to emerge from her upstairs world. Readers will root for Nora, hoping that her anger will sustain her to live an authentic, felt, and even ruthless life as the artist she has been afraid to be. A masterful, honest look at one woman's desire to be seen by herself—and others—for who she really is." —Amy Goodfellow Wagner, Examiner

"Riveting . . . Messud is adept at evoking complex psychological territory, and here favors a controlled and notably unreliable style of narration. She is interested in the identities that women construct for themselves, and in the maddening chasm that often divides intensity of aspiration from reality of achievement." —The New Yorker
 
"Smoldering . . . a furious account of betrayal, the true source of which is withheld until the final pages. . . . Messud crams much into her portrait of Nora's life: tart meditations on the creative impulse and the artistic ego, on the interplay between reality and fantasy and the often-pitiful limits of human communication. . . . Nora's world is piercingly evoked." —Hephzibah Anderson, Bloomberg Businessweek
 
"You know a Woman Upstairs; maybe you are one. . . . This is not a simple story of a sidekick woman thwarted by her own fear, and the betrayal that haunts the 'Shahid years' explodes in a sudden, cruel flash, forcing Nora's long-simmering anger to boil over into a justified rage. Messud is an immensely talented writer, and in Nora she gives us a compelling, complex, and unforgettable narrator. The Woman Upstairs is a brilliantly paced story of fearsome love and obsessive longing, and the boundaries and sacrifices of what is to be a woman and to be an artist in the world." —Amanda Bullock, Everyday eBook

"[A] powerful psychological thriller . . . As in a fairy tale, Nora becomes spellbound by a family that seems to embody what she is missing. The power of self-deception is one of the key themes. . . . This is not just a novel of real psychological insight. It is also a supremely well-crafted page-turner with a shocker of an ending." —Julia M. Klein, The Boston Globe
 
"Thrums with fury . . . Startling: a psychological and intellectual thriller." —Los Angeles Times
 
"Tightly focused and intensely first-person . . . Nora storms onto the page in a fury to tell us the story of a few months that changed her life. . . . The stage is set for a terrible betrayal, and the ending delivers it. The writing in this book is on fire, and the connections it makes—a Chekhov short story, a Larkin poem, Alice in Wonderland—pop like intellectual fireworks from the page." —Marion Winik, Newsday
 
"Hypnotic. In Nora, Messud has conjured a self-contradictory yet acutely familiar character; we've all met someone like her, if we aren't like her ourselves. . . . An air of imminent betrayal hangs over the novel. Yet even as she describes the emotional circles of her obsession, Nora does not become monstrous or pathological or even (like Dostoevsky's Underground Man) absurd. This, in a way, is her tragedy. Deliverance when it does come takes the most unlikely form. Like Ibsen's Nora, Messud's walks offstage in a moment of pure potential. What will she do? I can't begin to imagine, and that, surely, is the point." —Laura Miller, Salon
 
"A rare work of fiction seemingly destined to become a cultural benchmark, a byword even. It provides an indelible label for a member of society (and a long recurring figure in literature) who has somehow been confined to anonymity. Messud's coinage—the Woman Upstairs—is so broadly defining and so necessary that even those who never read the novel may soon find themselves making unwitting use of it. . . . [Nora's] narration hisses with rage for her hypocritical, accommodating former self and for anyone who has ever taken advantage of her. . . . Once Nora is well lost in love, the author takes us steadily, suspensefully, heartbreakingly toward a jolting conclusion [and] a breathtaking act of betrayal. . . . The Woman Upstairs is a trenchant exploration into the mercenary nature of artistic creation. . . . [It] updates the dictum of Virginia Woolf's manifesto: It's not only a little money and a room of one's own that women need to produce art—it's a willingness to use and manipulate other people; it's a capacity for cruelty. . . . Messud's strongest influence here is Philip Roth. [She] seems to have drawn from [his] outrageous exfoliations of ferocity and contempt in fashioning Nora's voice. [But] of course, Messud's unsparingly frank narration comes from a woman, which makes the novel a kind of rejoinder to Roth's decidedly male-centric universe. . . . The Woman Upstairs is unquestionably a breakthrough for the writer. It forces itself on you, demands your attention, impresses and irritates. There is a genuine sense of unease in these pages, of something solid being overturned by the sheer force of Nora's rage. . . . Causing a disturbance is the point. It is an altogether impolitic piece of artistry. It is a big, defiant gesture of the sort that women like Nora fear they no longer have within them." —Sam Sacks, The Wall Street Journal
 
"Every new Claire Messud novel is a reason to rejoice. . . . Her prose is so exquisite and immersive that it can make you forget that you're sitting at home with a book in your hands. . . . [Nora's] plight elicits empathy, and her palpable disappointment resounds in every sentence. . . . While The Woman Upstairs is set in our all-too-real world, something about Messud's fiction is reminiscent of filmmaker Wes Anderson's imaginary wonderlands. Maybe it's the sheen of technical perfection and old-fashioned dedication to craft. . . . Colorful and fascinating, . . . Nora Eldridge has to be one of the richest and most fully human characters to come along in years. . . . Messud writes with the patience of a saint and that she does so without telegraphing what is to come makes her worthy of serious veneration. The pinnacle of this slow-burning plot comes across as simultaneously shocking and inevitable. . . . These characters and their problems are inseparable from the political and social upheaval around them. The prose here never calls undue attention to itself, and The Woman Upstairs dazzles without outwardly trying. It also solidifies Messud's place among our greatest contemporary writers." —Andrew Ervin, The Miami Herald
 
"Intimate . . . Messud's cosmopolitan sensibilities infuse her fiction with a refreshing cultural fluidity. . . . The Woman Upstairs opens with extraordinary heat and momentum . . . [and] brims with energy and ideas. . . . A suspenseful psychological thriller . . . Brilliant." —Jane Ciabattari, NPR

"Exhilarating . . . Messud's previous novels, extraordinarily intelligent and well-crafted, are characterized by rationed or distant emotion. [But] The Woman Upstairs is utterly different—its language urgent, its conflicts outsize and unmooring, its mood incendiary. This psychologically charged story feels like a liberation. Messud's prose grabs the reader by the collar . . . Reading Nora's turbulent testament of belief and betrayal, you feel less like a spectator than a witness. . . . In this ingenious, disquieting novel, Messud has assembled an intricate puzzle of self-belief and self-doubt, showing the peril of seeking your own image in someone else's distorted mirror—or even, sometimes, in your own." —Liesl Schillinger, The New York Times Book Review
 
"From its opening lines, Messud's new novel grips like a choke hold. . . .The most unlikely hero, Nora, self-identifies with scornful wit and rage as the titular Woman Upstairs. But oh how Messud, whose last novel was the sharp and brilliant The Emperor's Children, gives her woman room to roar. . . . Sirena awakens in her an unapologetic lust of life that Nora was previously too good or too scared to claim. The narrative burns toward an inevitable betrayal of startling proportions, one that instead of diminishing Nora lights her ablaze. This is a book sweating with rage, and an exhilarating one. Read it in an openmouthed gulp. After the final powerful paragraphs, in which Nora howls in galvanized fury, throw it down and have a drink, or a dreamless nap. Don't be surprised if you then pick it back up and start all over again. A" —Karen Valby, Entertainment Weekly

"In the ongoing debate over whether or not women can 'have it all' comes a Molotov cocktail thrown by an unlikely provocateur: Claire Messud's new novel . . . of friendship and betrayal . . . [which] posits that the natural state of womanhood, at least after age 40, is to have nothing, and that satisfaction of any sort can come only via self-deception. . . . 'I'm not crazy,' Nora declares at the beginning of the novel. 'Angry yes, crazy no.' In Sirena—self-possessed, artistically fulfilled, a mother, foreign, Nora has found the proof that she need not view herself as a woman society has rejected, an archetypal 'Woman Upstairs with her cats and pots of tea and her goddamn Garnet Hill catalog.' The Woman Upstairs avoids moral judgment. [It is] simultaneously a justification for extreme acts in the name of friendship, and Nora's rallying cry for women like her to rage against the world that has been handed to them. . . . Nora is both sympathetic and horrific. She is at once raising a voice to deep-seated misogyny against aging women, and confirming every bias. Messud's ability to find the frailty, even the artist, in Nora, makes Sirena more complex as well. For all her perfection, Sirena's rebukes seem, somehow, unconscionably depraved. . . . The novel offers no comfort in the end; it is, at last, the story of a woman for whom reality and a rich fantasy life have merged." —Daniel D'Addario, New York Observer
 
"For practical advice about how women can thrive and control their destinies, check out Lean In by Facebook's ever-gracious COO, Sheryl Sandberg. But maybe after a hard day of believing in yourself, you just want to luxuriate in a fire of cleansing rage. Go ahead: Push the billionaire's affirmations aside and listen instead to the she-devil in Claire Messud's ferocious new novel. Lean in—she'll singe your eyebrows off. [Nora] may [have] rage, but it's fantastically smart rage—anger that never distorts, even in the upper registers. When Nora complains about women like herself who dutifully tuck themselves away, she ricochets from Charlotte Bronte to Jean Rhys to Henry David Thoreau to Ralph Ellison. Wherever she digs, she hits rich veins of indignation. [This is] a tightly wound monologue with the intensity of a novella that reads more like a curse. . . . Anger provides the heat, but the novel's real energy comes from its intellectual fuel, its all-consuming analytical drive . . . Nora's self-knowledge keeps the reader off-balance. . . . Even as that psychological drama races toward a dark climax, Nora seduces us with her piercing assessment of the way young women are acculturated, the way older women are trapped. It doesn't matter if you're a man or a woman: It's hard not to feel your own anxieties and fragile hopes being flayed by these braided strands of confession and blame. Lean in. I dare you." —Ron Charles, The Washington Post

"Messud knows how to make fiction out of the clash of civilizations. Her heroines . . . inhabit the inky space between continents, physical and generational. Survivors to the core, they cling to the ledge even as their worlds are upended. . . . Messud's writing shows a growing mastery of mood. Comedy, pathos, sadness: nothing seems beyond her. Her new book has all this—and more. Nora's dormant rage, which her mother warned would one day awaken, drives her on and on. The Woman Upstairs is not a pretty read, but that is precisely what makes it so hard to put down." —The Economist
 
"Terrifyingly perceptive . . . The Emperor's Children is a quite good novel, [but] The Woman Upstairs does far more with a smaller cast [and] has much greater weight. Messud wants to make a point that even successful people can suffer from a lethal celebrity complex. Nora Eldridge is a kind of Madame Bovary for our time, someone who dreams not of romantic passion but of personal fame, in which the envy of the less fortunate figures importantly. . . . Nora is like Emma Bovary in the conviction that she needs the love of glamorous and important individuals to give her life meaning. . . . One particular triumph of The Woman Upstairs is that Messud's heroine is so sympathetic, and so eloquent and convincing, that the depth of her illusions is not always apparent. . . . Because Messud has lent Nora her own outstanding gifts as a writer we cannot help believing what she tells us, at least for a while." —Alison Lurie, The New York Review of Books
 
"The new novel by the author of The Emperor's Children is like Gone Girl meets The Bell Jar: A lonely teacher's fixation on a student's family slowly drives her insane. Messud's magic power? Keeping her flawed protagonist relatable to the very end." —Megan Angelo, Glamour
 
"In this literary page-turner, a Boston teacher with dreams of becoming an artist is first enamored of, and then feels betrayed by, a seductive couple who've relocated from Paris." —Abbe Wright, O, The Oprah Magazine
 
"Almost without knowing it, I was hungry for Nora Eldridge, the hero of Messud's new novel. The title names an archetype: the nice, unmarried lady on the third floor who smiles in the lobby and is quickly forgotten. Nora is a caring schoolteacher seemingly content to look after her ailing father, her dreams of living the life of an artist subsumed by the act of simply living a life. Bitterly funny and self-aware, she claims to be having a 'Lucy Jordan moment,' name-checking the Marianne Faithfull song . . . It seems right that Messud's follow-up to The Emperor's Children grasps furiously at life and punches back at encroaching age. In The Woman Upstairs, she abandons the polyphonic narration of the previous novel for first-person carpe diem prose that is leaner and meaner. . . . Nora [is] exhilarating, a fiery heroine who arrives to serve [both] middle-aged readers, and the young women who will soon see what it's like when the spotlight swings away, urging us to make the most of that time between here and the finish line." —Katrina Onstad, Toronto Life

"Corrosively funny . . . Fifty years ago, Simone de Beauvoir faulted creative women for their unwillingness to 'dare to irritate, explore, explode.' Two generations later, anger this combustible still feels refreshing." —Megan O'Grady, Vogue

"Heartfelt and profound. . . . From the outset, it's been clear that Claire Messud has all the necessary equipment—a fertile imagination, a grown-up sensibility, and writerly ambition in spades—to write very good fiction, perhaps even a novel that defined our times. Her latest novel is an absolute page-turner, from its grab-you-by-the-collar opening to its final rumination on the creative uses of anger. . . . For another, it may well be the first truly feminist (in the best, least didactic sense) novel I have read in ages—the novel, candid about sex and the intricacies of female desire, that Virginia Woolf hoped someone would write, given a room and income of her own. The Woman Upstairs takes on, at full throttle, the ways in which women are socialized into being accommodating 'nice girls,' and the ruthlessness—the 'myopia'—that is necessary to pursue artistic ambition. It shows Messud at the height of her considerable powers, articulating the quandary of being alive and sentient, covetous and confused in the twenty-first century. . . . The Woman Upstairs is an extraordinary novel, a psychological suspense story of the highest sort that will leave you thinking about its implications for days afterward. Messud's skills are all on display here, [in] a work of fiction that is not just beautifully observed but also palpably inhabited by its gifted writer in a manner she has not quite dared attempt before." —Daphne Merkin, Bookforum
 
"With exhilarating velocity, fury, and wit, the superlative Messud immolates an iconic figure—the good, quiet, self-sacrificing woman—in this acid bath of a novel, while taking on the vicissitudes of family life and the paradoxes of art. Nora [is] our archly funny, venomous, and raging narrator . . . Messud's scorching social anatomy, red-hot psychology, galvanizing story, and incandescent language make for an all-circuits-firing novel about enthrallment, ambition, envy, and betrayal. A tour de force portraying a no longer invisible or silent 'woman upstairs.'" —Donna Seaman, Booklist (starred review)
 
"Claire Messud's daring, Jamesian new novel takes so many chances and provokes so many questions. . . . Messud is a truth teller about the ruthlessness of art [and] makes a key point about creative work: It means smashing boundaries, using imagination to remake the world. . . . Messud is such a gifted painter of our choices and their consequences. She's never gone this deep before in showing us how our reality and our pipe dreams intersect. Her portrait of Nora Eldridge, a decent woman who has perhaps crossed the wrong bridges in her life, would move stone. What's going to become of Nora? What will the Shahids do to her? The Woman Upstairs is Claire Messud's greatest novel." —Dennis Haritou, Three Guys One Book
 
"A self-described 'good girl' lifts her mask in Messud's new novel. 'How angry am I?' Nora Eldridge rhetorically asks in her opening sentence. 'You don't want to know.' Nora is furious with herself: for failing to commit to being an artist, for settling for life as a third-grade teacher, for lacking the guts even to be openly enraged. Instead she is the woman upstairs, 'whose trash is always tidy, who smiles brightly in the stairwell.' So when the exotic Shahid family enters her life, Nora sees them as saviors. Reza is in her class; after another student attacks and calls the half-Lebanese boy 'a terrorist,' she meets his Italian mother, Sirena, the kind of bold, assertive artist Nora longs to be. . . . Nora's untrustworthy narration, a feminine counterpoint to the rantings of Dostoevsky's Underground Man, is an astonishing feat of creative imagination: at once self-lacerating and self-pitying, containing enough truth to induce squirms. Messud persuasively plunges us into the tortured psyche of a conflicted soul . . . Brilliant and terrifying." —Kirkus (starred review)