Sammy Keyes and the Showdown in Sin City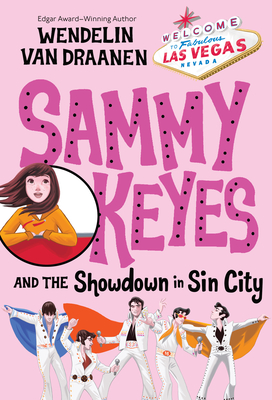 Sammy Keyes and the Showdown in Sin City
Yearling Books, Paperback, 9780307930613, 270pp.
Publication Date: August 6, 2013
* Individual store prices may vary.
Buy at Local Store
Enter your zip code below to purchase from an indie close to you.
or
Buy Here
Description
"The most winning junior detective ever in teen lit. (Take that, Nancy Drew )"" Midwest Children's Book Revie"w
In this pivotal book in the Sammy Keyes series, Sammy tackles the persistent mysteries of her own life. Mysteries like: Who is her father? And why has her mother kept it such a secret? How long can she manage to hide out in Grams' seniors-only building before someone catches on? Is her mother really planning to marry her boyfriend's father? (Ew.) And why, "why" is Heather Acosta so nasty?
During one crazy weekend in Las Vegas, with the help of an entire army of Elvis impersonators, Sammy finally gets some answers. But of course knowledge comes at a price and solving the mysteries of her own life will cost Sammy more than she ever meant to pay. . . .
The Sammy Keyes mysteries are fast-paced, funny, thoroughly modern, and true whodunits. Each mystery is exciting and dramatic, but it's the drama in Sammy's personal life that keeps readers coming back to see what happens next with her love interest Casey, her soap-star mother, and her mysterious father.
"From the Hardcover edition.
About the Author
WENDELIN VAN DRAANEN was a teacher for many years before turning to writing full-time. Her first Sammy Keyes mystery, "Sammy Keyes and the Hotel Thief, " won the Edgar Allan Poe Award. She lives in Central California with her husband and two sons.