Last Man in Tower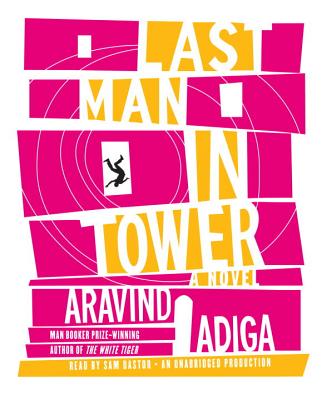 Last Man in Tower
Random House Audio Publishing Group, Compact Disc, 9780307940964
Publication Date: September 27, 2011
* Individual store prices may vary.
Buy at Local Store
Enter your zip code below to purchase from an indie close to you.
or
Not Currently Available for Direct Purchase
Description
Searing. Explosive. Lyrical. Compassionate. Here is the astonishing new novel by the Man Booker Prize–winning author of The White Tiger, a book that took rage and anger at injustice and turned it into a thrilling murder story. Now, with the same fearlessness and insight, Aravind Adiga broadens his canvas to give us a riveting story of money and power, luxury and deprivation, set in the booming city of Mumbai.
 
At the heart of this novel are two equally compelling men, poised for a showdown. Real estate developer Dharmen Shah rose from nothing to create an empire and hopes to seal his legacy with a building named the Shanghai, which promises to be one of the city's most elite addresses. Larger-than-life Shah is a dangerous man to refuse. But he meets his match in a retired schoolteacher called Masterji. Shah offers Masterji and his neighbors—the residents of Vishram Society's Tower A, a once respectable, now crumbling apartment building on whose site Shah's luxury high-rise would be built—a generous buyout. They can't believe their good fortune. Except, that is, for Masterji, who refuses to abandon the building he has long called home. As the demolition deadline looms, desires mount; neighbors become enemies, and acquaintances turn into conspirators who risk losing their humanity to score their payday.
 
Here is a richly told, suspense-fueled story of ordinary people pushed to their limits in a place that knows none: the new India as only Aravind Adiga could explore—and expose—it. Vivid, visceral, told with both humor and poignancy, Last Man in Tower is his most stunning work yet.
About the Author
Aravind Adiga was born in India in 1974 and attended Columbia and Oxford universities. A former correspondent for "Time" magazine, he has also been published in the "Financial Times". He lives in Mumbai, India.

Sam Dastor studied English at Cambridge and trained at the Royal Academy of Dramatic Art. His early theatrical experience includes a spell at the National Theatre under Sir Laurence Olivier and time spent acting in the West End. For the Royal Shakespeare Company, he has been seen in "Timon of Athens", "Tales from Ovid", and a world tour of "A Servant to Two Masters". His many television appearances include "I, Claudius"; "Yes, Minister"; "Mountbatten"; "Julius Caesar"; and "Fortunes of War". He has also appeared in the films "Made", "Jinnah", and "Such a Long Journey", recorded over a thousand broadcasts for the BBC, and narrated numerous audio books.

Praise For Last Man in Tower…
"Epic. . . Adiga capture[s] the vicious underbelly of modern-day real estate in India's maximum city. Even more so, he taps into the lives and minds of India's growing middle class. They inhabit the sphere between the city's slums and, say, the world's first billion-dollar home recently built in Bombay, with more square footage than the Palace of Versailles.  Like the United States more than a half a century earlier, India is in its ascension, and all the materialism and belligerence about who might be getting left behind is a perfect echo of our Cold War era. The Indians of Adiga's book yearn for material stability. What that means, how much one really needs to be secure, is at the heart of the story. For the defiant Masterji, [what it means] is the dangerous desire of wanting nothing other than to die in the place where his family's memories reside."
—Meera Subramanian, Orion Magazine
 
"Vivid. . . A novel written by a Man Booker prize winner [comes with] high expectations, [and] Adiga's latest Last Man in Tower, does not disappoint. He skillfully builds the backdrop for his story. With few words, he sets the scene of poverty and filth in the slums in sharp contrast to the newfound riches made by some in Mumbai, contrasting the new India and its bright technological future with the last remnants of the British Raj. . . . Graphic and colorful . . . thought-provoking and intense."
—Christine Morris Campbell, The Decatur Daily 
 
"In the rapidly expanding city of Mumbai, where new buildings sprout like weeds, the construction business isn't just a front for illegal activity, it's a raison d'être. When a less-than-ethical developer tries to lure, and later coerce, a community of long-standing tenants out of their apartment complex, it is only the widowed schoolteacher of 3A who continues to rebuff him. In this struggle, Adiga—the author of the Man Booker-winning The White Tiger—maps out in luminous prose India's ambivalence toward its accelerated growth, while creating an engaging protagonist in the stubborn resident: a man whose ambition and independence have been tempered with an understanding of the important, if almost imperceptible, difference between development and progress. A-"
—Keith Staskiewicz, Entertainment Weekly


"Aravind Adiga, winner of the Man Booker Prize for The White Tiger, brings readers another look at an India at once simple and complex, as old as time and brand new. . . . Adiga has written the story of a New India; one rife with greed and opportunism, underpinned by the daily struggle of millions in the lower classes. This funny and poignant story is multidimensional, layered with many engaging stories and characters, with Masterji as the hero. He is neither Gandhi nor Christ but an unmistakable, irresistible symbol of integrity and quiet perseverance."
  —Valerie Ryan, The Seattle Times

"It sounds far too clinical to say that Aravind Adiga writes about the human condition. He does, but, like any good novelist, Adiga's story lingers because it nestles in the heart and the head. In Last Man in Tower, his new novel about the perils of gentrification in a Mumbai neighborhood, the plot turns on a developer's generous offer to convince apartment residents to leave their building so that he can build a luxury tower in its place. The book mines the tricky terrain of the bittersweet and black humor, always teasing out just enough goodness to allow readers a glimmer of hope for humanity. Adiga won the Booker for his debut, The White Tiger, and his new novel shows no signs of a sophomore slump. Last Man in Tower glides along with a sprawling cast of characters, including the teeming city of Mumbai itself. . . . With wit and observation, Adiga gives readers a well-rounded portrait of Mumbai in all of its teeming, bleating, inefficient glory. In one delightful aside, Adiga notes the transition beyond middle age with a zinger of a question: 'What would he do with his remaining time—the cigarette stub of years left to a man already in his 60s?' . . . Adiga never settles for the grand epiphany or the tidy conclusion. In a line worthy of John Irving, Adiga writes: 'A man's past keeps growing, even when his future has come to a full stop.'"
—Erik Spanberg, Christian Science Monitor

"First-rate. If you loved the movie Slumdog Millionaire, you will inhale the novel Last Man in Tower. Adiga's second novel is even better than the superb White Tiger.  You simply do not realize how anemic most contemporary fiction is until you read Adiga's muscular prose. His plots don't unwind, they surge. [Last Man] tells the story of a small apartment building and its owner occupants, a collection of middle-class Indians—Hindu, Muslim, Catholic. There is love, dislike, bickering, resentment. Most of all, there are genuine human connections. Trouble begins when a real estate mogul decides to build a luxury high-rise where the building currently stands, offer[ing] residents 250 times what their dinky little apartments are worth. The result is chaos . . . life-long friends turn on each other. Money—even the possibility of it—changes everything. What makes [Last Man in Tower] so superb is the way Adiga balances the micro plot—will Masterji agree to sell?—with the macro: How Mumbai is changing in profound, often disturbing ways. Most of all, Last Man in Tower asks the eternal questions: What is right, what is wrong, what do we owe each other, what do we owe ourselves? Just brilliant."
—Deirdre Donahue, USA Today

"What happens to a man who is not for sale in a society where everyone else has his price? That is the subject of Adiga's adroit, ruthless and sobering novel. Masterji is sequentially betrayed by neighbors, clergy, friends, lawyers, journalists and even his own grasping son as the reader roots for some deus ex machina to save him. Adiga, who earned the Man Booker prize for White Tiger, peppers his universally relevant tour de force with brilliant touches, multiple ironies and an indictment of our nature."
—Sheila Anne Feeney, The Star Ledger

"When does the heartfelt convictions of one solitary man negate the jointly held consensus of the rest of any civic society? That is the question posed at the center of Aravind Adiga's audacious new novel, an impressive and propulsive examination of the struggle for a slice of prime Mumbai real estate. It is a worthy follow-up to Adiga's Booker Prize novel, White Tiger, as he goes back to the well to explore the changing face of a rapidly growing India. . . . Whether the reader sympathizes with Masterji—who stands in the way of his neighbors' most audacious dreams, and whose integrity and incorruptibility borders on narcissims—may be equivalent to, say, how each of us felt with the Ralph Nader spoiler in the Bush-Gore election. Was he an honorable man to have taken a stand? Or was he simply an egoist? There is a grudging admiration for Masterji's stand, mixed with an impatience and frustration at how this high-principled man stubbornly torpedoes the will of the majority. . . . A Dickensian quality pervades this ambitious novel, which fearlessly tackles electrifying themes: what price growth? Will good people risk their humanity when faced with a chance to score a big payday? When does the will of a man who foregoes monetary gain resemble selfishness as opposed to virtue? And who can we trust to stand by us when we take a lone stance? This book of contrasts—between a man of finance and a man of virtue (although, of course, it is not as simple as that) . . . between wealth and squalor . . . between the old and the new is a tour de force. And it is certain to add to Aravind Adiga's already sterling reputation."
 —Jill I. Shtulman, Mostly Fiction Book Reviews 
 
"We humans are an optimistic lot. We want to believe that things will get better. . . . What would we do if just one old man kept us from fulfilling these dreams? This is the question that dogs the residents of rundown Vishram Society Tower A in Last Man in Tower, Aravind Adiga's follow up to his Booker Prize winning debut novel, The White Tiger. . . . In his earlier works Adiga's tender attention to the frustrations, yearning and anger of a cycle-cart puller, train station porter, and chauffeur lifted away the dehumanizing mask of vocation and poverty to reveal familiar vulnerabilities and aspirations. Now Adiga's shrewd empathy extends to middle-class characters like the building's secretary, and African born 'nothing-man,' who plans to use his windfall to move somewhere with a view of migrating flamingos. . . . Adiga examines cruelty and ugliness to find the trampled shreds of virtue and humanity beneath. His brilliance comes from showing good and bad hopelessly mixed together like, 'water, the colour of Assam tea, on which floated rubbish and blazing light.' After all—and in spite of our collective penchant for optimism—the same rubbish is piling up everywhere and there may not be much more we can do than appreciate the blazing light."
 —Erin Gilbert, The Rumpus.net 
 
"Adiga, author of the highly acclaimed White Tiger, returns with this morality tale about events at a respectable, solidly middle-class building in Mumbai. The veneer of respectability and hard-earned bonhomie falls away after the residents—Hindu, Christian, and Muslim—are offered a windfall by an unscrupulous real estate developer who wants them to move. It is a credit to the author that the reader manages to keep straight the large cast of unforgettable and all-too-believable characters. . . . In the end, there are no heroes in this viper's nest of competing desires and petty jealousies, as the residents' uglier natures are gradually revealed in the face of their greed and disappointment. The swarming oceanfront metropolis of Mumbai, in various stages of development and decay, functions as a character in its own right. You won't be able to look away as the novel hurtles toward its inevitable train wreck of a conclusion in this stunner from Adiga.
—Lauren Gilbert, Library Journal (starred review)
 
"Funny, provocative and decadent: Adiga's Last Man in Tower is the kind of novel that's so richly insightful about business and character that it's hard to know where to begin singing its praises. That Adiga knows economics well should come as no surprise; he worked as a financial journalist for Time magazine in India. . . .The topic [in Last Man in Tower] is real estate and the conflicting interests of community and development. A charming, ruthless real estate mogul offers the residents [of] the Vishram Society $330,000 per family to leave their crumbling six-story complex so he can build a luxury skyscraper. Almost everyone is thrilled [except] 61-year-old Masterji, a science teacher so attuned to the stars and the moon, to the ideas of history and political idealism, [that he is] deaf to the emotional pleas of his neighbors. Anyone who has ever had an important request categorically refused knows the wretched, helpless fury that such opposition can provoke. The novel pushes beyond dollars and cents, because Last Man in Tower is also an existentialist drama. Like Jean-Paul Sartre's play No Exit, it provides a kind of locked-room character study as the residents of the Vishram try desperately, then viciously, to persuade Masterji to accept Mr. Shah's lucrative destruction. Bit by bit, Adiga strips away the characters' faith in themselves as good people, revealing long-buried seams of pride, greed, hubris, envy and cowardice. Under pressure, they turn against each other, giving voice to grievances buried for decades, and then turn toward each other to form a fearsome mob. . . . Vain, shrewd and stubborn, [Masterji] is one of the most delightfully contradictory characters to appear in recent fiction. Is Masterji's refusal meant to protect a more vulner­able tenant? Is he holding out for more cash? Is he simply afraid of change? Does he relish the sensation of power? Is his refusal rooted in incorruptible principle or dictatorial ego? Adiga himself refuses to answer. Rather, he adds another layer by deftly, slyly aligning Masterji's position with that of old India. It's no coincidence that some of the novel's most violent actions take place against a background of patriotic songs and Mahatma Gandhi's birthday. Or that the residents' first action against Masterji is a boycott—a favorite maneuver of Gandhi against the British colonialists. In a country that has been dominated by a single political family—that of Nehru—for 60-odd years, the suggestion that the old Independence guard may have itself turned into a paternalistic oppressor has real bite. [Last Man in Tower has] many delights. Adiga told the Times of India: 'Money is amoral. It can liberate people as easily as it can destroy them.' In Last Man in Tower, we watch it do both."
—Marcela Valdes, The Washington Post

"The Booker Prize-winning author of The White Tiger delivers a masterful portrait of booming Mumbai told through the struggle over an apartment building between an ambitious property developed and a humble, defiant schoolteacher. With this gripping, amusing glimpse into the contradictions and perils of modern India, Adiga cements his reputation as the preeminent chronicler of his country's messy present. . . . [A] must-read book [of the] Fall."
—Malcolm Jones and Lucas Wittman, Newsweek

"When Mr. Adiga's energetic first novel, The White Tiger, won the 2008 Booker Prize, the judges praised the Indian-born author for undertaking 'the extraordinarily difficult task of gaining and holding the reader's sympathy for a thoroughgoing villain.' Last Man in Tower is set in a crumbling apartment building in Mumbai, which a real-estate developer wants to clear out and transform into a luxury high-rise. Many of the residents happily agree to take the handsome payoff and leave; others dig in their heels, spurning the developer's bribes and threats. Adiga populates his fiction with characters from all parts of India's contemporary social spectrum, and the intensity of his anger at aspects of modern India is modulated by his impish wit."
—Cynthia Crossen, The Wall Street Journal 
 
"An aging ex-schoolteacher and a ruthless developer face off in Man Booker Prize winner Aravind Adiga's riveting tale of power, money, and corruption in Mumbai."
—Marie Claire 
 
 "A devilishly on-target comedy of greed, conspiracy, and bloodshed . . . A high-stakes drama concerning the fate of an old apartment building on the swampy outskirts of Mumbai, Man Booker Prize winner Adiga continues his satirical inquiry into the forces at work in the new India. . . . Dharmen Shah, an ambitious developer, is hell-bent on buying out the coop group, tearing down the tower and erecting a monumental dream palace. His cash offer functions like a stick thrust into a beehive. Everyone is abuzz and ready to sting as some view the buyout as a godsend, while others think it's a catastrophe. In this shrewdly constructed microcosm, Adiga wryly yet tenderly portrays a spectrum of struggling individuals . . . As the promise of wealth trumps basic decency, Masterji, a tragically deluded man of principle and pride, becomes the last holdout, clinging to the tower as emblematic of all that is under assault in a mindlessly greedy, materialistic world. Adiga's calculatingly detailed and elaborately suspenseful, charming yet murderous tale asks painful questions about community, the dark bewitchment of money, and all that we endanger for 'progress.'"
 —Donna Seaman, Booklist, starred review
 
"A gripping novel about real estate, greed, and community. There's a building in Mumbai we get to know as well as the protagonists: Vishram Society Tower A, an unremarkable six-story structure a stone's throw from the Vakola slums. The residents are middle-class professionals, respectable people typified by Masterji, the 61-year-old retired physics teacher and recent widower. Mr. Shah is [a] far from respectable but hugely successful builder. His is a rags-to-riches story; he's now at the top of the heap. Vishram's towers' proximity to the financial center attract his attention; they must be demolished to make way for his magnificent new project. Masterji is the lone holdout. Stubborn and irascible, he is that rare individual who has no price; he wants nothing. Shah could have his enforcer cripple or kill him, but he wants the building's gossipy denizens, by now frantic for the money, to do the dirty work. With great skill, Adiga spotlights the slippery slope, as the unthinkable becomes the thinkable and finally, the doable. The author sets us up for the kill while placing it in context: the riotous sights, sounds, and smells of Mumbai. Adiga nails the culture of corruption. How exciting to watch a writer come into his own, surpassing the achievement of his first novel."
—Kirkus Reviews, starred review
 
"When Mumbai was still Bombay, the apartment building became the new village, inhabitants growing up and old together, intertwined in one another's rhythms and needs. Tower A of the Vishram Society is one such building—both a character and the setting in this riveting novel, Adiga's first since winning the Man Booker Prize. Here, Hindus, Christians, Muslims and Communists have lived together for decades, finding recent common ground in their suspicions about the new 'modern' girl in 3B. But when a developer offers each resident an astronomical sum to move out so that he might build a luxury condo, greed threatens to destroy the community. . . .Adiga is a master of pacing. The momentum builds as neighbors become consumed by money, allowing Adiga to show his characters grappling with circumstance and enduring difficult changes of heart. Adiga takes a harsh look at Mumbai's new wealth, but his characters are more than archetypes. Though the allure of capitalism has won them over, the inhabitants of Tower A are at the mercy of the rich as much as their neighbor, the [principled] teacher, is at the mercy of them." 
—Publishers Weekly, boxed review


"As with The White Tiger, [in Last Man in Tower] Adiga describes an India that is avaricious, acquisitive and insecure. His earlier work told the story of a desperate, rural poverty; Last Man in Tower depicts a genteel middle-class impoverishment of imagination and hope. Whether it is through the fight for water or the battle to board the commuter trains, Mr. Adiga captures with heartbreaking authenticity the real struggle in Indian cities, which is for dignity. A funny yet deeply melancholic work, Last Man in Tower is a brilliant, and remarkably mature, second novel. A rare achievement."
—The Economist 

From the UK:
 
"Magnificent . . . A richly evoked, Dickensian world that explores the chasm between rich and poor, the venal and the incorruptible . . . Adiga succeeds in giving a voice and a sense of humor to the powerless. . . . All human life—and longing—is here. Marvelous stuff."
—Sebastian Shakespeare, The Tatler
 
"As well-paced as any crime story. Every one of the huge cast of characters is brilliantly drawn. I'm aghast with admiration. There is no one writing fiction as good as this in Britain or America."
—A. N. Wilson, Reader's Digest
 
"Evocative, entertaining, and angry . . . All of Adiga's gifts for sharp social observation and mordant wit [come] to the fore. . . . Teeming with life and skullduggery."
—Ceri Radford, The Telegraph
 
"A subtle and nuanced examination of the nature of personal corruption . . . [Adiga] continues his project of shining a light on the changing face of India, bringing us a picture that is as compelling as it is complex."
—Alex Clark, The Guardian
 
 "Timely . . . An unsettling novel, well suited to the febrile and shifting city it seeks to reclaim."
—James Purdon, The Observer
 
"Richly comedic . . . Beautifully done. . . . Funny and engaging as he can be, Adiga never forgets the seriousness of his subject . . . A morality tale for the modern age [that is] as honest as it is entertaining."
—John Burnside, The Times
 
"Acute observations and sharp imagery . . . An indictment of the hypocritical mores of the middle class, prepared to cut corners and take recourse to 'number two activities' in its hurry to move up in life. Like all cautionary tales, it embodies more than a little truth about our times."
—Vikas Swarup, Financial Times

"Ambitious . . . Memorable . . . Adiga is Dickensian in the extent of his cast. Around his two main characters he marshals more than 20 others . . . [He] lays out this most frenetic of megalopolises before us, by turns fascinating, sensual and horrifying, as his writing takes an impressive step onwards."
—Peter Carty, The Independent on Sunday

"Richly evocative . . . To make a building such as a block of flats the frame for a novel has rich possibilities in a modern world where lives are forever being forced together by collective structures. . . . Adiga [shows] considerable skill at evoking the quotidian lives, domestic and communal, of Tower A's inhabitants."
—Adam Lively, The Sunday Times