The Litigators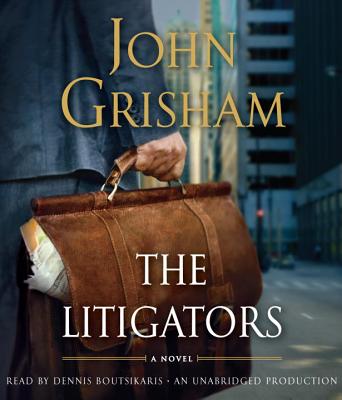 The Litigators
Random House Audio Publishing Group, Compact Disc, 9780307943194
Publication Date: October 25, 2011
* Individual store prices may vary.
Not Currently Available for Direct Purchase
or
Shop Local
Enter your zip code below to purchase from an indie close to you.
Description
The partners at Finley & Figg—all two of them—often refer to themselves as "a boutique law firm." Boutique, as in chic, selective, and prosperous. They are, of course, none of these things. What they are is a two-bit operation always in search of their big break, ambulance chasers who've been in the trenches much too long making way too little. Their specialties, so to speak, are quickie divorces and DUIs, with the occasional jackpot of an actual car wreck thrown in. After twenty plus years together, Oscar Finley and Wally Figg bicker like an old married couple but somehow continue to scratch out a half-decent living from their seedy bungalow offices in southwest Chicago.

And then change comes their way. More accurately, it stumbles in. David Zinc, a young but already burned-out attorney, walks away from his fast-track career at a fancy downtown firm, goes on a serious bender, and finds himself literally at the doorstep of our boutique firm. Once David sobers up and comes to grips with the fact that he's suddenly unemployed, any job—even one with Finley & Figg—looks okay to him.

With their new associate on board, F&F is ready to tackle a really big case, a case that could make the partners rich without requiring them to actually practice much law. An extremely popular drug, Krayoxx, the number one cholesterol reducer for the dangerously overweight, produced by Varrick Labs, a giant pharmaceutical company with annual sales of $25 billion, has recently come under fire after several patients taking it have suffered heart attacks. Wally smells money.

A little online research confirms Wally's suspicions—a huge plaintiffs' firm in Florida is putting together a class action suit against Varrick. All Finley & Figg has to do is find a handful of people who have had heart attacks while taking Krayoxx, convince them to become clients, join the class action, and ride along to fame and fortune. With any luck, they won't even have to enter a courtroom!

It almost seems too good to be true.

And it is.

The Litigators is a tremendously entertaining romp, filled with the kind of courtroom strategies, theatrics, and suspense that have made John Grisham America's favorite storyteller.
About the Author
Sid Salter, Starkville, Mississippi, is Chief Communications Officer at Mississippi State University. He has been a Mississippi syndicated political columnist for more than thirty years.
Dennis Boutsikaris, winner of "AudioFile" Magazine s 2010 Best Voice in Mystery & Suspense, has recorded more than 100 audiobooks for publishers in the United States and Great Britain. His critically-acclaimed work has garnered four Golden Earphone awards and two Best Voices of the Year Awards from "AudioFile" Magazine and five Audies from the Audio Publishers of America. His performances include reading novels by Richard North Patterson, Tom Clancy, John Grisham, and Joseph Finder.
Boutsikaris has appeared in numerous Broadway, television, and film roles. He played Mozart on Broadway in "Amadeus", and has appeared on television shows including "Shameless", "The Good Wife", "House M.D"., "Grey s Anatomy, ER and Law & Order". He has won two Obie Awards one for Outstanding Performance in "Nest of the Wood Grouse" and one for Outstanding Performance in "Sight Unseen". His films include "The Bourne Legacy, W., The Education of Charlie Banks, *batteries not included, Dream Team, Boys on the Side, "and" Crocodile Dundee 2."
Praise For The Litigators…
PRAISE FOR THE CONFESSION

"Brilliant . . . Superb . . . the kind of grab-a-reader-by-the-shoulders suspense story that demands to be inhaled as quickly as possible." —Washington Post

"One of Grisham's best efforts in many seasons . . . a rous­ing return to his dexterous good-guy-faces-corrupt-system storytelling." —People magazine

"Packed with tension, legal roadblocks, and shocking rev­elations." —USA Today