The War with the Mein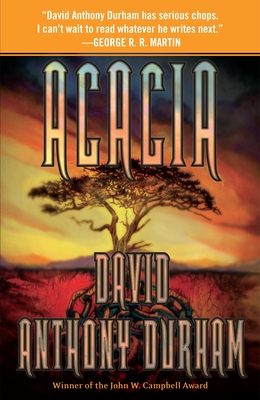 The War with the Mein
Anchor Books, Paperback, 9780307947130, 763pp.
Publication Date: April 17, 2012
* Individual store prices may vary.
Buy at Local Store
Enter your zip code below to purchase from an indie close to you.
or
Buy Here
Description
The first book in David Anthony Durham's acclaimed fantasy series, the Acacia Trilogy a timeless tale of heroism and betrayal, of treachery and revenge, of primal wrongs and ultimate redemption.
Leodan Akaran, ruler of the Known World, has inherited generations of apparent peace and prosperity, won ages ago by his ancestors. A widower of high intelligence, he presides over an empire called Acacia, after the idyllic island from which he rules. He dotes on his four children and hides from them the dark realities of traffic in drugs and human lives on which their prosperity depends. He hopes that he might change this, but powerful forces stand in his way. And then a deadly assassin sent from a race called the Mein, exiled long ago to an ice-locked stronghold in the frozen north, strikes at Leodan in the heart of Acacia while they unleash surprise attacks across the empire. On his deathbed, Leodan puts into play a plan to allow his children to escape, each to theirown destiny. And so his children begin a quest to avenge their father's death and restore the Acacian empire this time on the basis of universal freedom. Forced to flee to distant corners and separated against their will, the children must navigate a web of hidden allegiances, ancient magic, foreign invaders, and illicit trade that will challenge their very notion of who they are. As they come to understand their true purpose in life, the fate of the world lies in their hands.
About the Author
David Anthony Durham received the 2009 John W. Campbell Award for Best New Writer of Science Fiction for Acacia and The Other Lands (the first two volumes of the Acacia Trilogy). Author of the historical novels Gabriel s Story, Walk Through Darkness, and Pride of Carthage, he was handpicked by George R. R. Martin to write for his Wild Cards series of collaborative novels. www.davidanthonydurham.com"
Praise For The War with the Mein…
Praise for David Anthony Durham and The Acacia Trilogy:

"David Anthony Durham has serious chops. I can't wait to read whatever he writes next."
—George R. R. Martin
 
"A fascinating world."
—USA Today
 
"A big, fat, rich piece of history-flavored fantasy. . . . Imagined with remarkable thoroughness."
—Time
 
"Gripping. . . . From the first pages of Acacia, Durham demonstrates that he is a master of the fantasy epic."
—The Washington Post Book World
 
"Thrilling. . . . Durham's new world—like our old one—is crawling with wickedly fascinating characters."
—Entertainment Weekly
 
"Transcendent. . . . As fantasy epics go, the 'Acacia' trilogy is a direct and worthy descendant of Tolkien." —Fredericksburg Free Lance-Star
 
"A truly epic fantasy . . . Superbly written."
—Fantasy Magazine
 
"Something genuinely new. . . . Strong echoes of Homer and Virgil, Tolkien, Norse mythology's Twilight of the Gods and America's compromised history as a republic built on slavery fuse into an enthralling, literate and increasingly suspenseful narrative."
—Kirkus Reviews (starred)
 
"Never lets up. . . . A very tasty fantasy stew."
—San Jose Mercury News
 
"Extraordinary. . . . One of the best books, fantasy or otherwise . . . in recent memory."
—Free-Lance Star
 
"Excellent. . . . A multi-layered, page-turning series that pushes the envelope of epic fantasy."
—Contra Costa Times