Hallucinations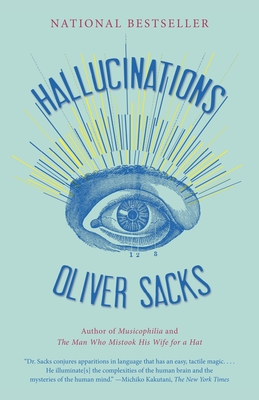 Hallucinations
Vintage Books, Paperback, 9780307947437, 326pp.
Publication Date: July 2, 2013
* Individual store prices may vary.
Buy at Local Store
Enter your zip code below to purchase from an indie close to you.
or
Buy Here
Description
To many people, hallucinations imply madness, but in fact they are a common part of the human experience. These sensory distortions range from the shimmering zigzags of a visual migraine to powerful visions brought on by fever, injuries, drugs, sensory deprivation, exhaustion, or even grief. Hallucinations doubtless lie behind many mythological traditions, literary inventions, and  religious epiphanies. Drawing on his own experiences, a wealth of clinical cases from among his patients, and famous historical examples ranging from Dostoevsky to Lewis Carroll, the legendary neurologist Oliver Sacks investigates the mystery of these sensory deceptions: what they say about the working of our brains, how they have influenced our folklore and culture, and why the potential for hallucination is present in us all.
About the Author
Oliver Sacks is the author of "Awakenings, The Man Who Mistook His Wife for a Hat," and many other books, for which he has received numerous awards, including the Hawthornden Prize, a Polk Award, and a Guggenheim Fellowship. He is a member of the American Academy of Arts and Letters, and lives in New York City, where he is a practicing neurologist.
Praise For Hallucinations…
"Dr. Sacks conjures apparitions in language that has an easy, tactile magic. . . . He illuminate[s] the complexities of the human brain and the mysteries of the human mind." —Michiko Kakutani, The New York Times

"Beguiling. . . . Sacks presents a field guide to our quirky operating system's powers of deception with storytelling that makes readers feel like medical insiders." —Chicago Tribune

"Elegant. . . . An absorbing plunge into a mystery of the mind." —Entertainment Weekly
 
"Humane, compassionate. . . . These tales are at turns delightful, entertaining, bizarre and sometimes downright terrifying." —Minneapolis Star Tribune

"This doctor cares deeply about his patients' experiences—about their lives, not just about their diseases. Through his accounts we can imagine what it is like to find that our perceptions don't hook on to reality—that our brains are constructing a world that nobody else can see, hear or touch. . . . Sacks has turned hallucinations from something bizarre and frightening into something that seems part of what it means to be a person. His book, too, is a medical and human triumph." —The Washington Post

"[Sacks] covers a broad range of sensory disturbances. . . . One of the pleasures of reading Hallucinations is understanding how complex human reality often trumps attempts to categorize it." —The New York Times Book Review

"Sacks' science writing is always revelatory, and there are moments in Hallucinations when seeing things can feel downright life-affirming." —Time

"The greatest living ethnographer of those fascinating tribes who live on the outer and still largely uncharted shores of the land of Mind-and-Brain." —The Guardian (London)
"Fascinating and engaging. . . . Sacks uses the unique mixture of patient anecdote, memoir, scientific information, and broad reference to literature, art, music, history, and philosophy that has characterized all his work." —The Boston Globe

"It is rare, indeed, when such an expert is also a talented writer. . . . It is remarkable to see the consistency of this literate, inquiring mind." —The Philadelphia Inquirer
"[A] mesmerizing casebook of neurological marvels." —New York Magazine
 
"Sacks writes, as usual, with a sharp mix of clinical precision, curiosity, and compassion." —The Daily Beast

"Fascinating. . . . With his special mix of patient case studies, historical accounts, reader correspondence and personal experience, Oliver Sacks has again found a way to unlock one of the mysteries of our brains." —The Miami Herald

"Escorts the reader through case studies and literary excursions into the fantastical land of our perceptions. . . . His vignettes are short, pungent and self-contained. They join his earlier books, starting with Awakenings in 1973—all building blocks that snap our increasing knowledge of the brain into focus." —The Plain Dealer

"A brisk but characteristically absorbing survey of the many ways human beings perceive things that are not there. . . . [Sacks] gives us the exceptional and the idiosyncratic." —Salon 

"Should be required reading for anyone in a caregiver position. . . . Blends centuries-old medical wisdom, current research, and observation of his own patients into an engaging summary of every way our brains seek to depart from reality." —St. Louis Post-Dispatch

"A thoughtful and compassionate look at the phantoms our brains can produce." —NPR
 "Wondrous." —Elle 

"A super-fascinating and accessible-to-lay-people adventure in neuroscience. . . . Sacks is crazy-smart, and it shows. But he's also just flat-out amazed by the brain, and it's an enthusiasm you can't help but catch." —Book Riot

"Amazing. . . . Sacks's temperament . . . facilitates that extraordinary humanity, that loving curiosity about the experiences of other people, that near-magical ability to see how even the most seemingly devastating losses may be remedied by the mind's remarkable powers of compensation." —Bookforum