A Hologram for the King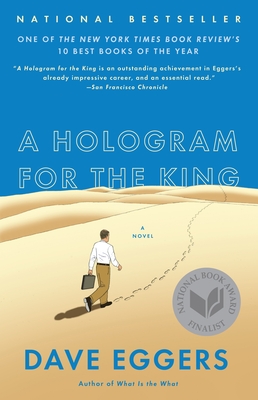 A Hologram for the King
Vintage Books, Paperback, 9780307947512, 335pp.
Publication Date: June 4, 2013
* Individual store prices may vary.
Buy Now
or
Shop Local
Enter your zip code below to purchase from an indie close to you.
Description
A National Book Award Finalist
One of the New York Times Book Review's 10 Best Books of the Year
One of the Best Books of the Year from The Boston Globe and San Francisco Chronicle

In a rising Saudi Arabian city, far from weary, recession-scarred America, a struggling businessman named Alan Clay pursues a last-ditch attempt to stave off foreclosure, pay his daughter's college tuition, and finally do something great. In A Hologram for the King, Dave Eggers takes us around the world to show how one man fights to hold himself and his splintering family together.
About the Author
Dave Eggers, a former professional stundman, is the editor of McSweeney's and the author of the New York Times bestseller A Heartbreaking Work of Staggering Genius.
Praise For A Hologram for the King…
"A Hologram for the King is an outstanding achievement in Eggers's already impressive career, and an essential read." —San Francisco Chronicle

"[A] clear, supremely readable parable of America in the global economy that is haunting, beautifully shaped, and sad. . . . A story human enough to draw blood…. Groundbreaking." —The New York Times Book Review

"Completely engrossing. . . . Perfect." —Fortune
 
"Dave Eggers is a prince among men. . . . A strike against the current state of global economic injustice." —Vanity Fair
 
"A fascinating novel." —The New Yorker
 
"Eerie, suspenseful and tightly controlled." —The Globe and Mail
 
"A comic but deeply affecting tale about one man's travails that also provides a bright, digital snapshot of our times." —The New York Times
 
"Eggers's most fully-realized character to date. . . . True genius." —Boston Globe
 
"An unforgettable read." —Entertainment Weekly

"A novel poised on the central meridian of our times. . . . Eggers maintains an exquisite balance of irony, empathy, dark humor, and unexpected tenderness in this taut exploration of the ever-increasing price of ordinary survival. A book as heartbreaking as the global economy it explores with such beauty and ferocity." —National Book Awards citation
 
"Eggers, continuing the worldly outlook that informed his recent books Zeitoun and What Is the What, spins this spare story—a globalized Death of a Salesman—into a tightly controlled parable of America's international standing and a riff on middle-class decline that approaches Beckett in its absurdist despair." —The New York Times citation for Best Books of the Year
 
"Solidly constructed and elegantly told. There is nothing inaccessible about it. . . . Clay may not be like each of us, but he is an everyman whose irrelevancy is parallel to America's own." —Los Angeles Times
 
"Eggers understands the pressures of American downward-mobility, and in the protagonist of his novel, Alan Clay, has created an Everyman, a post-modern Willy Loman. . . . The novel operates on a grand and global scale, but it also is intimate." —The Chicago Tribune
 
"Fascinating. . . . A Hologram for the King, as far from home as it might seem, is an acute slice of American life." —Tampa Bay Times
 
"A fresh surprise. . . . Strong and satisfying. As the kingless days pass, Alan ventures from the tent and hotel into the rich, unsettling realities of the Kingdom, and Eggers ventures deeper into Alan, as well as into the question that has seemingly guided Eggers' work for years: What does it mean to be an American in a world that has places like the Sudan, Saudi Arabia, or post-Katrina New Orleans?" —San Francisco Weekly
 
"Deft and darkly comic . . . A Hologram for the King is not only a portrait of a man in midlife trying desperately to salvage his future. The book is emblematic of what Eggers sees as wrong in America today: the collapse of homegrown industry, the outsourcing of labor, a loss of confidence, soured ideals. . . . But [it] isn't a bummer—or if it is, it's a bummer beautifully enlivened by oddball encounters and oddball characters, by stranger-in-a-strange-land episodes. . . . A Hologram for the King moves forward—a momentum of melancholy and possibility, driven by the meditations and memories of its once-noble American salesman hero." —The Philadelphia Inquirer
 
"Eggers's spare prose is a pleasure, and A Hologram for the King proves to be a deft blend of surreal adventure, absurd comedy and pointed observations." —San Jose Mercury News
 
"[Hologram] has at its center a sort of moral vision quest. . . . Alan's plight is endearing in its universality, even while being singularly his." —Time Out Chicago
 
"A Hologram for the King presents us with the Great American Novel for this not-so-great America. . . . It strikes a new note for Eggers with its pervading sense of gallows humor." —Baltimore City Paper
 
"A Hologram for the King . . . reads fast and clear, with clean, stripped-down prose and a tone at once mournful and darkly amused. . . . It's not that this world is changing, or that it will change. The world already changed, and now everyone, whether they like it or not, is tasked with figuring out how—or if—they can adapt." —Portland Mercury

"A Beckettian masterpiece. . . . The finest work to date from an influential figure in American letters." –The Telegraph (UK)