Como Disfrutar de la Vida y el Trabajo = How to Enjoy Life and Work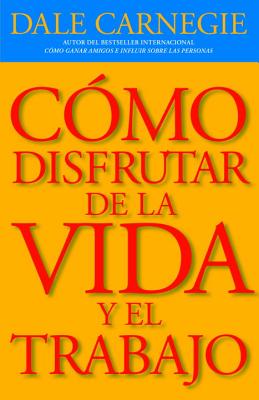 Como Disfrutar de la Vida y el Trabajo = How to Enjoy Life and Work
Vintage Books, Paperback, 9780307947819, 198pp.
Publication Date: January 3, 2012
* Individual store prices may vary.
Buy Now
or
Shop Local
Enter your zip code below to purchase from an indie close to you.
Description
Destapa tu potencial y llena cada día de entusiasmo y satisfacción
 
El hecho mismo de que la vida esté en gran medida consagrada al trabajo influye enormemente sobre tu estado de ánimo. Incluso si te gusta tu trabajo, es probable que tengas días en que casi nada sale bien. En Cómo disfrutar de la vida y el trabajo, Dale Carnegie —uno de los autores de autoayuda más reconocidos del mundo— te muestra cómo hacer que cada día sea más feliz y gratificante, ensenándote cómo lograr más en el trabajo y a divertirte más mientras que lo haces. Los clásicos métodos de Carnegie te ayudarán a:

-- Hacer que otras personas se sientan importantes —y hacerlo sinceramente
-- Evitar la tensión innecesaria —guardar tu energía para tareas importantes
-- Hacer que la gente diga que sí
-- Convertir la rutina en estimulantes oportunidades
-- Identificar maneras de hacer enemigos —y evitarlas 
-- Sonreír ante las críticas

Combinando selecciones de dos de las obras más exitosas de Carnegie —Cómo ganar amigos e influir sobre las personas y Cómo suprimir las preocupaciones y disfrutar de la vida— este libro te ensenará todo lo que necesitas saber para aprovechar tus recursos personales y disfrutar de una mayor plenitud de vida cada día.
About the Author
Dale Carnegie was an American self-improvement lecturer and author. Born in 1888, Carnegie was the son of a farmer, and worked throughout his childhood helping his parents with various tasks on the farm. He was fortunate, however, in that he was able to obtain an education in his young adulthood at a nearby Teacher s College. Carnegie worked as a salesman and an actor before he took up teaching public speaking courses at a New York YMCA branch, where he was living at the time. Carnegie s public speaking career took off, and through his success he was able to have several of his books published. His first book, Public Speaking: a Practical Course for Business Men sold well, but his most impressive achievement was the publication of his book How to Win Friends and Influence People, which was an immediate bestseller when it was published in 1936, and has gone on to sell millions of copies in thirty-one languages. Carnegie also worked to open the Dale Carnegie Institute, a learning-ground for those interested in his public speaking and self-improvement techniques, and Dale Carnegie courses are still taught today. Carnegie died of Hodgkin s Disease on November 1, 1955.