The Fear Index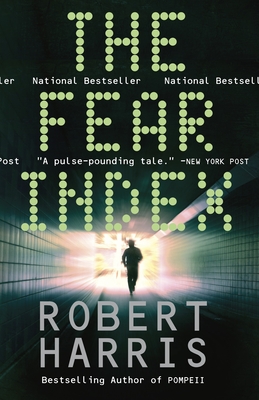 The Fear Index
Vintage, Paperback, 9780307948113, 304pp.
Publication Date: August 21, 2012
* Individual store prices may vary.
Buy at Local Store
Enter your zip code below to purchase from an indie close to you.
or
Not Currently Available for Direct Purchase
Description
High tech finance and sophisticated computer programming combine in this terrifying and fiendishly smart new novel from Robert Harris.
""
Dr. Alex Hoffmann stays out of the public spotlight, but within the secretive inner circles of the ultra-rich he is a legend. And now he has developed a revolutionary form of artificial intelligence that predicts movements in the financial markets with uncanny accuracy. As a result, his Geneva-based hedge fund is poised to make billions. But one morning before dawn, a sinister intruder breaches the elaborate security of his lakeside mansion. So begins a waking nightmare of paranoia and violence as Hoffmann attempts, with increasing desperation, to discover who is trying to destroy him.
Praise For The Fear Index…
"A pulse-pounding tale." —New York Post

"Robert Harris is at the top of his game." —The Oregonian

"Harris delivers a superbly entertaining read for our time." —Newsweek
 
"A fiendish little tale that has the body of Mary Shelley's Frankenstein with the head of Stanley Kubrick's HAL from 2001: A Space Odyssey bolted on top . . . It doesn't take a super-computer to know The Fear Index is a worthwhile investment of your time." —USA Today

"Harris has shown himself a master of the thriller form, regardless of context . . . Readers may find themselves lying awake at night unsettled by the story." —The Wall Street Journal
 
"Fleet-footed . . . Weaving copious research into a breathless narrative, much as he did in his historical best sellers, Fatherland and Pompeii, Harris in the opening chapters does an agile job of limning the elite world inhabited by Dr. Alexander Hoffmann . . . He expertly conjures a paranoid world where everyone seems to be watching everyone else."  —The New York Times
 
"Eerily troubling. . . . The Fear Index has enough suspense, cleverness and spookiness to warrant being added to your portfolio—er, I mean, your library." —Dennis Drabelle, The Washington Post Book World
 
"Harris's brisk, movie-ready yarn may make you reconsider your mattress as a retirement-fund option." —Entertainment Weekly
 
"Harris is a master of pacing—the story moves swiftly while never feeling rushed, and the tension increases subtly chapter by chapter."  —Bloomberg News
 
"Let it never be said again that high finance is boring. With a satirist's eye for detail and a note-perfect instinct for pacing, Robert Harris brings the Geneva banking scene to ominous life in his twisty new thriller. . . . So perfectly paced it should be read with a bag of popcorn." —Newsday

"In The Fear Index, Harris creates from the thin air of cyberspace a financial thriller that's likely to unsettle the reader when Wall Street bells toll. . . . . The High Noon–type showdown . . . brings the tale to a stunning and disturbing finish."  —San Francisco Chronicle

"Gothic horror. . . . [with] a high-tech twist."  —The New York Times Book Review
"If you want to get a feel for one of the most important transformations in our world today, read The Fear Index. Harris has been widely praised for his adept portrayal of the hedge fund universe. . . ."  —The Globe and Mail (Toronto)
 
"As addictive as any thriller written. Pick this up on an airplane, and you won't want to land." —Reuters
 
"What Harris does so admirably—in my mind, better than any other writing today—is intertwine nifty, page turning plots with important historical, political, or in this case, sociological questions.  The late Michael Crichton did this kind of story well. In The Fear Index, Robert Harris does it fantastically." —Christopher Reich, bestselling author of Rules of Betrayal
 
"Like the best novels of this genre, it offers something to chew on—and it's entertaining." —The Washington Times
 
"Harris's outstanding thriller, a worthy successor to Frankenstein and 2001: A Space Odyssey, will kindle readers' minds from the first page. Get ready to enjoy a brilliant integration of fascinating research, compelling themes, and vivid characterization." —Library Journal (starred)
 
"Full of sharply drawn characters and artfully revealed surprises—and a big dose of paranoia—the book is a first-class page-turner." —Booklist (starred)