Remember Ben Clayton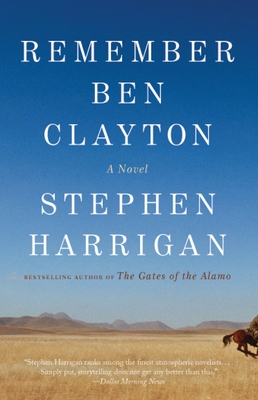 Remember Ben Clayton
Vintage Books, Paperback, 9780307948793, 353pp.
Publication Date: May 29, 2012
* Individual store prices may vary.
Buy at Local Store
Enter your zip code below to purchase from an indie close to you.
or
Buy Here
Description
Winner of the James Fenimore Cooper Prize for Best American Historical Fiction

Francis "Gil" Gilheaney is a sculptor of boundless ambition, but bad fortune and pride have driven him and his long-suffering daughter Maureen into artistic exile in Texas just after World War I. When an aging rancher commissions Gil to create a memorial statue of his son who was killed in action, Gil believes it will be his greatest achievement. But as work proceeds on the statue, Gil and Maureen come to realize that their new client is a far more complicated man than they ever expected, and that he is guarding a secret that haunts his relationship with his son even in death.
 
About the Author
Stephen Harrigan is a former senior editor of Texas Monthly magazine who now writes full-time from his home in Austin, Texas.
Praise For Remember Ben Clayton…
"Stephen Harrigan ranks among the finest atmospheric novelists…. Simply put, storytelling does not get any better than this." —The Dallas Morning News
 
"One of the best novels of [the year]. . . . Like Ian McEwan's Atonement . . . Harrigan magically re-creates a point in history while engaging readers with a mesmerizing story." —Pittsburgh Tribune-Review
 
"A poignantly human monument to our history." —The Wall Street Journal
 
"Remember Ben Clayton is a superior piece of storytelling, a historical novel, a Texas saga, an allegory of art and all the important issues it can raise, an onion of a book with many leathery layers to be unpeeled, eventually revealing our vast capacity to love, and to hurt the ones we love, and to forgive." —San Antonio Express-News

"Magnificently compelling. . . . Stephen Harrigan handles these scenes with immaculate detail, an acute ear for fear and cruelty, and an eye for the unpredictability of human behavior in moments of passion. . . .We are knocked flat with admiration." —The Washington Post
 
"Like the unforgiving bullets that pierce Clayton's flesh, the story goes unflinchingly deeper into the very human failings of fathers, the need for children to forgive and what it means to create art. . . . A tautly written novel. . . . With Remember Ben Clayton, Harrigan has created art." —Austin American-Statesman
 
"A stunning work of art. . . . The story builds with determined momentum, providing a grimly vivid sense of place and deep insight into the creative process and family relationships.  Harrigan's The Gates of the Alamo has become a modern classic, and his latest historical deserves similar acclaim." —Booklist (starred review)
 
"The characterizations in this story are superb, enhancing this engrossing novel that never plays out as you expect it to." —The Oklahoman
 
 "A solemn, affecting exploration of the effects of devoting one's life to art at the expense of family, friends and love." —The Texas Observer
 
"As in The Gates of the Alamo, Harrigan works on a broad canvas. . . . Lying behind the Texas narrative are the bloody remnants of the Indian Wars, fresh enough to reach directly into the lives of the next generation and to provide a mirror to the carnage just concluded in Europe." —The Austin Chronicle
 
"A heartening novel about art, war, and the tug of family relationships." —Kirkus Reviews
 
"Thoroughly engaging. . . . Intimate and compelling. . . . Harrigan transports his readers to each scene, as well as inside the tormented minds of his characters." —Southern Literary Review
 
"Rich in detail about the Texas landscape and the men and women who live there. It is a telling measure of [Harrigan's] skill as a writer that he seamlessly weaves. . . major themes through this new work without allowing his characters to bear the weight of being symbols rather than real people. . . Harrigan is a gifted storyteller whose images at times are as rich as those in the best poetry." —The Washington Times