Some Kind of Fairy Tale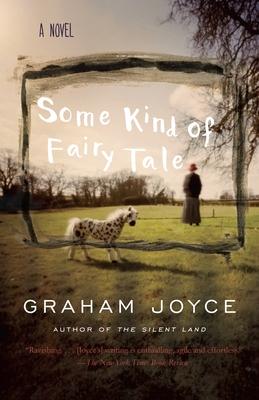 Some Kind of Fairy Tale
Anchor Books, Paperback, 9780307949073, 310pp.
Publication Date: July 2, 2013
* Individual store prices may vary.
Buy at Local Store
Enter your zip code below to purchase from an indie close to you.
or
Buy Here
Description
Winner of the British Fantasy Award for Best Novel
Twenty years ago, teenager Tara Martin disappeared in the dense English forest known as the Outwoods, leavingher parents and her brother, Peter, to fear the unthinkable.
But on Christmas Day, the doorbell rings and there Tara stands disheveled, unapologetic, and not looking a day over sixteen. It's a miracle, but Peter is skeptical, especially when Tara claims that she was abducted by fairies. As those who loved and missed Tara attempt to understand where she's been for two decades, they begin to ask the same question: Has Tara lost her sanity or have they?
About the Author
Graham Joyce's books include "The Facts of Life, " which won the 2003 World Fantasy Award, "Smoking Poppy, Indigo" (a "New York Times" Notable Book of 2000) and "The Tooth Fairy." He is a four-time recipient of the British Fantasy Award and winner of the French Grand Prix de l'Imaginaire. He lives in Leicester, England, with his wife and two children.
Praise For Some Kind of Fairy Tale…
"Here is a keenly observed tale of a family in crisis, one that mixes fantasy and psychiatry in a potent cocktail." —Stephen King, "The Best Books I Read in 2012", Entertainment Weekly

"Ravishing. . . . [Joyce's] writing is enthralling, agile and effortless." —The New York Times Book Review 
 
  "Joyce's fiction is an unusual—and unusually satisfying—hybrid. He's interested in all the things that preoccupy literary novelists: finely drawn characters, the beauty and sadness of life's inevitable transitions, families in all their ambiguous and endlessly fascinating complexity. His prose is precise and unsentimental. Yet into the fabric of these relationships he weaves elements of folklore and myth." —Laura Miller, Salon 
 
"One of the most impressive fantasy books we've read in ages." —io9.com

"Reading Some Kind of Fairy Tale is a little like stepping into an enormous, brilliantly camouflaged mantrap…. Joyce's books are as seductive as anything you'll find in contemporary fiction." —Richmond Times-Dispatch

"Clever, funny and poignant." —Sarah Waters, author of The Little Stranger

"Fans of novels featuring dark, haunted woods, overgrown English moors and changelings hidden in the dense brush will be absolutely delighted." —BookPage

"Joyce's fairy tale is one of dark and dangerous collision." —The Washington Post 

 "I became a rabidly devoted fan of Graham Joyce's the first time I read his work." —Peter Straub

"Some Kind of Fairy Tale is fantastically formed, complete with a gently portentous premise, a marvelous cast of characters, and a narrative as smart and self-reflexive as it is at first old-fashioned. Enigmatic and intellectual, yes, yet readily accessible and massively satisfying, Joyce's latest is a joy." —Tor.com

"One of my best reads in decades." —L. Dean Murphy, Bookreporter
 
"I won't bother saying Graham Joyce deserves to find a wider audience in America; rather I think the American audience deserves to find him." —Jonathan Lethem
"Dark and haunting." —The Free Lance–Star

"Some Kind of Fairy Tale is all about passing through walls: between people, between truths, between worlds. But where a lesser writer might strain to keep all those layers in focus, Joyce projects a vision of the heart as rich and ethereal as the age-old tradition Fairy Tale invokes. . . . As its title trumpets, Some Kind of Fairy Tale meditates on the nature of what it means to tell stories. But wisely and hauntingly, it does so through a spellbinding story of its own." —The Onion's A.V. Club

"Joyce's fiction has always displayed a certain generosity of spirit that lifts it above the ordinary. . . . Joyce as a writer is a master charmer. . . . Mesmerizing." —The Guardian (London)

"Haunting, brilliant. . . . Some Kind of Fairytale works the same sort of magic [as The Limits of Enchantment] and in many ways is even more accomplished. This time, people, pay attention." —Locus

"Reality and fairy tale are beautifully interwoven in this contemplative story about relationships, love, and dreams. In a unique blend of thriller and fantasy, Joyce creates a delightful page-turner that his fans and newcomers alike will find hard to put down." —Booklist