The News from Spain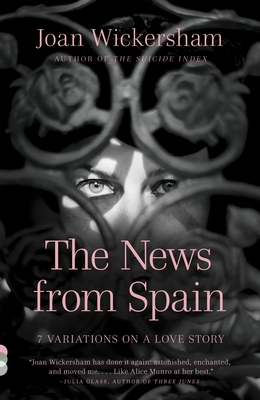 The News from Spain
Seven Variations on a Love Story
Vintage Books, Paperback, 9780307949295, 208pp.
Publication Date: July 2, 2013
* Individual store prices may vary.
Buy at Local Store
Enter your zip code below to purchase from an indie close to you.
or
Buy Here
Description
A "San Francisco Chronicle" and NPR Best Book of the Year
The author of the acclaimed memoir "The Suicide Index" returns with a virtuosic collection of stories, each a stirring parable of the power of love and the impossibility of understanding it. Spanning centuries and continents, from eighteenth-century Vienna to contemporary America, Joan Wickersham shows, with uncanny exactitude, how we never really know what's in someone else's heart--or in our own.
About the Author
JOAN WICKERSHAM is the author of the novel The Paper Anniversary. Her work has appeared in the Best American Short Stories series. An excerpt from The Suicide Index earned her the 2007 Ploughshares Cohen Award for Best Short Story. She lives in Cambridge, Massachusetts.
Praise For The News from Spain…
"Joan Wickersham has done it again: astonished, enchanted, and moved me. . . . Like Alice Munro at her best." —Julia Glass, author of Three Junes 
  
"Do not mistake Wickersham's exquisitely polished prose for good manners. Although she writes with an almost grave formality, a vintage grace  …  she is brutal and funny too. . . . Divine."  —San Francisco Chronicle
  
"Beautiful." —Cheryl Strayed, author of Wild
 
"Wickersham shows how the difficult road of one-way affection can be a lot more interesting than something shared; she lends new dignity to pining." —The New York Times
 
"Joan Wickersham's brilliant The News from Spain shows, in all its twisty beauty, what a short story collection can do. . . . Truly extraordinary." —Elizabeth McCracken, author of An Exact Replica of a Figment of My Imagination
 
"Wickersham [takes an] emotional cannonball into every single one of her characters. The doubts and tenderness they share are ones that only the finest fiction can create." —Oprah.com, "Best of the Week"

"Great short stories are unforgiving: every world must work overtime. . . . Joan Wickersham [is] a fierce practitioner in the same exacting tradition. . . . At the top of this year's list." —Chicago Tribune Printer's Row

"Captivating. . . . This wise and courageous and often brilliant collection of stories, written in clean, precise prose, is not only a pleasure to read, but also breaks new ground in our perceptions of what a short story can be. . . . Wonderfully imaginative and original." —The Boston Globe

"Joan Wickersham makes a triumphant return to fiction. . . . Wickersham paints everyday yet complex portraits of love, filigreed with truths that resonate." —Elle
"An expert in the he-and-she of it, Wickersham turns the most exquisitely particular truths into universals. The News from Spain is brilliant." —Patricia Volk, author of Stuffed and To My Dearest Friends

"Wickersham dissects the human heart with precision and restraint that make her work all the more moving. Short stories don't get much better than this." —Kirkus Reviews

"So moving it will close your throat." —Los Angeles Times
 
"[Wickersham] is a master of the written word and storytelling in all its forms." —BookPage

"The brilliance of The News from Spain is that Joan Wickersham has ambitiously aimed for the scope and depth of a novel, but contained her writing within seven elegant 'love' stories, each titled 'The News from Spain.' . . . This is some of the best writing I've encountered in years." —Michelle Aldredge, Gwarlingo

"Joan Wickersham has achieved something miraculous: seven prismatic stories that refract the lonely, marvelous, terrible complexity of human longing. . . . Radiant with insight."  —Suzanne Berne, author of A Crime in the Neighborhood

"Wickersham's keen insight and observation of the human heart are at once intimate and universal." —The Charleston Post & Courier

"Complex and world-weary, Wickersham's characters move through life with a quiet intensity. Love comes at unexpected times and places—if you only listen hard enough." —The Daily Beast

"A kaleidoscopic view of the subject of love. It is amazingly perceptive psychologically, a gorgeous, completely original work. I loved it. As soon as I finished it, I began to read it again."  —André Gregory, co-author of My Dinner with André

"The News from Spain evokes hidden topographies of need, and the emotional tipping points that occasionally break through the surface." —Vogue.com

"Love—and all its messy, gorgeous, decimating complications—animates this brilliantly conceived collection of stories. With astonishing acuity, Wickersham illuminates not only our passions but also our abiding consolations."  —Dawn Raffel, author of Further Adventures in the Restless Universe