Penelope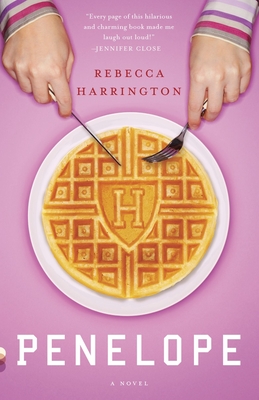 Penelope
Vintage Books, Paperback, 9780307950314, 274pp.
Publication Date: August 7, 2012
* Individual store prices may vary.
Buy at Local Store
Enter your zip code below to purchase from an indie close to you.
or
Not Currently Available for Direct Purchase
Description
When Penelope O'Shaunessy, "an incoming freshman of average height and lank hair" steps into Harvard Yard for the first time she has lots of advice from her mother: "Don't be too enthusiastic, don't talk to people who seem to be getting annoyed, and for heaven's sake, stop playing Tetris on your phone at parties." Penelope needs this advice. She is the kind of girl who passes through much of her life with coffee spilled on her white shirt, who can't quite tell when people are joking, and who, inevitably, always says the wrong thing. But no amount of coaching will prepare Penelope for the people she meets at school.
Gloriously skewering the social hierarchy of college, Penelope is the brilliantly funny story of one of the most singular, memorable heroines in recent fiction.
About the Author
Rebecca Harrington is a twenty-six-year-old writer living in New York City. She has worked at The Huffington Post, studied history and literature at Harvard and journalism at Columbia. Penelope is her first novel.
Praise For Penelope…
"[An] amusing and often searing profile of a dysfunctional Harvard that runs on elaborately bullshitted papers and even more elaborately constructed personae. Penelope manages to bump into all manner of Harvard caricatures, allowing Harrington's satirical voice to shine." — Zoë K. Hitzig, The Harvard Crimson

"Unique . . . refreshing . . . It is this sincere depiction of a quirky quasi-misfit in a world of pre-law go-getters and trust-fund kids that renders Penelope not only a satire of the Harvard world, but also a sincere portrayal of an average kid." —Shannon Draucker, The Dartmouth

"The quirky, titular character of the novel is hilarious, loveable, and perfectly imperfect (and mercilessly deadpan). Harrington manages to balance snarky and sarcastic observations with genuine truthfulness about the college experience. . . . Penelope brilliantly satirizes (and, on occasion, skewers) the various 'typical' students you meet in college and the trappings of academia. The supporting characters, particularly Lan, are fabulous (the hairy, hairless cat plus the t-shirts equals genius) and many of the social observations are spot on (the less than cool party you still attend to be at a party . . .). This remarkable debut is one that will stick with me for a long time to come. How could I forget a narrator who proudly wrote her college entrance essay on a car seat? The answer, not easily. . . .[A] charming, disarming, witty debut from a writer who cleverly captures the social absurdities many of us experience in the awkward transition from adolescent to adult. . . . If Zooey Deschanel were a novel, she would be Penelope. (This is a compliment.)" —Rory O'Connor, Examiner.com

"Penelope will keep you laughing . . . This tale of a hapless freshman's bumpy assimilation into college life recalls the neurosis of Bridget Jones—in a good way." —Angela Mantano, Campus Circle
 
"It's rare to find a novel that makes the reader laugh on every page, and Rebecca Harrington's debut novel delivers this promise. . . . Penelope delivers a story packed with humor that will entertain readers from cover to cover." —Sara Ermish, Indigest Magazine

"In Harrington's telling, Harvard's confluence of overprivileged climbers, antisocial geniuses, hyperambitious strivers, and hopeless geeks results in a special breed of dysfunction. . . . As the novel's characters anxiously chatter about Lloyd Blankfein, Thomas Pynchon, the Harvard-Yale game, and housing arrangements, Harrington invites their mockery. In Penelope's depiction of Ivy League . . . the comedic payoff is high." —Mythili Rao, The Daily Beast 

"Penelope is one of those novels that's more than entertaining enough to take to beach but can still dazzle you with its wit and razor-sharp intelligence." —Stephan Lee, Entertainment Weekly

"Dotted with classical literature in-jokes, Penelope is a clever read about the absurdity of the Ivy League experience: the hookups, the all-night 'pregaming' and the waffle irons branding the college crest on students' breakfasts. . . . . [Penelope] never abandons her dorky core in favor of Harvard manners. As in the classic campus novels Harrington references, virtue is rewarded and the villains get their comeuppance." –Rebecca Finkel, Metro

"Penelope is quite a gal, and one with very much her own voice." –Ann LaFarge, Hudson Valley News

"Rebecca Harrington's irresistible debut novel, Penelope, follows its plucky, doe-eyed heroine through her tumultuous freshman year circa the 20-aughts at Harvard." —Lisa Shea, ELLE

"Harrington's debut is a wryly funny bildungsroman chronicling the titular character's freshman year at Harvard, and all the supplementary standard collegiate fare—drunken parties and regrettable hookups, pretentious extracurriculars, friends with and without benefits, an incessant pressure to succeed, and the #1 question: Who am I? . . . Penelope's candidly deadpan neuroses provide plenty of humor, and while the well-off kids of Harvard Yard might seem too aloof, in Harrington's hands they're entertaining company." —Publishers Weekly

"Debut author Harrington, herself a recent Harvard grad, is well equipped to lead readers behind the ivy-covered walls . . . [Penelope] comes into her own through deadpan oneliners and witty repartee. . . . [A] clever parody of Harvard pretentiousness." —Booklist
 
"A debut novel that is refreshing, pleasantly absurd, and highly addictive. Penelope is a character who would describe herself as awkward and forgettable. Awkward: yes. Forgettable: absolutely not." —Kaui Hart Hemmings, bestselling author of The Descendants
  
"Quick-witted and sharply observed, Penelope transported me right back to my freshman year dorm room and made me nostalgic for dining hall waffles and shots of Peppermint Schnapps. Every page of this hilarious and charming book made me laugh out loud!" —Jennifer Close, bestselling author of Girls in White Dresses