The Malice of Fortune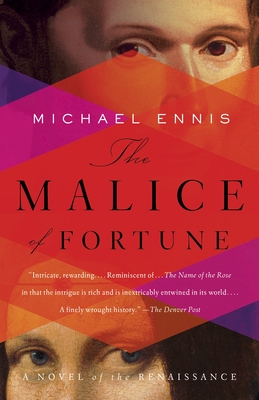 The Malice of Fortune
A Novel of the Renaissance
Anchor Books, Paperback, 9780307951045, 396pp.
Publication Date: June 4, 2013
* Individual store prices may vary.
Buy at Local Store
Enter your zip code below to purchase from an indie close to you.
or
Buy Here
Description
When Pope Alexander orders the courtesan Damiata to the remote fortress city of Imola to learn the truth behind the murder of his beloved son, Juan, she knows that failure comes at the price of her own child's freedom.
However, a string of gruesome murders have left Imola's residents too gripped by fear to help a lone woman. Enlisting the aid of the obscure Florentine diplomat Niccolo Machiavelli and the eccentric military engineer Leonardo da Vinci, Damiata sets off to decipher the killer's taunting riddles: she with her street smarts, Leonardo with his groundbreaking science of observation, and Machiavelli with his new science of men.
Praise For The Malice of Fortune…
"Intricate, rewarding. . . . The Malice of Fortune is reminiscent of Umberto Eco's The Name of the Rose in that the intrigue is rich and is inextricably entwined in its world… A finely wrought history" —The Denver Post
 
 "A heady mix of The Da Vinci Code, Borgia politics and The Silence of the Lambs. Think of it as CSI: Italy circa 1502, with Machiavelli as a detective and psychological profiler and da Vinci as history's first forensic pathologist." —Christian DuChateau, CNN.com 
 
"Ennis is an uncommonly graceful writer and a conscientious researcher. . . . [The Malice of Fortune] zips along, a pleasure." —USA Today

"Stunning, terrifying, and utterly mesmerizing. I can honestly say I never fully appreciated the genius of Machiavelli, or the savagery of the Borgias, until now." —Anne Fortier, author of Juliet

"Machiavelli and [Da Vinci] aren't just another Holmes and Watson. What Ennis has created is a scenario with two Sherlock Holmeses, each applying his unique approach to crime-solving in an age when even the most fundamental forensics techniques would be regarded as heresy." —Dallas Morning News
 
"A thrilling whodunit." —Entertainment Weekly
 
"The Malice of Fortune captures the glorious and gritty details of Renaissance Italy in a propulsive story. Ennis has achieved a great accomplishment, historical fiction that places us right into the characters' present." —Matthew Pearl, author of The Dante Club and The Technologists
 
"Ennis brilliantly recreates the complex politics of early 16th-century Italy in this absorbing and intelligent thriller that teams Leonardo da Vinci with Niccolò Machiavelli." —Publishers Weekly (starred review)
 
"Ranks among the best. . . . Firmly rooted in history, as recorded in Machiavelli's writings."—San Antonio Express-News
 
"For readers who liked The Name of the Rose or The Historian, Ennis has the similar ability to wrap the reader totally in Machiavelli's world of conspiracy, hatred, and passion. Fabuloso!" —Shelf Awareness
 
"An intricate murder mystery and political thriller. . . . Like the best historical fiction, the novel transports the reader entirely elsewhere." —Time Out Chicago
 
"This is a fascinating novel, filled with extraordinary, well-realized historical characters and a plot that is engrossing and wickedly clever… kept me turning the pages to the very end." —Douglas Preston, coauthor of The Monster of Florence
 
"Fascinating. The sheer imagination and considerable research that has gone into this book will ensure its place as an important historical novel of Renaissance Italy. " —The Newark Star-Ledger
 
"For readers who've been waiting all these years for the next The Name of the Rose —here it is. Michael Ennis brings a scholar's mind and a writer's heart to this beautifully crafted work of Renaissance intrigue. . . . A powerful thinking man's thriller." —Glenn Cooper, author of Library of the Dead and Book of Souls
 
"A richly textured, sweeping historical novel with some of the most memorable characters you'd want to meet. . . . Will satisfy the most discriminating devotee of historical fiction. " —The Huntington News (Huntington, WV)