Blue Plate Special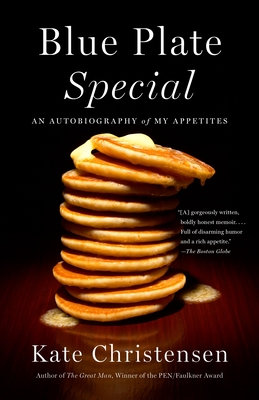 Blue Plate Special
An Autobiography of My Appetites
Anchor Books, Paperback, 9780307951106, 353pp.
Publication Date: May 6, 2014
* Individual store prices may vary.
Buy at Local Store
Enter your zip code below to purchase from an indie close to you.
or
Buy Here
Description
A delectable memoir about the transformative power of food, Blue Plate Special is a deeply personal narrative in which food becomes the vehicle for exploring a life. Here, novelist Kate Christensen tells her own story, from her unorthodox childhood in 1960s Berkeley as the daughter of a legal activist who ruled the house with his fists to her extraordinary success as a PEN/Faulkner Award-winning author. Hungry not just for food, but for love and a sense of belonging, Christensen writes honestly about her struggle to find the contentment she has always yearned for. A beautifully written account of a knockabout life, full of sorrows, pleasures and, of course, food Blue Plate Special is a delicious reading experience.
About the Author
Kate Christensen is the author of six novels, including The Astral. The Great Man won the 2008 PEN/Faulkner Award. She has published reviews and essays in numerous publications, such as the New York Times Book Review, Bookforum, O, Elle, and Gilt Taste. She writes an occasional drinks column called With a Twist for The Wall Street Journal. She lives in Portland, Maine.Her blog can be accessed at: http: //katechristensen.wordpress.com"
Praise For Blue Plate Special…
"A gorgeously written, boldly honest memoir. . . . Full of disarming humor and a rich appetite, both for the meals whose recipes dot the chapters and for life itself."
—The Boston Globe
 
"Christensen has deftly tucked food into every scenario, every relationship and every crossroads. . . . A homey and vivid portrait of a woman who has dedicated herself to sitting in a room—sometimes of her own—and writing good books, including this one."
—The Wall Street Journal
 
"A paean to cooking and food, from the homey to the haute. . . . [A] blend of personal and social history."
—The New York Times Book Review
 
"Christensen summons to mind a young, sexy Julia Child who mixes things with her hands and ends up with sauce on her chin."
—Elle
 
 "A fine case for life's simplest pleasures—soul-satisfying sustenance shared with a soulmate."
—The Washington Post
 
"Picking up Blue Plate Special is a little like having Kate Christensen sit down next to you in a bar and hearing her life story. . . . In a bar, you wouldn't get her recipes, however. They appear in the book and are built for comfort, from the Bachelorette Puttanesca to the Dark Night of the Soul Soup."
— Los Angeles Times
 
"An inspiring and refreshing memoir that should whet the reader's appetite to seek out the rest of [Christensen's] oeuvre."
—The Miami Herald
 
"The memoir of an utterly original thinker, a free-spirited gourmand, and a great American writer. [Blue Plate Special] an expert guide on inspiration, ingenuity, heartbreak, buoyancy, home, love, family, screwing up, bouncing back, and perfecting the bacon-cheddar biscuit."
—Gillian Flynn, author of Gone Girl, Dark Places, and Sharp Objects
 
"[A] poignant, delicious first memoir. . . . A delightful book that leaves you hungering for more."
— People Magazine
 
"Christensen . . . brings a real sense of enchantment to her food writing. . . . She is both sensual and wickedly observant, a hard combination to pull off."
—NPR
 
"A breathtaking book, sensuously written, emotionally generous, and decadent as a bowl of macaroni and cheese."
—Jami Attenberg, author of The Middlesteins
 
"A banquet of sorts, with a surfeit of flavors. Christensen eats for all of us, and writes about food at the intersection of everything that matters. . . . [A] fierce, big-hearted memoir."
—Portland Press Herald
 
"A moving feast of memory, a repast of the past. . . . [Christensen's] clean prose is sprinkled with witty phrases and wry observations. . . . An honest portrayal of the forces that have shaped her: love and loss; joy and pain; trust and despondency."
—Christian Science Monitor
 
"Warm, wise, earthy, funny, honest, haunting, and bighearted. . . . If you're crazy about M.F.K Fisher and Laurie Colwin, you will be crazy for this book, too. There's not a single empty calorie here: every morsel is both delicious and nourishing."
—Rosie Schaap, author of Drinking With Men
 
"Christensen lifts her story toward something bigger, something signifying. She looks up and glances across her page. I see you, she says. And we feel seen."
—The Millions
"A banquet of a book about eating, loving, and overcoming, to be devoured as fast as one's fingers can turn the pages." 
—Cathi Hanauer, author of Gone and Sweet Ruin, and editor of The Bitch in the House
 
"A novelist's deliciously engrossing exploration of her life through the two major passions that have defined it: food and writing. . . . A Rabelaisian celebration of appetite, complete with savory recipes, that genuinely satisfies."
— Kirkus Reviews (starred)
 
"Christensen writes with savory, home-cooked clarity as she digs deeply into the pleasures and dangers of food, charting the culinary fads of the 1960s on as well as changes to women's lives while zestfully telling intimate, harrowing, and hilarious tales of appetites corrosive and nourishing."
— Booklist