Phantom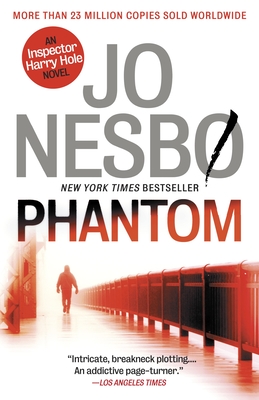 Phantom
The New Harry Hole Novel
Vintage Books, Paperback, 9780307951151, 469pp.
Publication Date: April 23, 2013
* Individual store prices may vary.
Buy Now
or
Shop Local
Enter your zip code below to purchase from an indie close to you.
Description
When Harry Hole moved to Hong Kong, he thought he was escaping the traumas of his life in Oslo and his career as a detective for good. But now, the unthinkable has happened—Oleg, the boy he helped raise, has been arrested for killing a man. Harry can't believe that Oleg is a murderer, so he returns to hunt down the real killer.
Although he's off the police force, he still has a case to solve that will send him into the depths of the city's drug culture, where a shockingly deadly new street drug is gaining popularity. This most personal of investigations will force Harry to confront his past and the wrenching truth about Oleg and himself.
About the Author
A musician, songwriter, and economist, Jo Nesbo is also one of Europe s most acclaimed crime writers, and is the winner of the Glass Key Award, northern Europe s most prestigious crime-fiction prize, for his first novel featuring Police Detective Harry Hole. Nesbo lives in Oslo.
Praise For Phantom…
"Intricate, breakneck plotting . . . an addictive page-turner." —Los Angeles Times

"One of this great crime writer's best. . . . Not to be missed." —The Globe and Mail (Toronto)
 
"A cunningly constructed thriller with a lot of moving parts, and once [Nesbø] sets the machinery in motion, the pace accelerates. . . . at Hollywood summer blockbuster speed." —Richmond Times-Dispatch
 
"Whether you are already a fan of Harry Hole, or just getting to know him, the gripping suspense and fast-paced action that fills Phantom will keep you reading until dawn." —Oprah.com

"Chilling. . . . Nesbø's most realistic and most affecting [novel]."  —The Columbus Dispatch

 "Far more than a procedural. . . . Personal and topical and hip, as usual. . . . Nesbø sets an emotionally wrenching story about family within a twisty tale of designer drugs, Norwegian police corruption, and a teenage underworld." —Pittsburgh Post-Gazette

"The most realistic novel in this series . . . it may also be the darkest. . . . Although the novel's villains can't hold a candle to Nesbø's typical psychos, they're much closer to the ones you might meet in the real world." —The New York Times Book Review

"While Hole is indisputably the dominant force, Phantom features a second character that adds a surprising depth to the novel—and that is Oslo itself." —The Boston Globe

"Harry Hole is fast becoming one of the planet's favorite detectives. And his demons are almost as legendary as his observational and analytical skills. [This is] Harry's most lethally gripping and personal journey to date." —The Mirror (UK)

"Phantom will maintain Jo Nesbø's unstoppable momentum. . . . His recovering-alcoholic, shambolic, rule-breaking detective is somehow always surprising us . . . The relationship between Harry and Rakel is truly multifaceted, and richer in nuance than anything else in the crime genre." —The Independent (UK)

"Deeply moving . . . This is Harry's most personal case, and yet Nesbø never allows Harry's paternal feelings for Oleg to cloud his need for truth, however costly that pursuit may be." —Publishers Weekly (starred)

 "Phantom is a gritty, pared-back thriller." —Esquire

"Nesbø begins with an emotionally gripping family drama but surrounds it with an elaborate, beautifully constructed plot. . . . Finally, it all comes back to Harry and the pain he endures in trying to carve out a separate peace from a world and a past that won't let him go. Superb on every level." —Booklist (starred)

"Those hooked by [The Snowman] or earlier ones should make their way here as quickly as they can . . . This one best takes the full measure of the man . . . Devastating for protagonist and reader alike." —Kirkus Reviews (starred)