Goodbye for Now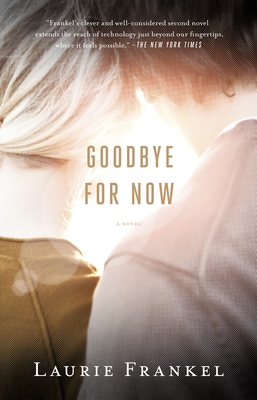 Goodbye for Now
Anchor Books, Paperback, 9780307951274, 289pp.
Publication Date: May 7, 2013
* Individual store prices may vary.
Buy at Local Store
Enter your zip code below to purchase from an indie close to you.
or
Not Currently Available for Direct Purchase
Description
A 2013 Endeavour Award Finalist

When Sam Elling creates an algorithm to pair people with their soul mates online, he meets Meredith, his own perfect match. But when Meredith's grandmother Livvie dies unexpectedly, Sam puts his algorithm to even better use: it compiles Livvie's old emails and video chats to create a computer simulation so that Meredith can say goodbye. It's not supernatural; it's computer science, and Meredith loves it—too much to keep to herself.

Together, she and Sam open RePose to help others who have lost a loved one. Business takes off, but for every person who just wants to say goodbye, there's someone else who can't let go. This twenty-first-century love story asks what would happen if saying goodbye were just the beginning, and shows how love can take on a life of its own.
About the Author
Laurie Frankel lives in Seattle and teaches in the English Department at the University of Puget Sound. "The Atlas of Love" is her first novel.
Praise For Goodbye for Now…
Praise for Laurie Frankel's Goodbye for Now:

"Frankel's clever and well-considered second novel extends the reach of technology just beyond our fingertips, where it feels possible."
—The New York Times
 
"Clever, funny, moving, intelligent, Goodbye For Now is about love and loss, real live emotions and human relationships in a cyber world taken to its extreme. Will Laurie Frankel's wonderful book capture your heart and imagination? Absolutely. You will laugh; you will cry. And you will probably start video chatting with your loved ones daily, just in case an inspired computer genius jumps on Frankel's idea."
—Garth Stein, author of The Art of Racing in the Rain

"It's a book that will grip you, make you laugh and possibly cry, and make you think. . . . Frankel spins a story of a brilliant software genius who invents an algorithm that resurrects the image, voice and words of his grieving girlfriend's dead grandmother. . . . These are characters worth reading about: the two quirky, sweet-natured principals are surrounded by colorful people. . . . Let it just be said that the events unleash enough tears to rival Seattle's annual rainfall. And yet, Goodbye for Now is still hopeful and thoughtful and securely rooted in a belief in the essential goodness of which people are capable."
—The Seattle Times
 
"The Social Network meets One Day in an attractive love-and-loss story that applies new technology to the job of soothing broken hearts."
—Kirkus Reviews

"If you like your love stories modern, clever, and a little weepy (think One Day), you will adore this."
—Redbook

"Computer science flirts with sci-fi when a programmer creates software that (almost) lets the living talk with the departed."
—Sacramento Bee

"Goodbye For Now is a fabulous, original read—very funny, yet so sad and thought-provoking too. I couldn't put it down."
—Liane Moriarty, bestselling author of What Alice Forgot

"Somewhere in the middle of Goodbye For Now, I found myself getting angry at Laurie Frankel for moving so seamlessly between hilarious and devastating, and for making me feel so deeply for her characters. I offer this as both recommendation and warning: this book will engross you and affect you, and you should know that you won't be putting it down unchanged."
—Carolyn Parkhurst, New York Times bestselling author of The Dogs of Babel and The Nobodies Album

"A smart, engaging novel that will make even the most skeptical online dating holdout reconsider. That's because Seattle-based author Laurie Frankel has written a love story featuring loveable characters and a premise so intriguing you hope someone will actually invent the computer program at the heart of this tale.. . . . The strength of Frankel's story is that she tackles big questions surrounding grief. . . . A perfect end-of-summer cottage read. As a writer, Frankel is literate, funny and at times poignant."
—Toronto Star

"There's no denying Frankel's warmth, wit and ingenuity in this cleverly conceived charmer."
—Kirkus Reviews

"Frankel tells a touching story of how this young couple deals with a new love in a world full of loss and sadness. Her first novel, The Atlas of Love, was a wonderful, heartfelt read, and while this book has a completely different story line, it retains that emotional core. Frankel is an author to watch and definitely to keep in stock."
—Library Journal (starred review)

"Frankel addresses thorny questions with thought and care."
—Publishers Weekly

"Frankel presents a fascinating concept as she keenly and sensitively explores themes of love and loss in this tearjerker centered on technology that pushes the boundaries of artificial intelligence. A compelling novel that tugs at the heartstrings; keep tissues handy."
—Booklist (starred review)

"An ingenious emotional riptide of a story that leaves your heart drifting in the gulf between losing a loved one and actually letting them go."
—Jamie Ford, New York Times bestselling author of Hotel on the Corner of Bitter and Sweet

"Frankel is unafraid to take on big questions as she weaves together her entertaining and thought-provoking story. The result is an imaginative tale that explores life, love and what lasts."
—BookPage

"Brilliantly unsettling. . . . This is an unforgettable, heartbreaking novel about love after death, and is impossible to put down."
—Image (UK)

"A thought-provoking 2012 love story well-told."
—Company (UK)

"Beautifully written . . . brilliant."
—Heat (UK), 5 stars