Brave Genius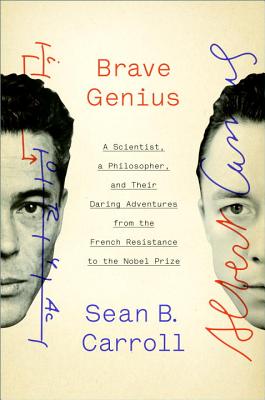 Brave Genius
A Scientist, a Philosopher, and Their Daring Adventures from the French Resistance to the Nobel Prize
Crown Publishing Group (NY), Hardcover, 9780307952332, 581pp.
Publication Date: September 24, 2013
* Individual store prices may vary.
Buy at Local Store
Enter your zip code below to purchase from an indie close to you.
or
Buy Here
Description
The never-before-told account of the intersection of some of the most insightful minds of the 20th century, and a fascinating look at how war, resistance, and friendship can catalyze genius.
In the spring of 1940, the aspiring but unknown writer Albert Camus and budding scientist Jacques Monod were quietly pursuing ordinary, separate lives in Paris. After the German invasion and occupation of France, each joined the Resistance to help liberate the country from the Nazis, ascended to prominent, dangerous roles, and were very lucky to survive. After the war and through twists of circumstance, they became friends, and through their passionate determination and rare talent they emerged as leading voices of modern literature and biology, each receiving the Nobel Prize in their respective fields.
Drawing upon a wealth of previously unpublished and unknown material gathered over several years of research, "Brave Genius" tells the story of how each man endured the most terrible episode of the twentieth century and then blossomed into extraordinarily creative and engaged individuals. It is a story of the transformation of ordinary lives into exceptional lives by extraordinary events--of courage in the face of overwhelming adversity, the flowering of creative genius, deep friendship, and of profound concern for and insight into the human condition.

About the Author
Sean B. Carroll is an award-winning scientist, writer, educator, and executive producer. He is vice president for science education at the Howard Hughes Medical Institute and the Allan Wilson Professor of Molecular Biology and Genetics at the University of Wisconsin Madison. His books include "Endless Forms Most Beautiful", "Brave Genius", and "Remarkable Creatures", which was a finalist for the National Book Award for nonfiction. He lives in Chevy Chase, Maryland.
Praise For Brave Genius…
Praise for Sean B. Carroll's Brave Genius:
 
"This is, in short, a gripping book throughout, and Carroll deserves all praise for his double portrait of two exemplary heroes of conscience and intellect."
—Washington Post

"Suspenseful…Brave Genius is briskly paced and ambitiously sprawling, offering potted accounts of historical episodes large and small (the fall of France, the 1956 Hungarian crisis, Camus's famous feud with Jean-Paul Sartre, the discovery of the double helix), along with finer-grained descriptions of Camus's and Monod's work. Dr. Carroll has done some impressive archival digging, turning up fresh and often vivid details."
—New York Times

"Carroll beautifully encapsulates how two men seemingly so far apart in their philosophies and achievements both ended up sharing 'exceptional lives' transformed by 'exceptional events.'"
—Scientific American

"Carroll does a masterful job of keeping the many elements together and the story moving….In 1959, C. P. Snow wrote of the "two cultures" — that gulf between science and the humanities. Brave Genius provides an opportunity for those on both sides of the divide to sample a potent mix of genet­ics, philosophy and literature, forged in the twentieth-century tumult of war and cold war." —Nature

"[A]n exciting and impressively told tale."
—American Scholar

"Readers will learn a good deal about symbolism in Camus' fiction and biochemistry in Monod's molecular biology. But, above all, they will learn about a luminous friendship forged in dark times. A rare chronicle of valiant thinkers fighting political oppression and transcending professional boundaries."
—Booklist (starred review)

"Carroll deftly weaves science and history together in his account of the lives, accomplishments, and friendship of two exceptional men…Spanning history, science, and philosophy, this dual biographical study of two significant 20th-century figures will appeal to a diverse audience."
—Library Journal

"[S]killfully combining science, biography and history… An important story well-told."
—Kirkus Reviews
 
"Carroll has a winning way with words, and everything he writes about (especially difficult matters of science) sparkles with clarity."
—Publishers Weekly
 
"A brave, ambitious, unexpected book.  Who knew that Sean B. Carroll, a brilliant biologist, could or would write such a work of literary, political, and scientific history?  It brings many revelations, offers several heroes, but at its heart is Jacques Monod, emerging as one of the great, complete men of the 20th century."
—David Quammen, author of Spillover and The Song of the Dodo

"Art and science are two essential components forming the very essence of what makes being human worth being human. Sean Carroll has done a yeoman's job of merging these two vital areas beautifully in this moving and carefully researched history of two great minds and two brave men…It is impossible not to be inspired by their story."  
—Lawrence M. Krauss, author of The Physics of Star Trek and A Universe from Nothing

"A remarkable profile. With deep research and compelling story-telling, Sean Carroll follows these two Nobel-prize winners from the desperate depths of World War II to international fame."
—Carl Zimmer, author of Soul Made Flesh and Microcosm

"A tour de force, a gripping narrative of a pivotal time in the history of Europe and of science. Finishing Brave Genius, I felt inspired by the determination of the key characters in the book, by their quest for liberty in the face of great injustice, and by the power their discoveries gave to understanding the living world."
—Neil Shubin, author of Your Inner Fish and The Universe Within

"The story of two brilliant men who understood better than anyone the randomness and absurdity of life, but who fought valiantly and fiercely to make the world a better place. History, personality, and ideas come together in this amazing tale of science, philosophy and friendship."
—Sean M. Carroll, author of From Eternity to Here and Particle at the End of the Universe

 
 
Friday, Oct 11, 2013
In Brave Genius: A Scientist, a Philosopher, and Their Daring Adventures from the French Resistance to the Nobel Prize, Sean B. Carroll tells the story of biologist Jacques Monod and philosopher Albert Camus--two men who made significant contributions to their respective fields, and who shared an enduring friendship. More at NPR.org