Predator Nation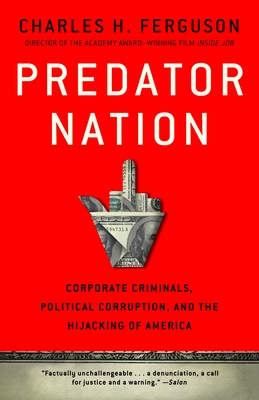 Predator Nation
Corporate Criminals, Political Corruption, and the Hijacking of America
Crown Business, Paperback, 9780307952561, 369pp.
Publication Date: May 21, 2013
* Individual store prices may vary.
Buy at Local Store
Enter your zip code below to purchase from an indie close to you.
or
Buy Here
Description
Charles Ferguson, who electrified the world with his Academy Award-winning documentary, Inside Job, now reveals how rogues with influence have taken over the country and are driving it to financial and social ruin.

In Predator Nation, Ferguson exposes the networks of academic, government, and congressional influence--in all recent administrations, including Obama's--that prepared the path to conquest. He reveals how once-revered figures like Alan Greenspan and Larry Summers have become mere courtiers to the elite. And based on many newly released court filings, he details the extent of the crimes--there is no other word--committed in the frenzied chase for storied wealth that marked the 2000s. And, finally, he lays out a brief plan of action for how we might take it back.
About the Author
Charles H. Ferguson a remporte un Oscar en 2011 pour son documentaire "Inside Job". Diplome de Berkeley, titulaire d un doctorat du MIT, il a ete consultant a la Maison-Blanche, ainsi que pour Apple, IBM et Texas Instruments. Auteur de quatre livres, il est membre a vie du Council on Foreign Relations et directeur de la fondation franco-americaine.
Praise For Predator Nation…
Praise for Predator Nation

"A tightly argued, profusely footnoted and deeply enraged castigation of everyone involved, Predator Nation isn't just a factually unchallengeable account of how Wall Street blew up the global economy. It's a denunciation, a call for justice and a warning."—Salon

"With Predator Nation, Charles Ferguson sets out to finish what he started with his Oscar-winning documentary, Inside Job. This take-no-prisoners account of the financial crisis follows the money, connects the dots, names names, and asks the questions our leaders still refuse to answer: how have those responsible for the crisis not been held accountable, and how can we make sure it doesn't happen again?" —Arianna Huffington, president and editor in chief of the Huffington Post Media Group
 
"There is fraud at the heart of Wall Street—deliberate intellectual, business, and political deception. Charles Ferguson is in hot pursuit. Inside Job shook up the cozy world of academic finance. Predator Nation should stir prosecutors into action. And if we fail to reform our political system, you can say goodbye to American democracy." —Simon Johnson, coauthor of White House Burning and professor at MIT Sloan School of Management
 
"Ferguson presents a fierce indictment of predatory activities of parts of the financial system and of the corruption of democracy that 'big money' financial lobbying has caused. A book well worth reading regardless of whether you fully agree or not with all of its arguments." —Nouriel Roubini, professor of economics and international business at Stern School of Business, New York University, and chairman of Roubini Global Economics
 
"The definitive financial crisis book has now been written. With an encyclopedic factual foundation to support his arguments, the ever-brilliant Charles Ferguson has given us Inside Job on steroids. The collusion between Wall Street and Washington that brought our economy to its knees is set out in a way that will have steam coming out of your ears in fury." —Eliot Spitzer

"A deeply argued call to action from a lucid, impassioned polemicist."—Kirkus (starred review)

"Charles Ferguson's Predator Nation is nothing less than a devastating narrative portrait of the many times Wall Street has made Main Street and others the victims of its predatory schemes. In his inimitable clear-headed style, Ferguson correctly asks, why do they keep getting away with it? Why indeed."—William D. Cohan, author of House of Cards and Money and Power